'I'm a "Part-Time" Mom, But I Am Enough'
I often wake up around 3am and kick my legs out from under the down comforter. As my mind begins to shake off the fog of sleep, I remember that my daughter isn't in the next room sleeping. The house is still. There is no dog sprawled out at the foot of my bed, no soft snores of the five-year-old who has crawled under the covers to be next to me—just the white noise of the air conditioning and cars driving by.
On Thursday, Friday, and Saturday nights my daughter Ruby, along with the family dog, is at her father's house. During that time, I am not in charge of physically nurturing and protecting this 42 pound love of my life. Emotionally, I'm a full time mom, but logistically I fulfill this duty part-time. The arrangement is sometimes wonderful and sometimes painful.
No one fantasizes as a young girl about their future divorce. I didn't enter into motherhood thinking that I'd be drawing up shared custody charts to hang on the fridge or that I'd be ordering a children's book titled Two Homes. Ruby's dad and I separated more than two years ago and, while we've had our bumps renegotiating boundaries, we've built a friendship that I'm proud of.
With the help of a mediator, we arrived at the current schedule and, most of the time, it works well. We both help Ruby through the weekly "Sunday scaries" as we, after a family day together, trade off parenting duties. We hold her close as she shares that she hates always missing one of us.
The contrast between my life with Ruby and without her is stark. A few weeks ago, I was getting ready for a date with my boyfriend, who I've been with for more than a year, during one of my "nights off."
I decided to FaceTime a friend. As we caught up, she breastfed her youngest child while her older daughter clambered up her back, demanding a snack. My friend studied me as I carefully applied my mascara, a plush robe around my shoulders. "God you're lucky," she said.
I know that in many ways, it's true. When I tell my full-time parent friends about my schedule, I can see the envy in their eyes. After navigating home-schooling over Zoom, the death of another goldfish or tantrums over socks that just don't "feel right", a stretch of time to focus on myself can seem like a luxurious retreat. Add in the fact that she's in the hands of a wonderful co-parent who communicates all of the ups and downs of her day effortlessly, and my situation can seem as though I've won the motherhood lottery.
Yet during those moments at 3am, I'm crushed by how much I miss her. I want to kiss the top of her head and inhale deeply as she sleeps; to breathe in her sweet smell. I'm afraid that she'll have the scary dream about sharks and I won't be there to soothe her. I worry that she'll feel abandoned upon waking and realizing that her mother isn't there. I often have to tend to the shame that my marriage to her father didn't work out, letting out a few tears until I eventually fall back asleep.
Those quiet, long-stretching nights can convince me that I'm a lesser mother. I even label myself a "part-time" mom, because my daughter isn't physically there.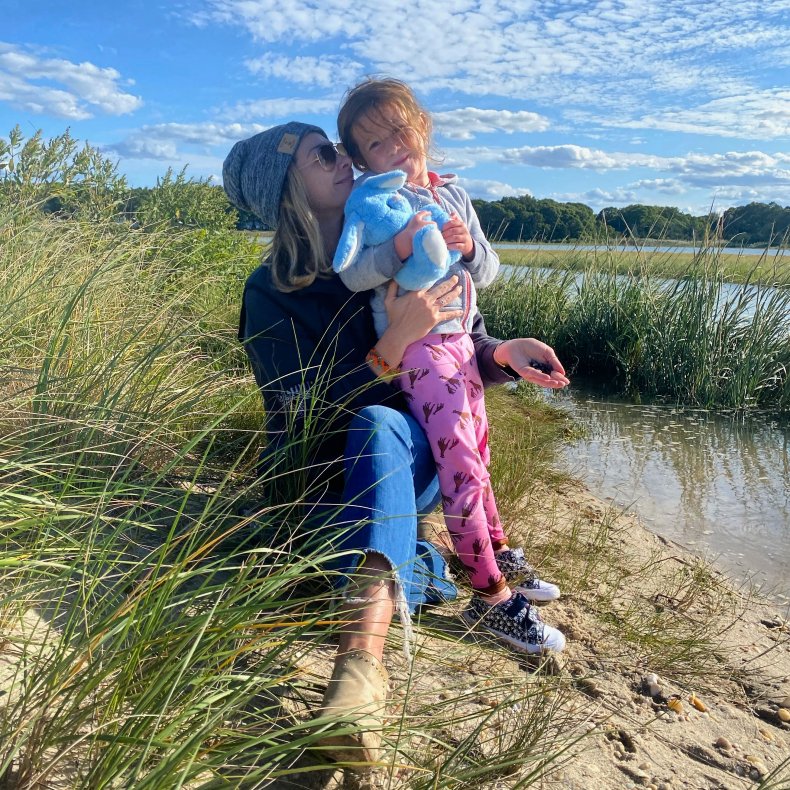 It seems unnatural to sleep apart from my child and taps into primal instincts that I'd never known in such extremes until now; fear; a desire to protect. I feel a tightness in my chest, scared she will feel less loved because I'm not there to tuck her in. I obsess over whether I fully enjoyed the time I had with her, beating myself up for being too tethered to work emails or for losing my patience over her refusal to wear a jacket.
But the emotional—and sometimes physical—labor of a mother never stops; not when her child is sleeping far away, when that child grows up and not even if she loses her child in this lifetime. We are not lesser parents because of these circumstances. Mother is a verb, an amorphous love, that cannot be confined by physical limitations. Even when my bed is empty, I am fully someone's mother.
From afar, I am signing permission slips, arranging pediatrician visits, organizing her art supplies, and setting up COVID-safe playdates. I'm thinking of fun things we can do together and sending videos to her dad's phone letting her know how proud I am of her latest drawing of her pet hamster. I'm praying for her joy and safety each morning and scrubbing the raspberry stains out of her t-shirt.
In the U.S., 80 percent of single-parent families are headed by single mothers. Research from 2014 showed that 15 percent of children in the U.S. have two parents in remarriage, and while the data doesn't delve into the details of co-parenting structures, it suggests I'm far from alone in my situation. Still, I often feel lonely in it.
I'm fortunate to have a strong network of supportive friends with children, some "full-time" parents and some not. The truth is that they're all struggling in their own ways. Over the course of this year, I've seen women in my life welcome children in quarantine, grieve miscarriages while still caring for their little ones, and advocate for their parenting rights within a fundamentally flawed court system. Their strength is remarkable and has taught me the importance of maternal connection. We all have moments where we feel as though we're failing, but we're not.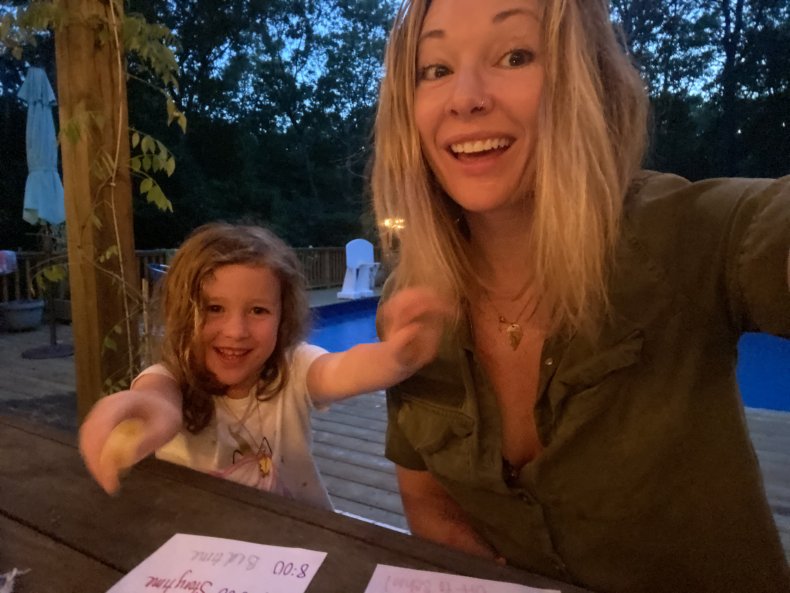 What I'm learning to tell myself is that this is simply untrue. Processing the sense of shame with a therapist has helped me tremendously. It has taken me a full two years to arrive at a place of acceptance, having chipped away at this damaging narrative over time. In the most difficult moments, I am learning to be kind to myself with reaffirming self-talk, making space for the same type of gentle nurturing that I provide for my daughter when she is struggling.
When you have the all-consuming job of raising a person, it's so easy to ruminate on the ways in which you're coming up short. Whatever maternal highs and lows we may be grieving and honoring this Mother's Day, my hope is that we make space for all we've collectively been through, all we've lost, and the extraordinary resilience that we've discovered this past year.
I know I am fortunate and, in many ways, privileged. Oftentimes I am bursting with joy. Sometimes I am very sad. But I am always a mother.
Katie Nave is a writer and mental health advocate living in Brooklyn, New York. Her work has been featured in publications including Glamour and Business Insider. She served as a producer for the National Women's March and is currently a writer at Sanvello. You can follow her on Instagram @kathryn.e.nave.
All views expressed in this article are the author's own.