'I'm a Pastor, The Church I Serve Survived The Tulsa Race Massacre'
As a Black millennial born in the Deep South, I have seen both the progress and pain that African American citizens in America have experienced. But growing up in Tuskegee, a majority Black town, my childhood was largely sheltered from seeing racism on a daily basis.
In Tuskegee I was taught about incredible Black people like Booker T. Washington, founder of Tuskegee University, and the brilliant scientist George Washington Carver. I constantly drove by Moton Field where the Tuskegee Airmen learned to fly, and I read about the heroism of Tuskegee native Rosa Parks.
My community danced to the music of local band the Commodores and sang every song written by Lionel Richie, who also hails from Tuskegee. My father was also very involved in raising issues of equity in the community and teaching me Black history. These experiences gave me a thirst for social justice activism, something that, as a youth, I assumed was ubiquitous.
However, when we traveled outside of Tuskegee, I saw what the rest of the Deep South was like. I will never forget visiting a pizza restaurant with my family in Auburn, Alabama and having a group of young white boys drive by as we were leaving. They looked at me and called me the n-word. I had done nothing to them.
Some years later, when I was studying at The University of Alabama, a law school professor named Alfred Brophy discovered that The University of Alabama had slaves buried on its campus in unmarked graves. Deeply moved by the fact that there were human beings lying in graves with no headstones, myself and two other student leaders mobilized and campaigned for their recognition. As a result, the university acknowledged the presence of those slaves with a marker and agreed to a number of other demands. Moreover, the faculty senate apologized for the university owning slaves.
Yet, I still sought to improve this country that I love so dearly. Then, one day, as I was at the law school study corral reading my civil procedure book, I felt God calling me to preach. I immediately withdrew from law school and signed up for a mission trip to Kenya. While I was in Kenya my eyes were opened to poverty at extreme levels, but also to the spiritual wonders of God. I learned so much.
After that trip, I graduated with my Doctor of Ministry, and one day when I had just finished my prayers, I noticed that I had a text message from a bishop in Tulsa asking me if I would come to his district. I replied "yes."
Not knowing where I was going, what salary I would be paid, or where I was going to live, I moved to Tulsa, Oklahoma to pastor the Historic Vernon African Methodist Episcopal (A.M.E.) Church.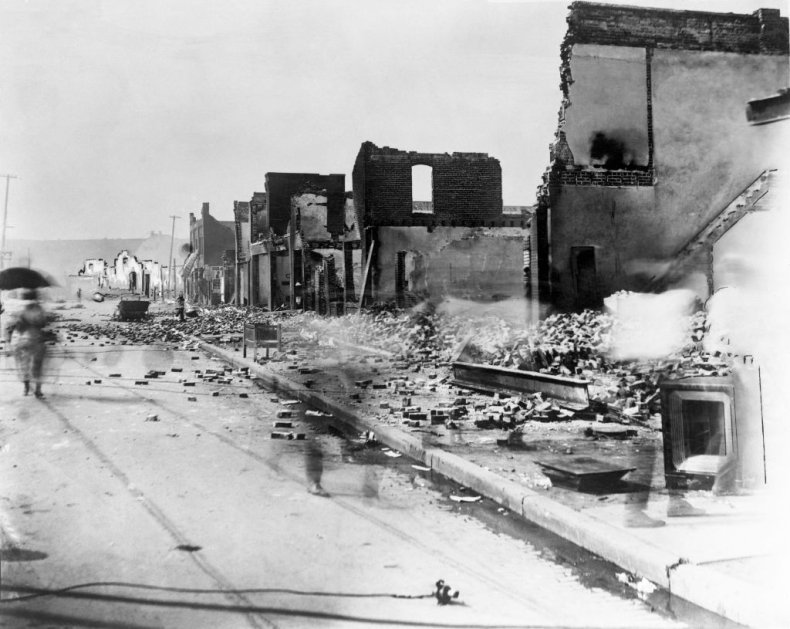 Founded in 1905, the Historic Vernon A.M.E. Church is one of the oldest institutions in the Greenwood District. On May 31, 1921, during the Tulsa Race Massacre, the church's superstructure was destroyed by a white mob, but the basement remained. It is the only structure on North Greenwood Avenue that survived one of the worst race massacres in American history. During those 18 dreadful hours, people actually hid in the church's basement for safety. As many as 10,000 people were made homeless and it is believed that up to 300 people were killed. Bodies were dumped in mass graves, and homes, churches and schools were burned and looted.
Even after all of that, the Greenwood District was rebuilt from the ashes, and Vernon was no exception. Members of this church, who had every reason to leave, stayed and put their money together to pay for and repair their own church. In 1925, after receiving no insurance funds, no help from the city, state or national government, reconstruction of the A.M.E. church began, with the work completed in 1928. Some decades later, in 1963, the church took a caravan of people to Washington, D.C. to hear Dr. Martin Luther King Jr. deliver his famous "I have a dream" speech.
In the present day, COVID-19 has devastated our country and caused a major shift in how the church operates. At the beginning of the pandemic, hardly anyone came to church out of concern, but with the assistance of local people, we have been able to continue to help feed the community and have handed out over 370,000 meals. We are so thankful to the volunteers, most of whom are senior citizens, who have come out to assist us in preparing and serving each day. Not one of our volunteers, praise God, has ever contracted COVID-19.
Because of our stature in the community, people refer to us as the "Grandmother of Greenwood." As a grandmother cares for her family, we too seek to do the same for our community.
Vernon is also a leading congregation in the cause of social justice for Tulsa. Inspired by God, every Wednesday we go to city hall and call on the city, state and nation to recognize their part in the 1921 Tulsa Race Massacre. We ask them to repent and repair from it with actions such as reparations. I conclude each week with a bible reading from Isaiah 61.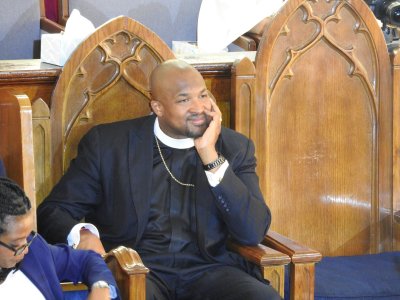 What reparations for a massacre like Tulsa means on a practical level, in my opinion, is adhering to the five recommendations given in a 2001 report by the bipartisan Tulsa Race Riot Commission. These include direct payment to the survivors, scholarships for the descendant's children and memorial for the bodies that were interned in mass graves.
I stand in agreement with all of these and I personally call for a sixth, which is a full-scale criminal investigation into those who wreaked havoc on the Tulsa community in 1921. Before America was bombed by foreign governments, it experienced a domestic aerial attack when bombs were dropped on Tulsa, Oklahoma during the race massacre. Unfortunately, not one of those responsible for these racial acts of terror were ever charged with a crime. To me that is a gross miscarriage of justice.
My experience in Tulsa has taught me that the suffering of African Americans in the U.S. was, and is not, limited by geography. And that those who perpetuate white supremacy do not adhere to boundaries. Racism is effectuated in a multitude of ways, and it should be challenged in a variety of ways as well.
So, at Vernon we are seeking to develop a 'Prayer Wall for Racial Healing' utilizing the exterior wall of our basement that survived the 1921 Tulsa Race Massacre. Outside of the majestic Wailing Wall in Jerusalem, it will be one of a few public outdoor prayer walls in the world and we believe it will be the only one solely used for racial healing.
The funds and development plans for the prayer wall are still a work in progress, but we will have an official dedication for it on May 31 this year, the centennial anniversary of the massacre. At 10am CST, Reverend Jesse Jackson will be offering the dedicatory prayer.
During times like these anti-racists need to be as creative in fighting racism as racists were, and are, in upholding it. I fervently believe that we have many people of good-will and moral integrity in America. People that want to see us eradicate racism, so that what happened here in Tulsa in 1921 will never happen again. Let's all work together to make sure this is the case.
Rev. Dr. Robert R.A. Turner is the pastor of Historic Vernon A.M.E. Church and member of the National African American Reparation Commission, Human Rights Activists. He appears in the HISTORY Channel's upcoming documentary "Tulsa Burning: The 1921 Race Massacre" airing on Sunday, May 30 at 8/7c.
All views expressed in this article are the author's own.