My mom always loved musicals and so I spent a lot of time watching them when I was growing up. At 9 years old, I saw the movie Funny Face with Fred Astaire and Audrey Hepburn and it just spoke to me. Fred Astaire was a photographer, and I just thought: I want to do that. It was also about girls. I wanted to fall in love with Audrey Hepburn and live happily ever after.
I took my first roll of film at around that age and I remember getting it back and thinking, "this is really cool." Then, in seventh grade I took a photography class. I remember on the first day, our teacher talked about cameras, and I realized photography was something I wanted to do. I loved the way it made me feel and the joy it gave me, because life wasn't easy for me as a child. So, by the time I was 12 I had my first business cards and I started going out to find clients. With photography, it was love at first sight.
That year I also started shooting models and at the time I wanted to be a fashion photographer or shoot for Playboy. By the time I was 17 I had shot my first nudes. For me, it really was all about girls. When I moved to Los Angeles at 20 to be a fashion photographer, I didn't know anybody and had about $1,000 in my pocket. I met Ken Marcus, who is famous for his work with Playboy, and he told me I could do it.
But about six months into being in LA, my boss at the time said to me: "You're not going to be a fashion photographer." He told me I was in the wrong city, I knew nothing about fashion and I sucked as a fashion photographer.
Up until that point, I had been shooting concerts for fun. I'd go to see Earth, Wind and Fire and the Commodores. I loved music. Then, I met a Playboy playmate called Karen whose boyfriend was a record producer named Keith Forsey, who did the soundtrack to The Breakfast Club. Through that contact I began shooting for Musician magazine. The second shoot was with the lead singer of Earth, Wind and Fire, Maurice White. I had seen the band in concert six times and I loved them. So my second big music shoot was with my hero. The next thing I knew, he was inviting me to his house to go over the photos. He was the nicest man ever.
After that meeting, I was driving home and I just started crying. It had been the greatest day ever and something just clicked inside me. I knew I wanted to shoot all my heroes. So, I decided I was going to be a music photographer and I started going after musicians like crazy.
My photography heroes are Richard Avedon, Irving Penn and David Bailey. They produce simple, honest portraits. If you look at my work, you're going to say I ripped them off. I admit it. But if you're going to steal, steal from the best. What I go for is honesty and truth. I try to capture the real person.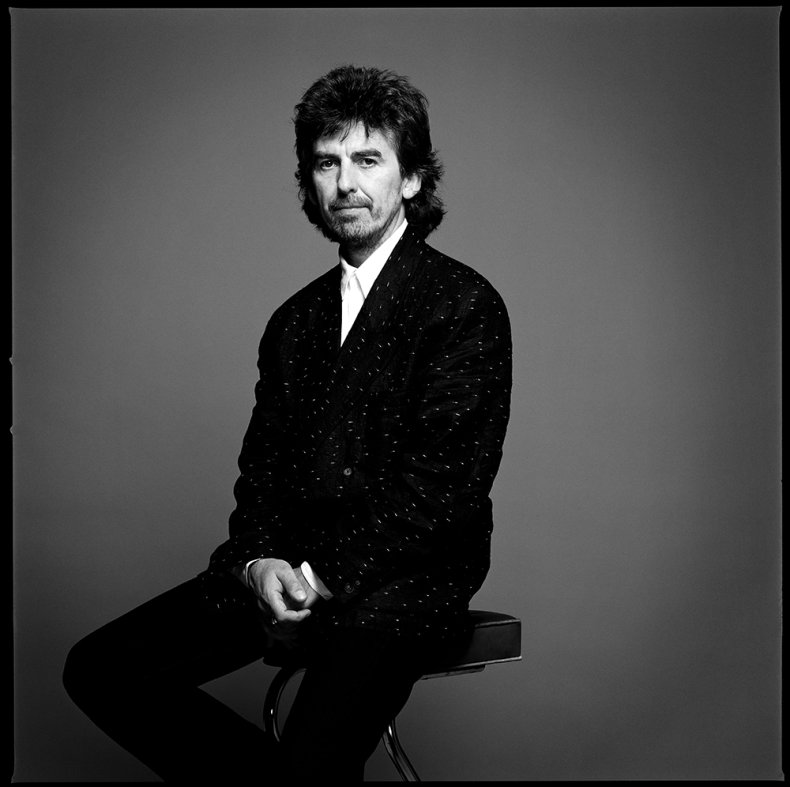 In 1987, George Harrison's record Cloud Nine was coming out, and as I was the west coast photographer for Musician magazine by that point, I was told I had ten minutes in a conference room at his record label. Truthfully, I would have taken nine minutes. I had seen A Hard Day's Night at 5 years old and thought it was the greatest movie ever. We actually ended up with almost two hours to hang out with him. We talked about A Hard Day's Night and he told me all these stories about the band. George then played the record for us and told us we were the second people in the U.S. to hear it. He'd just played it for the label's CEO. Up to that point, that was the greatest day of my life. The best part was that a week and a half later they went to direct the first music video and the publicist told me to go and shoot stills because George had liked me. At one point I found myself alone in a dressing room with him. It was just surreal.
Many years later, after George died, I ended up meeting with Olivia Harrison in Santa Monica and brought all the film of George so she could see it. We talked and I told her my stories. At the end of the meeting I hugged her and gave her all the scans of images and the film. She asked how much I wanted to be paid and I told her nothing. These were hers. George blessed me.
One of my biggest moments of course, was shooting George Michael and the Faith tour. I met George in December 1987, he was doing the music video for Faith and a make up artist friend of mine was dating him, so I got to meet his manager. One of the most iconic photos I've shot is of George.
When fans ask me what he was like I'll say, "oh, George was the worst. He owed me $20 and never paid me back!" They'll go, "What?!" When I make that joke, his fans look ready to kill me. I have to tell them I'm joking. George was an angel!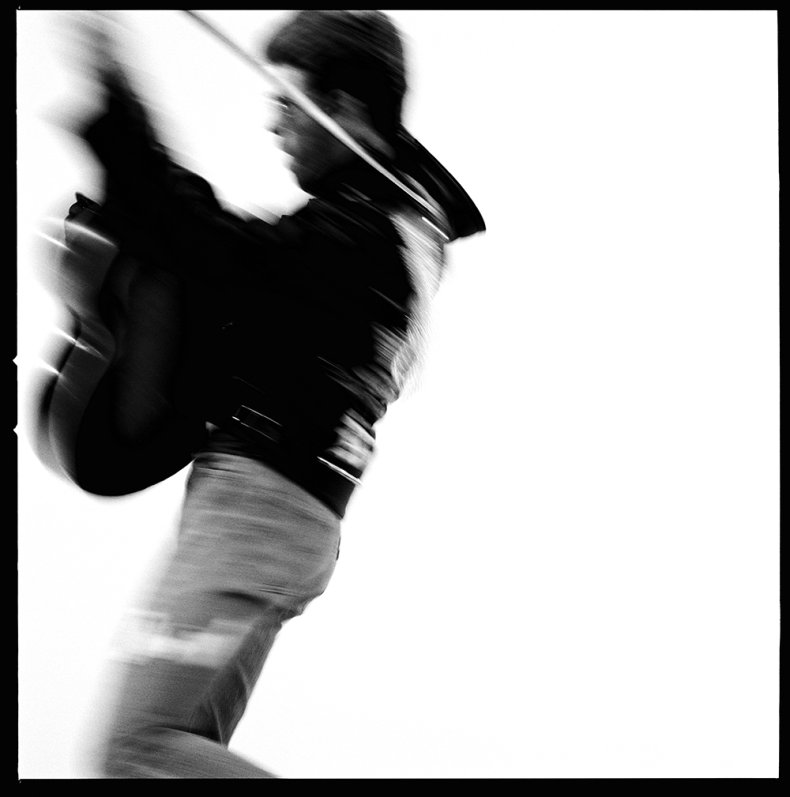 When I first met him he seemed to have tall, thick walls around him to protect himself. It wasn't until after a couple of shoots, and being best friends with Kathy, that I started to see those walls come down. He and I would sit in hotel rooms going over photos and I got to meet and know the real George Michael. He was just a really gentle, nice, caring guy. Touring with him in Australia was my first experience of travelling first class, so George taught me what the good life looks like. It was amazing. I do miss him a lot.
Another great shoot was Kobe Bryant. Because I grew up in northern California, I hated the LA Lakers, so when I got to shoot Kobe, I jokingly talked s*** to him all day and he did the same back to me too. He'd just gotten engaged to Vanessa Bryant, who was the nicest girl. I kept joking to her, "How can you be with this guy? He's a Laker." I just remember she had a huge diamond engagement ring on and I looked at Kobe and said: "That ring is worth more than me!" He just said: "Yeah, it is."
Kobe and I also had a five minute conversation about work ethic. He took everything head on and gave it 100 percent so we bonded over working hard. I see why Kobe was successful in everything he did. Even though he was a Laker I have to admit he was one of the greatest. The saddest part is that I feel that when he died he was just beginning to really move into that next level of his life. But I remember liking that he brought Vanessa along to that shoot. Those are the moments in my life that I cherish.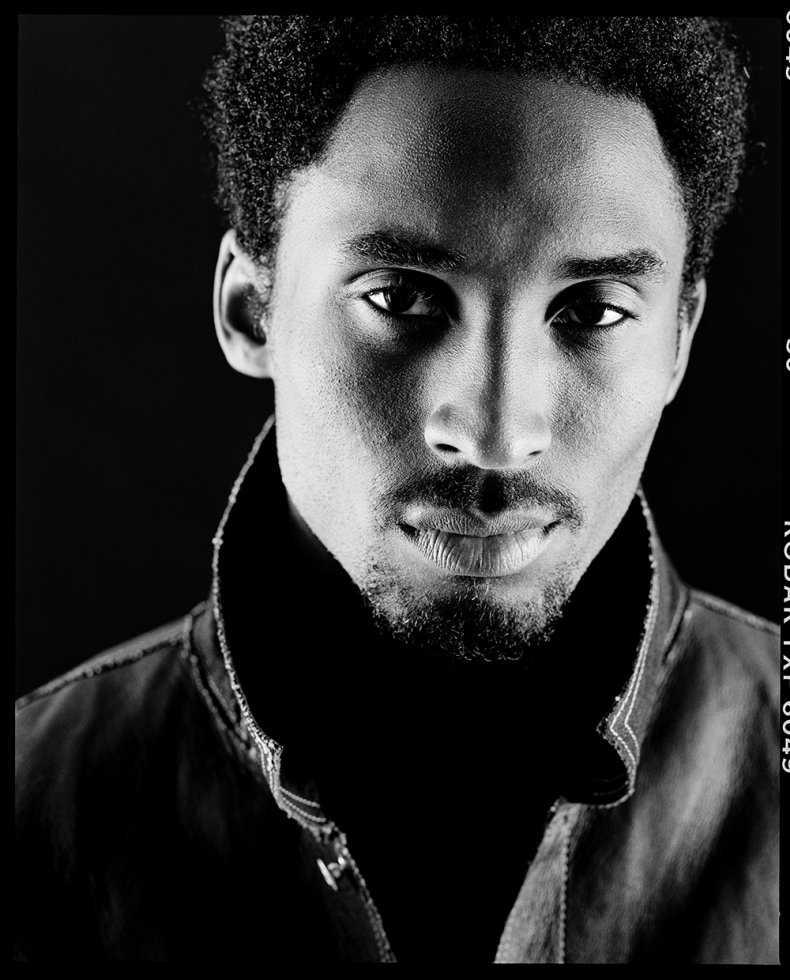 The closest thing to a bad shoot I've had was Nick Cave being grumpy, but everybody knows Nick Cave is grumpy! Chris Cornell was also a little cranky. I remember the last time I shot him I said: "I know you hate doing this, Chris"—because we'd been friends for years at this point—"so why don't you do what I tell you. This shoot will then last ten minutes and we can go home!" He looked at me and said: "You're right"
I do think a lot about the fact that people I have photographed have since died. In 1991 there was a period when grunge began and I started shooting all the grunge bands. Within a year, these friends of mine; Alice in Chains, Soundgarden, Pearl Jam and Nirvana, all became millionaires. Then, years later, they all started dying. Layne Staley, Kurt Cobain and Mike Starr, for example. The last person who passed was Chris Cornell. It hurts to see these people die, but I hate when it's suicide. I talked to a photographer friend of mine who has shot a lot more famous people than me and many of them have died from various causes. From David Bowie to Michael Jackson. He said to me, "Chris, that's part of life, and part of our job. Nobody lives forever."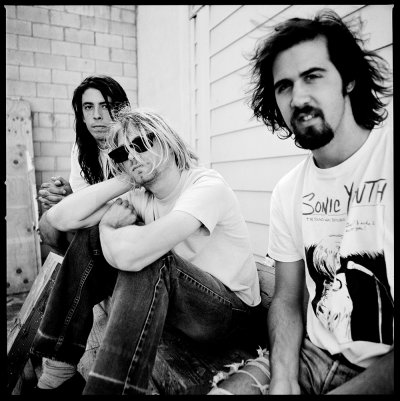 Kurt Cobain was not only one of the nicest musicians I have ever shot, but he was just a nice guy. I had great moments with him, from the first shoot in Seattle to the last two or three times I saw him. We always had good laughs. Like a lot of musicians I've met, offstage he was just Kurt. I never got a sense he was troubled.
The only people I have ever been star struck by though, were Kirk Douglas, Jack Lemon and Walter Matthau. Growing up as a kid, the movies they were in were everything to me. Shooting pictures of George Harrison was also scary as s***.
Young talent who think they're a star because they've filmed one TV show—those people aren't famous now. I shot Brad Pitt before Thelma and Louise came out. We hung out at my apartment all day laughing and took some pictures. He was the nicest guy in the world. I can see, to this day, why he is where he is. He had a solid foundation and he was a good guy. It was the same with George Clooney and Jennifer Aniston. I could drop names for days of people I shot before they became big stars and names of people who didn't make it. The difference between them is that the successful ones were genuinely good people to begin with. George Clooney and I used to play basketball, and he didn't take himself too seriously. He just wanted to be an actor. I understand why he's become a director, a producer and everything else, because he also has a great work ethic.
But for everyone I've shot, there's someone I haven't. My dream was to shoot David Bowie and Freddie Mercury, and I still want to shoot Dr. Dre, Snoop Dogg and Lady Gaga. I don't need to be paid these days, I just want to shoot, have fun and create. The joy of this life is that I've been able to meet all these people and live a crazy life. When I moved to LA in the 80s I just wanted to shoot a magazine cover, maybe get an album cover and perhaps meet a supermodel. I've done that a hundred times over. So now, for me, it's about helping and teaching others.
When I die, I'm hoping that there will be a retrospective of my work, and when people look at it they'll say: this f***er had fun when he was here.
Chris Cuffaro is a California based photographer who has spent more than 40 years shooting actors, models, athletes and musicians. His 'Greatest Hits: Top 40' are available now as NFTs on KnownOrigin Platform. For more information on Chris, visit CuffaroPhoto.com.
All views expressed in this article are the author's own.
As told to Jenny Haward.