In my line of work as a police officer in Kingman, Arizona, I have met many children in horrible situations and wanted to help them. My current wife and I have been married for 12 years now, and I have come home many times and told her about encounters where I'd met a troubled child and how I wished I could have helped them or brought them home.
Then, on the night of March 24, 2018 I was on night patrol when I met Kaila for the first time. It was the same situation; here was this little two-year-old girl that had suffered abuse and needed to be loved. But when I met her, she was energetic and a survivor, you wouldn't have known from looking at her what she had been through.
I ended up transporting Kaila that night from where she was living to the Kingman police department while we waited for the Department of Child Safety (DCS) to respond. We snacked, colored and drew things together and although she didn't talk very much, she knew how to work an iPad pretty well, so we ended up watching the movie Wreck It Ralph. After around five hours, the DCS arrived and took custody of her, and she ended up going to the hospital to be checked out.
I finished up my shift and when I went home, I told my wife about this adorable little girl I had met and how I would have loved to help her. Of course, that wasn't the first time my wife had heard that. But after a few hours of sleep I called the DCS just to see how Kaila was doing. I felt for her because she was all on her own in the hospital, so I asked her if I could be on the list to visit her and they agreed,
The question they asked next changed my life. The DCS officer asked me if we could be a placement family for Kaila for a few weeks, because they were having a hard time finding a home for her. I wanted to say yes immediately, but first I made sure there would be no impact on her case—what with me being a police officer who had collected her from where she had been living. Then, my wife and I held a family meeting. I have two children from a previous marriage—my daughter Raina was 17 at the time and my son Trevin was 15. I showed them a picture of Kaila, explained that this little girl may be coming to our house and would need some love, and asked whether we would be able to do that for her. My kids were ecstatic.
So, I met Kaila on the Saturday night and was asked the question about looking after her on Sunday and by the following Wednesday she was dropped off at our house.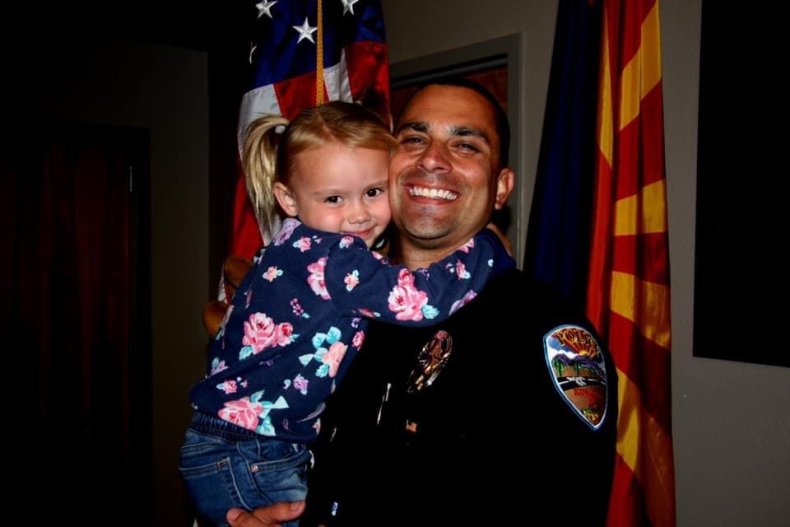 Kaila was placed with us through the DCS as unlicensed kinship carers, but I wasn't sure if she was going to recognize me by Wednesday. However, as soon as I opened the car door she reached out for me and had a surprised look on her face. I don't know if it was the uniform or me, but she recognized it and put her arm out and held on to me as I took her inside. I had Wreck It Ralph on for her, we sat on the couch and she took my hand.
At the beginning, Kaila didn't talk very much. She knew "no," "milk" and "choccy"—those were her main words. But by the second day she was calling my wife "mom." My older kids don't call my wife mom as she isn't their biological mom, they call her Cierra, so my wife wasn't sure what to do. We were asking friends who foster, and they told us to go with it, because correcting her shows rejection. Kaila would look at me and call me "guy" to begin with, but when she started to go to daycare and see other dads were dropping her classmates off, I became her dad and she would point and tell people: "That's my dad!"
Although she had her own room and bed, in those first months she had a lot of nightmares and would need to be consoled during the night for several hours. But overall, she settled in pretty well and got to know her brother and sister and our two dogs. In the second month of Kaila being with us, we realized she was going to stay with us for a little bit longer, that's when we decided to get our foster license.
Though we were never sure how long we would have Kaila with us, she was probably part of the family from the get go. She came to us just before Easter and she received perhaps eight Easter baskets and six Easter dresses, because all of our family and friends came together and helped us provide things for her and gave her love like she was one of the family, and that's exactly what she needed.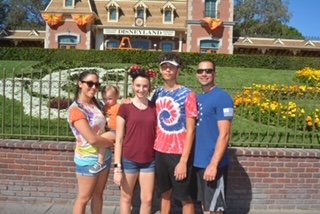 The Zach family at Disneyland in 2019.
David K. Zach
My colleagues at the police department have also been a huge support group for me. We're a small agency here, so they are like my second family. They knew when a court date was coming up, or if I had to take Kaila down to the hospital for follow ups. It's very heart warming to have so much support in my workplace and in my personal life.
After about eight months, we took Kaila to Disneyland which she loved, and then after about a year we had a big family trip to Hawaii so she joined us on that, too. We took her to see the ocean in Hawaii—she loves water. We got to this point where we were her family, we wanted her to be taken care of and get at least as much love as she was getting in our home. It was a given that we would adopt her if we could. That wasn't ever a doubt.
In February this year, Kaila's biological parents had their parental rights terminated and once the appeal process was over, we were able to apply to adopt her. But with the COVID-19 pandemic, we were never sure whether courts would be open so we weren't really set on a specific date. Then, on August 18, the adoption took place.
We just felt the biggest relief. We didn't have to worry about any more court dates, if she was going to be safe and loved, or whether this was the last meal or family trip we were going to have with her. It was just this huge burden off our shoulders. The happiness level I would equate to when both my kids were born, it was that exciting for us.
Right after the adoption, we ended up going on a family road trip to Utah and visited Yellowstone National Park and the Mount Rushmore National Memorial. When we came back we wanted to celebrate her, so we had a party. We were changing her last name so Kaila was telling everyone it was her name change party. She got cake, presents and a bunch of our family and friends celebrated her.
At the police department here, we do a lot for officers when they have children that are born, so my colleagues did the same thing when the adoption was official. They gave Kaila a little blanket with the date of her adoption on it. She was really excited by it all, she'll tell you her full name now and when her birthday is.
But it's an unfortunate truth that there are so many children, especially here in the U.S., that are in need of loving, caring homes—whether it's temporary or permanent.
My wife and I didn't know much about the process to become foster parents and we had heard it was difficult and time consuming. But that wasn't the case for us.
We had to do our classes and training and have our home inspection, but it was fairly straightforward. I would want to share with people that it's not that burdensome. You have to go through some changes, but to help these children it's completely worth it.
We haven't renewed our license yet because we're not sure how Kaila would take to having someone in the house and then leaving. But when she's a little older, I can see us renewing it, just for the sake of helping other kids. That to me is the unselfish thing to do—we have the means to do it, so why not?
Lieutenant Brian K. Zach is a patrol commander with the Kingman Police Department in Arizona. Zach lives in Kingman with his wife, Cierra and three children; Raina, Trevin and Kaila.
All views expressed in this article are the author's own.
As told to Jenny Haward.