I was suited and booted at a wedding in 2006 when I suddenly felt several eyes were on me for some reason, instead of the bride and groom. In fact, an entire table was staring at me and laughing.
I had absolutely no clue as to why until my friend turned to me and said: "Mate, they all think you look like Prince Harry."
There isn't a day that goes by when I'm not mistaken as Harry. The frequency varies depending on whether or not he's on the front covers of newspapers or magazines on any given day. The higher his profile, the more people stop me to ask for photos.
And I owe most of this attention—and my entire career—to none other than Meghan Markle, who quite literally changed my life overnight.
The first moment I noticed the similarity between myself and Harry was when I saw him on television as a teenager. I thought: "You know what? He does look a lot like me."
But it wasn't until that wedding in 2006 when I was 23-years-old that I received the first big public reaction to my resemblance. I was wearing a suit and Harry was most often seen wearing suits to public events, so this image seemed to really resonate with the crowd.
Little did I know that just over a decade later, another wedding would change the course of my life forever.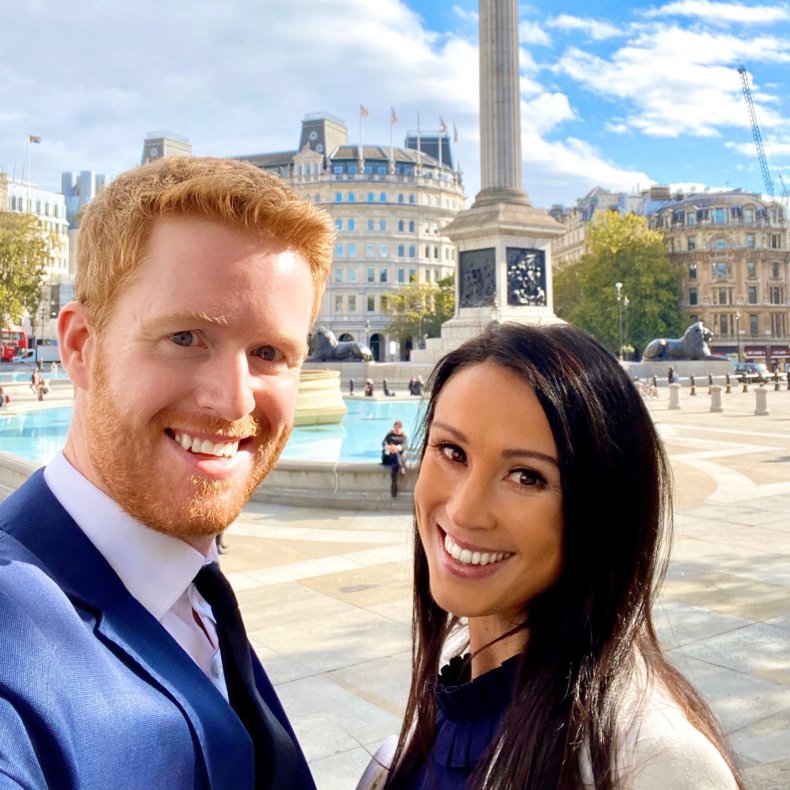 As Harry started to get more attention in the media, I also started to get more reaction from the public as they passed me on the street. I'd often hear giggling and comments as people walked past me.
As a result, my family encouraged me to apply to lookalike agencies, which I did in 2011. I didn't receive any responses then, so I just assumed that I may look a bit like Harry but not enough to be a professional lookalike.
But everything changed after a certain woman stepped into my life—via Harry. In November 2017, Harry and Meghan got engaged and—like the rest of the world—I was watching their engagement interview at home. I remember thinking: "Gosh, I wish I was working as his lookalike right now, it would be so much fun."
Extraordinarily, the very next day, I received a fateful email from one of the agencies I'd contacted six years prior asking me: "Hey Rhys, I don't suppose you still look anything like Harry do you?," to which I delightfully replied: "Yes! I hope so!"
That one email completely changed my life and I probably would not have pursued the possibility of working as a Harry lookalike if it weren't for Meghan arriving on the scene.
The agency invited me to London to get me officially into their books and I contacted several others who did the same. I soon found out from the agencies that back in 2011, Harry's media profile was deliberately being kept low for security reasons because he was serving in Afghanistan with the British army and receiving death threats at the time. Understandably, there wasn't much demand for Harry lookalike work back then.
But with Harry's engagement and a Royal wedding on the horizon, agencies began to see the potential high demand for Harry lookalikes to come.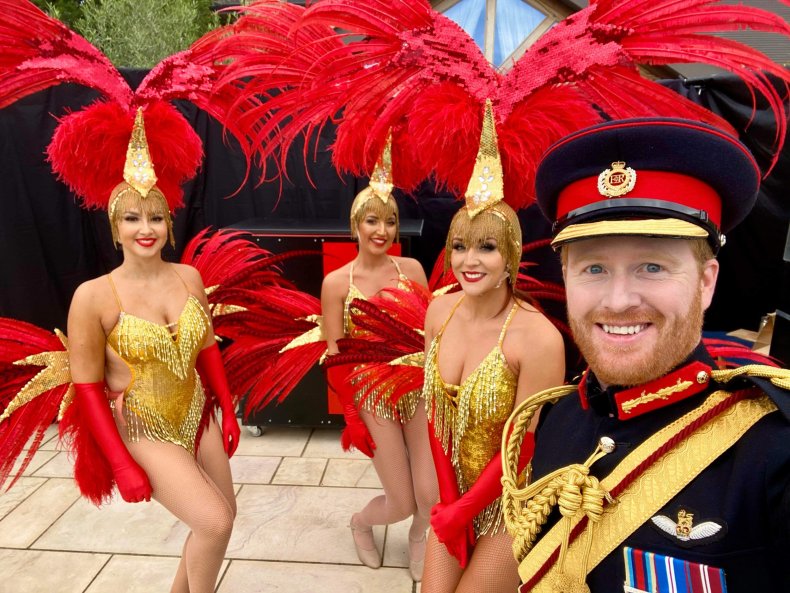 The upkeep for grooming myself to mirror the details of Harry's looks has been a full-time job in itself. I decided to put on weight to better match Harry's physique. We're about the same height at 6'1" but he was a little bulkier than me previously, so since I began this lookalike work five years ago, I put on an extra 22 lbs (10 kg). I have to exercise and be careful of what I eat to stay in good shape like Harry and maximize our similarities.
I also work very hard to try to capture the full essence, not just physical characteristics, of Harry. So I've studied his body language as well as voice, because I work as a "soundalike" of Harry, too. His voice is not a million miles away from my own natural voice—I just have to speak a little slower and deeper.
From what I've observed, Harry typically presents quite anxious body language at events and public engagements. He often fiddles with his wedding ring and the buttons of his suit, which I think he does to help calm himself. He tends to smile less than me, so I try to smile a little less too, which is not very natural for me.
Although many lookalikes have had the chance to meet their celebrity counterparts, I have never met Harry or Meghan. As Royal lookalikes, we've always been discouraged from getting too close to the real Royals, with the assumption being they wouldn't appreciate meeting their lookalikes.
I've heard security staff at the royal palaces have our photos hung up on the walls to make sure they don't admit us by mistake, just in case we might try to enter.
But working as a Harry lookalike has been an absolute whirlwind. From my humble first gig; a photo shoot for a small chocolate company, to being flown all over the world and being treated just like real royalty.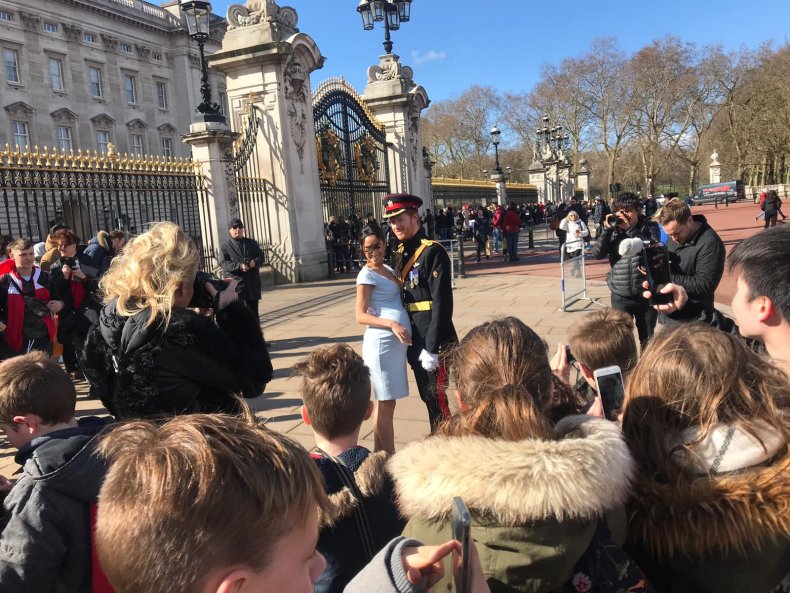 I've stayed in five-star hotels and met fascinating people and celebrities I wouldn't normally have the chance to rub shoulders with.
As lookalikes, our jobs obviously follow how busy the real Royals are. So, whenever there's been a major Royal event, we've all been equally extremely busy, from weddings and births to "Megxit" and the recent Jubilee events.
The Queen's Platinum Jubilee weekend was jam-packed with several jobs, working alongside my Meghan lookalike, Sarah Mhlanga, from meet-and-greets to touring different nightclubs until 2 a.m. to surprise party goers during various Jubilee-themed nights. We had our own security at each nightclub and were given our own private booth with champagne each time in a bid to convince guests that Harry and Meghan were partying with them.
But the highlight of my career so far has been featuring in The Pentaverate, the Netflix comedy series by Mike Myers, in which I play Harry, who is depicted as being part of an Illuminati-style secret society, alongside the lookalikes of Meghan, Queen Elizabeth II, Simon Cowell and others. It was an incredible experience and it would be my dream to play Harry in Netflix's The Crown series.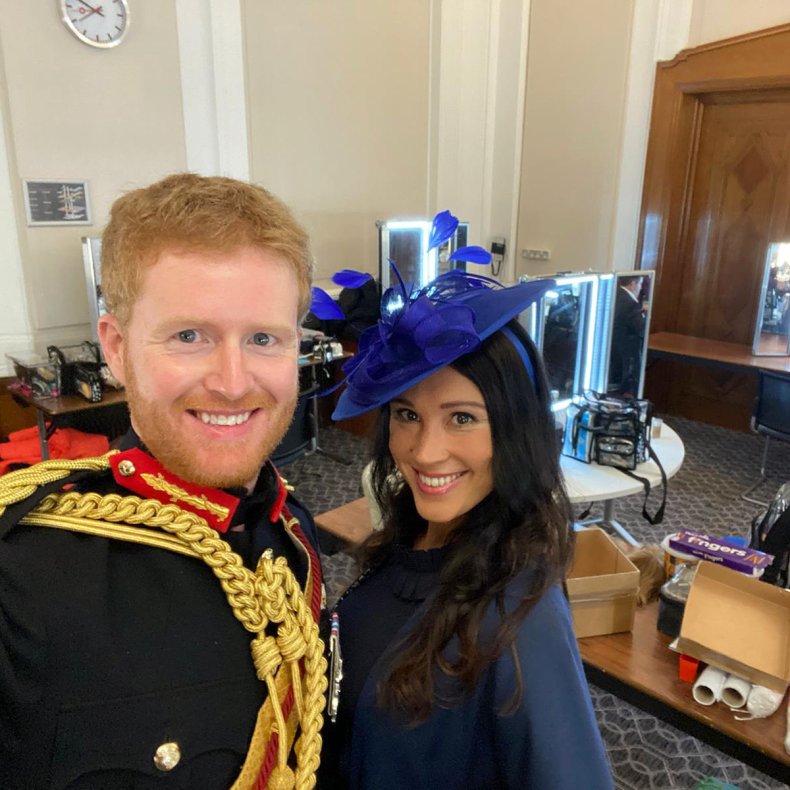 When "Megxit" happened in January 2020, the couple were on the front pages of newspapers every day for weeks and I could not walk more than 20 meters in London without people doing double-takes and giggling with their friends as they passed by.
And weirdly, I still get mistaken for Harry even when I'm not wearing the typical clothing he wears and when I'm wearing my glasses. I've been recognized as him abroad as well, including in Las Vegas, where I've had a huge reaction, even bigger than here in London.
Some people do truly believe I am the real Harry. When I see how it's made their day to meet Harry, I just don't have the heart to tell them that I'm the lookalike. They're overjoyed so I always let them enjoy the moment.
One time in Windsor, England, I was on a job with a Prince William lookalike. While heading back to London with him, a tourist, breathless with excitement, stopped us to say: "I know you. You're the brothers!"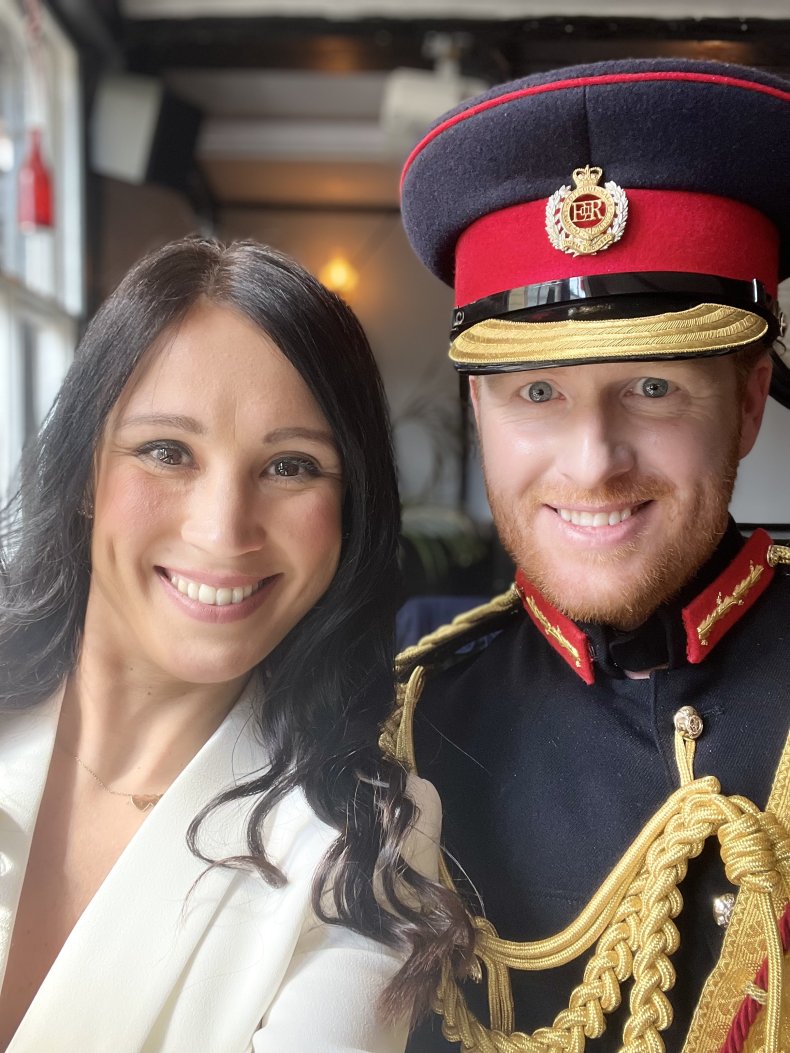 I thought Harry and Meghan's decision to quit their roles as full time senior Royal family members would reduce my work but I've been busier than ever since.
I'll have to decide what to do about Harry's budding bald patch though, which he even joked about recently while promoting the Invictus Games in April 2022. I'm only a year older than Harry, who is 37 years old, but he seems to be losing more hair than me. Hopefully Meghan can persuade him to try to recover his receding hair—or I may possibly have to create my own bald batch too!
Being a Royal lookalike is definitely a blessing rather than a curse. I feel very fortunate to have shared all the amazing experiences on this journey so far. So, I'm forever grateful to Harry, and especially Meghan, for kick-starting my lookalike career.
I also have Harry and Meghan to thank for meeting my future wife. I met my partner Maria at an event last year, dressed like Prince Harry, and we just got engaged three weeks ago. When we met, she said I reminded her of Harry but "have much better hair than he does!"
I've yet to meet any other Royals so far, but it would be an honor to meet Her Majesty the Queen—who may even do a double-take herself for a second or two.
Rhys Whittock has been working as a Prince Harry lookalike since 2017 for various commercial clients. For more information, follow him on Instagram @theprinceharrylookalike or see princeharrylookalike.com.

All views expressed in this article are the author's own.
As told to Soo Kim.