'I'm a Professional Zombie, I Scare People for a Living'
The year is 2011 and it's just turned midnight on a Friday. I'm covered head-to-toe in blood and I'm currently chasing down a small group of frightened women down an empty alley.
I catch up to them, lurching out of the shadows to grab one of the group by the shoulder. She screams in terror, bolts off towards the exit and I slink back to my original hiding spot, ready to do it all over again.
It's fair to say it's not your average Friday night. But I'm not about to be arrested, I'm actually performing as a zombie for an interactive street performance, something I actually fell into pretty much by accident.
I joined the British Army at 16, straight after finishing high school in the U.K. and after that I worked briefly for Her Majesty's Prison Service. I had no qualifications or higher education, but a year later I somehow landed a great job for one of the largest energy companies in the world. The people were great, the money was good and I had my own apartment in the center of the city. Things were going well.
Then, one day a friend at work told me that a group of hipsters from the south of England were putting together a new creative project. He described it as an "interactive street game where people navigate the city, while being chased by zombies" and told me that they needed volunteers to help out.
"Zombies? Sounds nuts. Sign me up!" I remember saying.
I've always liked the zombie apocalypse genre. I've seen the movies, played the video games and read a few comics, but I wouldn't describe myself as a diehard fan. However, it turns out I've got a bit of a knack for entertaining (read: horrifying) people. Running around in all weather making strange noises and scaring people—like on that Friday night in 2011—appears to be my skill-set.
Before I knew it, the game company I had volunteered to help out was offering to hire me to train all their zombies and follow them on a massive U.K. tour as their (undead) face of the business.
Highly amused, I accepted their offer. Within a year I'd quit my day job and was involved in the casting, hiring and training of staff for the world's largest street game company at the time. Everyone was very supportive but at the time I wondered whether they were mostly being polite. I felt like we all understood this wouldn't last.
Around this time, I wrote the foundations of my "zombie school"; a program that allows anyone, of any age or experience to be trained to the highest industry standards for any horror production. We start with warmups and then I teach choreography, vocalisation and safe scaring techniques. I do competitive powerlifting and karate as hobbies and the experience here helps immensely when preparing myself or other performers for a role.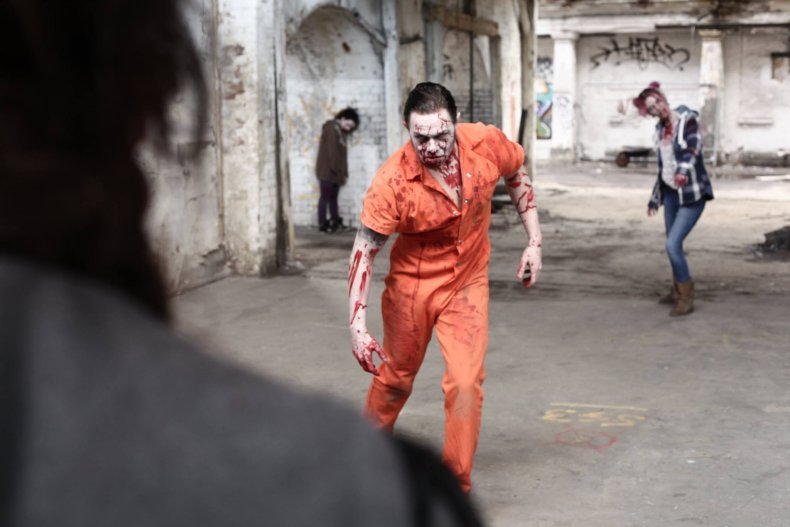 Regardless of the director's creative vision, it's really important that each performer is given a basic "toolkit" of sorts. I start with a series of vocal exercises to prepare performers for the intense vibrations that come along with making monstrous noises. These are quite fun and resemble a mix of death metal singing you'd expect to see at a professional studio and the silly icebreaker games you might see in a school.
From there I go into choreography. Controlled, progressive movements that slowly increase the repertoire of each performer. From basic foot dragging, to rapid pivots and body convulsions. After that we put it all together and I work my way through the group, identifying and teasing out each person's individual traits so they can be the best zombie they can be. All that's left is the make-up.
I've now trained thousands of people, from complete novices to seasoned actors and stunt crews. I tried to count it up once, and my best estimate was around 11,700. That's quite some zombie horde.
As much as having the spotlight on myself is fun, I really find facilitating the growth of other performers to be a rewarding experience. I've attended a number of colleges to help encourage teenagers between 16 and 19 towards work in the horror industry. One student took my influence to the extreme and went on to be a professional "bloodsmith"—making special effects makeup and blood for film and theatre!
I've been professionally scaring people and training others how to do so for nearly a decade now. The original company that hired me disbanded back in 2015 and I've been going it alone ever since. But, I try to travel less now and I'm a lot more picky about the projects I work on. Most recently, I've been getting involved with motion capture and that's an absolute blast.
I don't own a website and I barely maintain any social media presence but I'm still regularly approached by film directors, video game producers and all other manners of creative professionals who need "The Zomboss".
I don't know where this ride ends, but I think horror is a universal language. And as long as people want to play with that I'll be happy to oblige.
Alex Noble is known as "The Zomboss" and is the U.K.'s first and foremost zombie trainer. Noble is a professional choreographer, voice actor and performance trainer and has been involved in the horror industry since 2011. For news and updates on projects check him out on Facebook www.facebook.com/thezomboss or Instagram @thezomboss
All views expressed in this piece are the writer's own.