'I'm Ready to Drink Tonight' Wins The Internet For Oscar Speeches, and Twitter Loved It
Bong Joon-Ho needed a translator for most of his acceptance speeches Sunday night for winning the Oscar award for the year's Best International Feature Film and Best Director for 'Parasite.' The film was the first South Korean film nominated in the category, and also the first to win.
The movie was so popular that it won four Academy awards, and the icing on the cake was when it was named Best Picture of the year, becoming the first foreign-language film to ever win an Oscar for best film.
But when people remember the night, it will be Bong's last words in his speech that will be immortalized in memes and Oscar lore.
"I'm ready to drink tonight," Bong Joon-Ho said, which was pretty much the only part of his speech that did not need translation.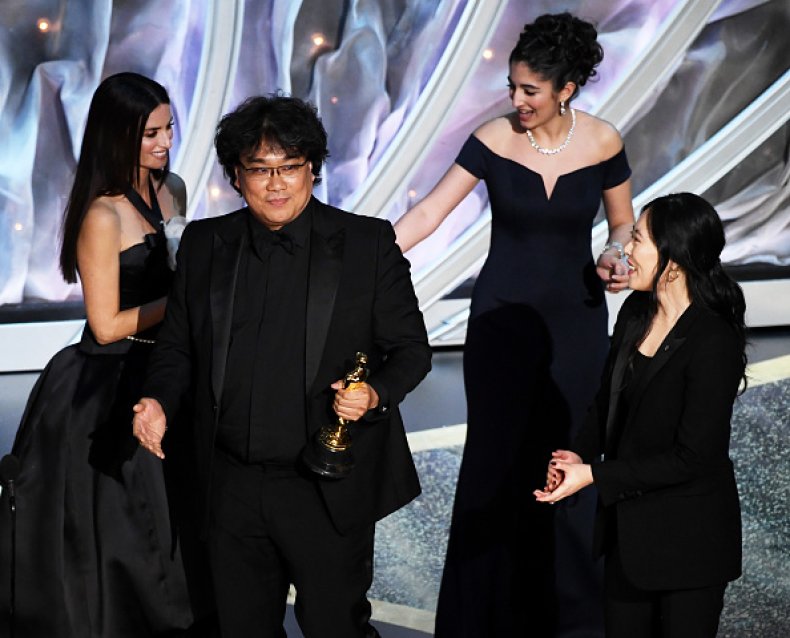 The movie had already won an Oscar for best original screenplay.
When making his acceptance speech for the best international feature film, Bong spoke in Korean, and a translator relayed this message:
"I'm so happy to be its first recipient under the new name," Bong said through translation. "I applaud and support the new direction that this change symbolizes. All our loving crew members and cast members are here with us. Please send a round of applause to the actors and crew members of 'Parasite.'"
"I also thank everyone who allowed me to actualize my vision," he continued. "Yeah, I'm ready to drink tonight ... until next morning."
Moments later, Joon-Ho won the award for Best Director and quoted Martin Scorsese, to which the crowd gave a standing ovation for both Scorsese and Joon-Ho.
The movie follows the Kims, a poor Korean family with low-wage jobs and living together in an apartment. They begin to infiltrate the much wealthier home of the Parks, where the Kims act as skilled laborers.
The film first debuted at the Cannes Film Festival in May of 2019, where it became not only the first Korean film to win the Palme d'Or, it was the first to unanimously win that award in six years.
It was released in South Korea, and soon became known as one of the country's best films ever made.
Quentin Tarantino typically put it on his list of movies to watch, and Bong publicly thanked Tarantino for his kindness.