'I'm a Secret Engagement Ring Buyer for Clueless Guys'
I knew I was onto something seven years ago when I was unexpectedly helping a diamond expert with a project in London's jewellery quarter and a friend of a friend rang me to say he wanted to buy an engagement ring, but couldn't leave his desk at work.
I jumped on an underground train with $50,000 worth of diamonds (which had been swiftly insured by the owner) in a supermarket carrier bag and met the "prospective proposer" inside a well-known bank's staff cafeteria. The security guard laughed when my cargo went through the security scanner.
Sitting in the cafeteria, we chatted through the pros and cons of transforming and re-making a ring his grandmother had given him. versus creating a new ring. We also discussed the fact we had to pretend not to know each other at our mutual friend's wedding abroad in a few weeks time.
Walking out of that huge glass lobby in 2013, a seed had been planted. I knew I couldn't carry on transporting diamonds sandwiched between my grocery shopping forever and I certainly didn't want to be transporting any cash around—but it was thrilling to have been so helpful that day and great fun for our friend too.
I realized I could create a trusted and independent engagement ring advice service to connect those who wanted to propose with the experts, jewellers, traders and designer-makers who could work to any level of budget, style and timing of the finished ring. Agent Engagement, and my alter ego "Agent E", was born.
Most of my clients are straight men who want to surprise their partner, but I often help couples and same-sex couples to narrow down their joint search too. After we have initially chatted, I will create a brief to document any pictures of rings they or their partner have spotted or specs they wish to uphold. From hard-working teachers to famous football players—I never turn a client down.
Some of my clients genuinely don't know where to start, but they know they want to create something unique and wonderful. Others might know exactly what they want and are either struggling to find the right maker or want a significantly lower price. It can be incredibly frustrating and confusing trying to pick the right engagement ring, and I think if you're not used to being creative or artistic, it can actually be quite daunting.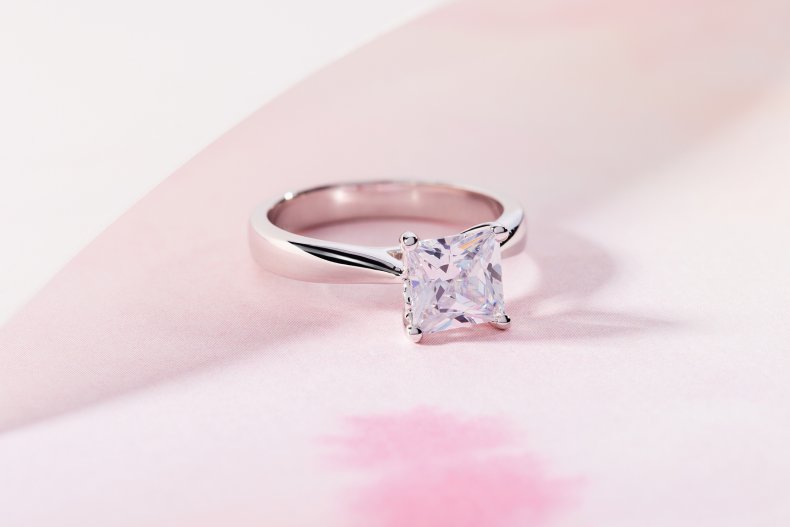 Knowing where and how a diamond, gemstone and metals are sourced is ethically very important. Most of my clients still choose to invest in a single solitaire round diamond, with the highest carat and specifications they can afford, set into a simple yet stylish platinum ring because it gives a lot of bang for the buck. One guy was insistent on a 3 carat stone and ring design from a big brand that would have cost $45,000. I was able to show him that by commissioning a designer-maker we could create a bespoke ring, with a similar but unique look, for $20,000. Of course, some people will always want to go with big brands, but I'll never forget meeting this client with the finished bespoke ring at the bar of the Manadrin Oriental Hotel near Hyde Park in London. It was an hour before he was planning to propose and his reaction was: "Phwoar! That's big!"
In reality it was a bit too big, the stone kept falling off the side of her finger—we had to put some grippers on the inside of the ring to keep it upright!
These days though, my favourite projects are ones where we're rummaging around an antique dealer's dusty collection trying not to sneeze, or I'm working with a client who has plenty of time, to design something completely unique and special from the very beginning. I actually find that the more modest the budget is, the more fun the challenge.
I realize that most of the time people will actively want to visit a jeweller's shop or studio, or will have a brand they are determined to buy, but there are a small percentage of cases where the client wants or needs the expert to visit them instead, at work or even at a bar. And because engagement rings tend to be quite a considered purchase I am able to offer my service for free to the clients, and just make a small commission directly from the jeweller, at the end of a happy purchase.
The funniest thing about being a secret engagement ring agent is that 99 percent of my clients never tell their partner I was even involved. I go to great lengths to ensure we're never caught. The one time my client's partner answered the phone at our allotted call time I pretended to be his dental hygienist reminding him of an overdue appointment—I make sure to know my clients' dental surgery's name in the briefing form.
Most people are introduced to me by email, but I also spread the word about my service by planting "secret agents" into businesses all over the UK, and now increasingly the world. At this point they tend to be businesses where the employees are typically male-heavy, as men tend to propose. But as times change I'm sure I will have agents in even more diverse locations.
"Agent S" works in real estate, "Agent P" in publishing, "Agent J" is a barber and "Agent M" is a taxi cab driver. I give them special business cards with my details on to share, and reward them for any connections they share with me.
When the pandemic hit, all those water-cooler moments inside my hidden agent's offices abruptly stopped, the barber shops closed their doors and my taxi drivers weren't on the road as frequently. Globally, many diamond trading floors shut down and hallmarkers temporarily prevented metals being stamped and completed.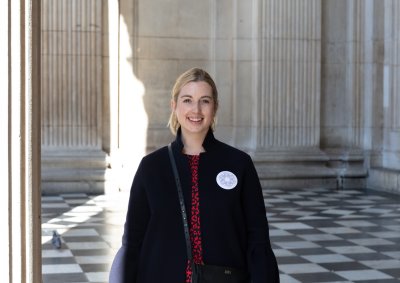 People were now at home all day with their partners, processing the enormity of the situation, but still wanting to propose. Having often relied on ring hunting from their work computers, many who had shared computers at home would likely want to avoid jewellery shop ads popping up on their screens, or at least not want one to appear on their work laptop while a partner could be in the same room.
"Client R" and his partner, both British, had managed to fly back from New York City where they were both working just before borders closed and flights were stopped. They were able to retreat to a parent's cottage in Rye on England's Sussex coast. "Client R" realised this was the right time to propose. Whilst the jewellery manufacturing process had almost ground to a halt, once it was safe to travel, one of my amazing jewellers drove and met them in their front garden, and within two weeks they had designed and made a beautiful ring together. COVID-19 has been devastating, but a silver lining I've noticed it's really put into perspective the important relationships in people's lives. I know it has made me value my own partner, Dan, even more.
Dan and I have been together for 11 years and I actually always thought I'd be the one to propose to him. But in the end we asked each other Central Park, New York in 2016. I gave Dan a watch and he gave me a beautiful pair of earrings.
He tried to be a double agent and asked a few of my jeweler contacts for help with an engagement ring, but they all told him it was far too much of a responsibility to make Agent E's ring and suggested we design it ourselves. It took me 18 months to get around to working with one of my designer-makers on my own engagement ring—I was too busy helping everyone else with theirs.
Agent Engagement was always my side-hustle alongside a full-time role as a global partnerships manager working long office hours, but sadly, due to the pandemic I have been laid off. Although it's a troubling time, I am lucky to have my plan B ready and waiting.
For years I've been obsessed by the idea of being my own boss and working less hours overall but from my laptop anywhere in the world. My secret engagement ring business allows me to see not just other countries but some of the best parts of life too - love and happiness.
Agent E at your service.
Rowena Cumner has spent her 15 year career passionate about the power of strategic partnerships for entrepreneurial business development. She runs Agent Engagement, which is a free and independent advice service to help prospective proposers in making or buying an engagement or wedding ring, no matter their budget, timing or style. You can follow her on Instagram @Agent_Engagement and discover more at agentengagement.co.uk.

All views expressed in this piece are the writer's own.