'I'm Selling Chocolate Covered Cicadas—People Are Swarming to Buy Them'
In 2009, I was 38 and working in financial sales. I just didn't want to do it anymore. I was about to buy a house but instead I threw it all away and moved to Paris for a year to attend pastry school at Le Cordon Bleu. I'd always loved to bake but I thought of the year as a sabbatical because I'd become a bit work obsessed.
When I came back from Paris, I started working in a little restaurant in Washington, D.C. and after a shift I would come home and start making chocolates in the middle of the night. People began saying the chocolates were so good that they wanted to buy them.
I found a commercial kitchen in Maryland where I could make them and started selling at farmer's markets and for weddings and school events. Little by little I grew a wholesale business with a small store that's part of the kitchen.
I am always thinking of new ideas. We already made political chocolates with Kamala Harris and Joe Biden designs on them and last year we created Dr. Fauci chocolates. We had closed down for three weeks during the pandemic in 2020, which was tough. A lot of my staff are people with mental and intellectual differences, and we were all struggling with being at home during lockdown. So, once it was safe for us to go back to the kitchen, we were working one day a week to keep our skills fresh and to ensure my staff had paychecks. During that time we created our Fauci chocolates and selling them really got us through the summer of 2020.
After Mother's Day in May this year things were slowing down a bit and I thought we should create something around the arrival of the cicadas. I worked with a graphic designer and made really cute cicada designs to go on chocolates. My idea was that it was like The Beatles coming on tour, it's the cicada's summer tour 2021—they're certainly as loud as going to a concert!
I reached out to a local reporter who had worked on a few cicada stories and she asked me to add an item that had an actual cicada in it. I tried five or six different ways to cook them; I tried to boil them and they basically exploded, then I tried sautéing them and they turned slimy. I also tried roasting them in the oven but some parts ended up raw and others burned. Then I realized I needed an air fryer. What's more in 2021 than an air fryer?!
That was the best as you can add spice to the cicadas and then just cook them without much oil. We began to gather the bugs and freeze them, which I believe is a kinder way to end their life. Then we dip them in boiling water to clean them off before we air fry them and then dip them in the chocolate. It's a four step process.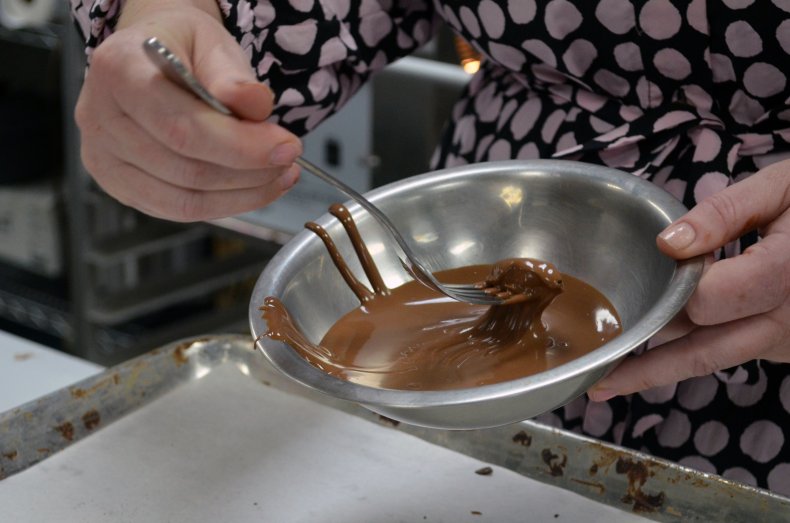 Early on, I ate some without chocolate because I was taste testing them. The air fryer makes them really flaky and to me the cicadas cooked in it taste like a wafer, but a little bit nutty. You also get a bit of a popcorn texture because the wings are a little crunchier. They're really good.
Our first cicada chocolates had cinnamon added, and they come in milk and dark chocolate. That's what we'd call the "original spice." Because we're based in Maryland, we have a seasoning we use here called Old Bay, which people put on crabs and shrimp. I've mixed Old Bay spice and chocolate before so we created a chocolate cicada using that, too. My staff then asked me why I have to make everything more complicated!
I took a picture of the first chocolate cicadas and put them on my website as a joke. I was filmed for TV eating my first chocolate cicada on May 20 and the next day when I was out to dinner it aired. But, my phone lit up and the online store went bananas. I had to go and catch a bunch of cicadas that weekend so I could start fulfilling orders. I have been in the business for ten years, then, I eat a chocolate cicada on TV and orders go crazy.
I was not a cicada expert when I did this, but I have since been reading the research about them and I think that in 2038, when they are next due again, we will not think twice about eating them for protein.
Of course, I did this as a joke, it was not about sustainability, but I can see that it is a more sustainable way to eat animal protein. As a chocolatier, sustainability is important. I already use fair trade chocolate. Cicadas are good because no animal source really relies on them, since they're only here every 17 years. Although, they are related to shellfish so if you have a shrimp or shellfish allergy you should not eat cicadas.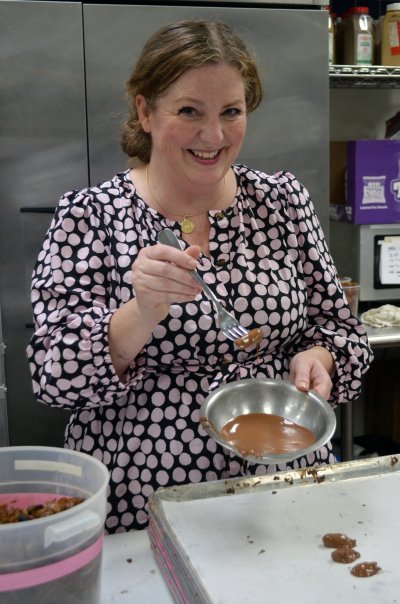 Just as they are about politics, Americans seem pretty divided about eating cicadas. Some say they are delicious and that they can't wait to eat them again, and others people send me barf emojis.
Now, I sell my chocolate cicadas by the dozen and after they're dipped in chocolate I package them in a cute container. We put the cute "Summer Tour 2021" label on it and I have now sold more than 2,000 of those. That's 24,000 cicadas my team and I have now dipped in chocolate. Some of my team even go out in their free time and gather cicadas, they get paid for that of course, but they've become foragers.
People I haven't seen since elementary school are telling me they have seen me on local news and I'm sure the chefs at the pastry school I attended are laughing because the techniques I learned in Paris to dip a truffle are now being used for dipping cicadas. It's been really fun.
Sarah Dwyer is the owner of Chouquette Chocolates in Bethesda Maryland. You can follow her on Facebook at Chouquette Chocolates and on Instagram @chouquetteus.
All views expressed in this article are the author's own.
As told to Jenny Haward.