'I'm Bringing a Therapy Llama to the Portland Protests'
I've owned my llama farm for about 24 years, but I've really been an activist all my life. I've been in a lot of different groups and organizations over the past 50 years.
One of my llamas, six-year-old Caesar the "No Drama Llama", as he has been named, actually started out as a therapy llama. I was just walking around Salem, Oregon with him and people started asking if I could bring him to their schools. So we took him to elementary schools, and then to nursing homes.
Now, with the COVID-19 pandemic, nursing homes don't get to have many visitors and the residents just light up when they see him outside. Because Caesar has a demeanour and a calmness that most llama's don't have. I have 15 llamas, and none of them are mean, but none of them have the patience and temperament that Caesar has, or can do what he does.
Mystic Llama Farm is based south of Portland, but we saw that Portland had become the epicenter of the Black Lives Matter protests going on in the region. Although I have taken Caesar to many marches over the years—including women's rights marches and climate change protests—the first Black Lives Matter march I took him to was on June 2. We marched with thousands of people for about three miles through Portland and ended up in downtown Portland in a square and we were right in the dead center of all those people.
Black Lives Matter speakers were on a platform rallying the crowd and we were invited by the organizers to join them behind them on the platform—we stood behind and gave them support. I think they recognized that Caesar has the ability to bring the stress levels and tension down.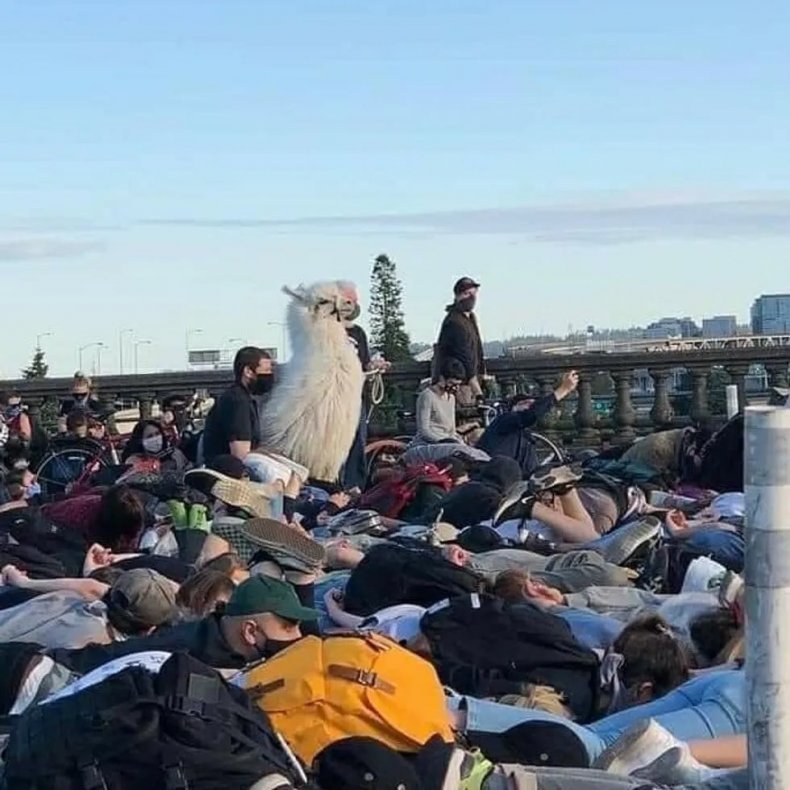 When I go to these protests, all I hear is: "It's Caesar the No Drama Llama!" The word goes through the crowd that he's there, and we'll be stopped for pictures by a big crowd. They've taken ownership of him a bit, they know the love he has and his purpose to help bring awareness to these protests.
One of the most important things is the calming effect Caesar has. If we're in the middle of a protest where things are getting pretty heated, believe it or not, people will still stop when he comes walking through, their demeanour changes, and they want to hug or be next to him. People see that calmness he can bring.
There was one protest where it was getting pretty intense and I was starting to look for our exit out of there as people were pushing a little bit. All of a sudden people started to realize Caesar and I were there, and I think it did make some difference to the mood. I noticed that the crowd around us went from being very fired up to much more calm when they noticed that Caesar was among them.
The crowd sensed him and became quieter. If we hadn't been there I think it could have fired up even more, but I think him being there changed the dynamic somewhat. Sometimes, I see him sneaking up and trying to get hugs from people. He will stand next to people, lean against them and I have to tell them he's there for a hug.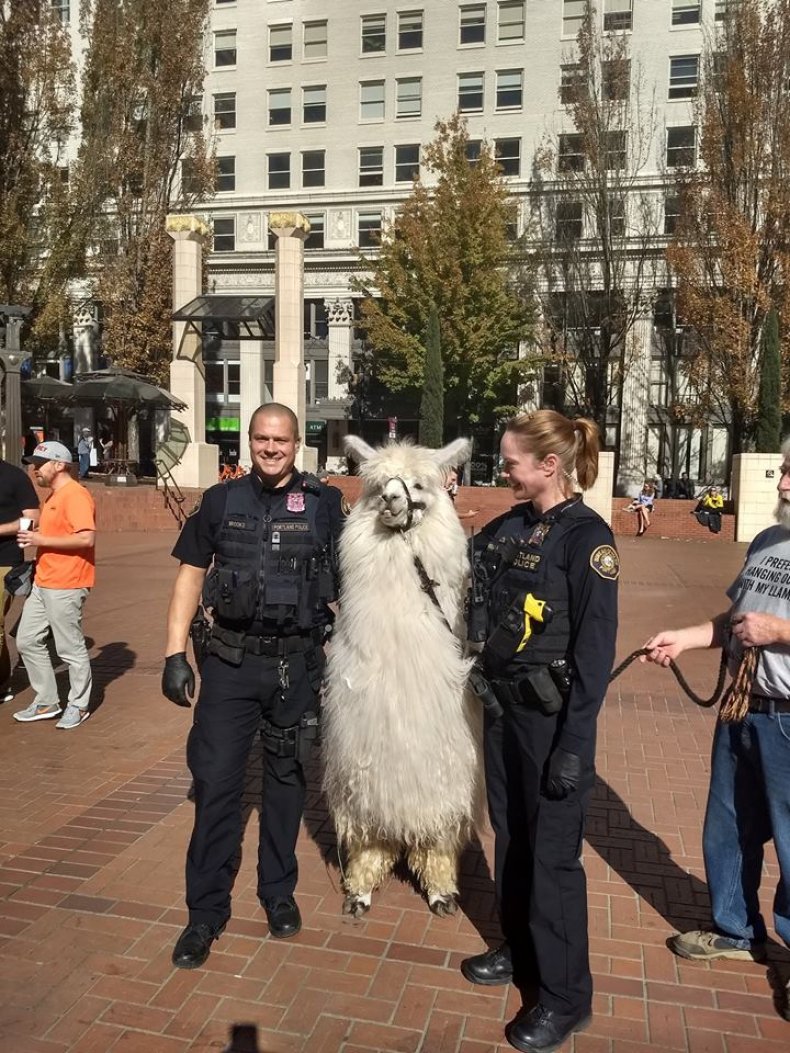 I think we have attended six Black Lives Matter protests in Portland now, and I've seen it evolve in the Portland area from peaceful and intense rallies to more of a confrontational situation.
When the federal marshals arrived in Portland in July, protests got much more intense and that's when the teargas, firebombs and more confrontation started. But, one thing I want everyone to know is that I'm never going to put Caesar into harm's way. When it starts getting dark I'll always move us back a little, because we're partners and he's just too important for me to take any chances. We've never been gassed or hit with rubber bullets.
At a recent large protest on July 25, when we stayed right with the protesters, the Black Lives Matter organizers were keeping us informed and telling us what might be about to happen in the next ten minutes, because they had seen many days of protests and knew the level of intensity that might come next. They were being very supportive and protective of Caesar because they didn't want anything to happen to him.
There was a protester, in full PPE with a gas mask around her neck, who took the time to give us guidance on what might happen. These people were looking out for our best interests when they were going to be the ones right in the middle of the tear gas in the next short while.
But it's interesting because even when the protesters are in their full PPE they also want to take pictures with Caesar. He must have that demeanour and calming effect that everyone needs right now. I think that's where he fits in and that's where his purpose is.
On the other side of it, one of the times we were up in Portland, we were walking down the back side of the federal courthouse, a door opened up and all of a sudden there were six or seven federal marshals standing there wearing their camouflage gear in the doorway. They started talking about Caesar and asking questions. Next thing I know, they were all taking selfies with him. I believe he has an ability to be a bridge between both sides.
I've marched regularly for 50 years for civil rights and I am very supportive of Black Lives Matter movement. As a white man I can walk anywhere and there's no question as to whether it's the right place for me to be. A young Black man can walk into that same area and be questioned about why he's there and what does he want. To me, that's the inequity. I can have that privilege that I was born with and Black people don't have that.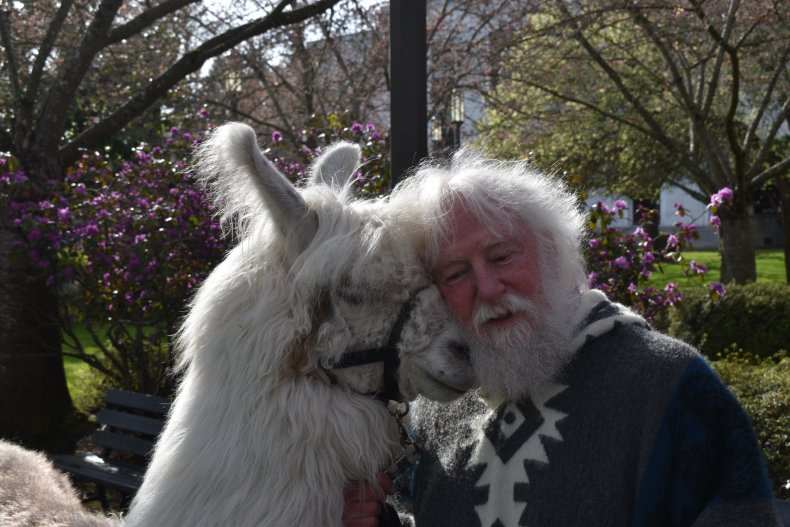 We want to help the voice of the Black Lives Matter movement, but we never want to detract from anything. When Caesar is there, if he becomes the center of attention, I'll back off a bit because I don't want him to take away from the message of the Black Lives Matter movement. We want to promote and help amplify the message, not detract from it.
I think this all happened in a very organic way, we didn't intend Caesar to bring so much awareness. But if this is something we can do to help, we want to continue.
I never think that I "own" Caesar. I see it as a partnership when we go to these events and I'm happy to let him lead the narrative. It's all natural, I haven't trained him at all. I'm just so thrilled that I have the opportunity to share him with people.
Sometimes, when we're out there with in the crowd it almost feels like the first time I'm seeing him with people—and I've taken him to marches, protests and to schools and nursing homes hundreds of times. But I get choked up when I see what he does. I'm very proud of what we've been able to do, and what he's been able to give to people.
Larry McCool owns Mystic Llama Farm in Ferguson, Oregon. For more than 20 years it has been home to many truly amazing llamas who have become part of the local community. Caesar "The No Drama Llama" has attended many marches and protests, and most recently has been bringing his peaceful presence to the Black Lives Matter protests in Portland. Find out more about Mystic Llama Farm here.
All views expressed in this piece are the writer's own.
As told to Jenny Haward.