'I'm a Teenage Protester—Young People Are Changing America'
"You've completed one of the first online exams in AP history." A feeling of immense relief swept over me when I received that digital message.
With a click of a button, the exam I had spent so long studying for, both in the classroom and alone, was finally over. It took just 55 minutes alone in my bedroom, but it still felt just as stressful as if it had taken place at school.
This year was always going to be one of the most pivotal and important in terms of our high school education, as colleges would be closely looking at the transcripts of juniors and seniors prepared to graduate.
But it ended up being almost impossible to finish the school year off on a high note. Firstly, the pandemic led to the deaths of our loved ones; one student in my English class lost his grandmother to COVID-19. Then, almost a month before classes ended, George Floyd was killed. It led to an outcry amongst young people, and many of us joined protests and used our social media to draw attention to George Floyd's death, police brutality, and systematic racism.
And during all of this, we were expected to study and prepare to take our final exams online. Since March, when schools in New York City closed, we had been studying online. It wasn't easy. During some Zoom classes a fraction of the class showed up, and those who did often struggled to be on time. Some of us had issues with the internet or not actually having a computer to work on.
Obviously, there were some advantages. We had the luxury of sleeping in and barely moving a muscle to attend class, but being on lockdown also meant that seeking friends for support or just to talk with was much harder.
Although I gradually became used to the routine of studying and completing schoolwork by myself, being isolated from people besides my family felt very unnatural. I was so used to being surrounded by people, especially in a city as big as New York City, so suddenly being forced to avoid contact with others felt extremely lonely.
Even in the face of the pandemic, we had started to feel excited about the approaching end of the school year. But then the video of George Floyd dying at the hands of police was posted online. Seeing him struggling to breathe and not receiving any help from the other officers nearby was extremely difficult for me to watch.
The impact of George Floyd's death and the protests
I'm 17, and I have grown up seeing videos of black people needlessly murdered by the police. It's a harsh reality that needs to change, and seeing the powerful protests erupt across the country moved me, and other young people, to push for action by bringing nationwide and worldwide attention to systematic racism and police brutality.
Seeing that video made me feel full of despair and frustration, but watching the protests around the nation, and even around the world, made me feel as though change could truly be achieved once and for all.
So I attended protests that were happening across New York City, from Times Square to Washington Square Park and at the Williamsburg Bridge. Large groups of people held "Black Lives Matter," signs as they walked up the street, shouting and chanting to bring attention to police brutality.
There was even a huge group of protestors who all rode on bikes and wore red shirts. Though I didn't see many people my age at the protests I went to, I know many teenagers who have been fighting for the cause through social media. I suspect many of them may not have been allowed to attend protests because of parents' fears of them contracting the coronavirus.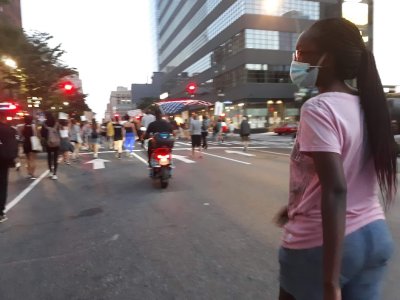 In the streets, though, young people like myself braved our fears and were at the forefront of protesting and creating an organized effort to bring about change. At one point in a protest I attended, a woman announced into her megaphone that the three other officers involved in George Floyd's death had been convicted. The crowd erupted in applause; clapping and cheering.
Protesting was invigorating and inspiring, it made me feel like I was a part of something much bigger than myself. The long months spent on lockdown seemed to melt away. It felt refreshing to be able to be with people again, especially because we were all advocating for an important cause.
Young people can bring about social change
It has been amazing for me to see young people coming together to bring attention to America's social issues, and to see how our involvement in the protests, along with all those demonstrating across America, contributed to the faster convictions of the officers who killed George Floyd. I also noticed the sheer diversity of America, people of all colors joined together to make their voices heard.
It's so important that we young people are visibly advocating for these changes by making our voices heard because it will soon be us who will be dictating the legislation that passes and making decisions on cases such as Floyd's in the near future. We are the ones who can bring an end to systematic racism and bring about a future in which police brutality never occurs.
Throughout these protests, my eyes have been opened to how much black people have been disproportionately affected by COVID-19 and how much permanent change needs to be brought about. We have witnessed yet another black man die due to police brutality, and justice should be swifter in these cases. Black people, and especially black men, shouldn't have to fear for their lives whenever they encounter the police.
Being a student during a pandemic was already unprecedented, but the death of George Floyd and the outcry that soon followed has really affected me.
Our lives seem to be undervalued and we constantly see black men die at the hands of the police only for them to be acquitted. Although George Floyd's death has been a painful reminder of this dark blemish on America, it was something we had to realize and reflect on in order to create change.
Our lives have had to change, but we are making history
Around the same time as we were completing the last month of classes, protests were spreading across the country and throughout the world, so teenagers like me had to balance schoolwork, personal struggles, COVID-19, and fighting for social justice all at once.
Looking back on the past school year, I remember how excited I felt in September when I found out that, as juniors, we would be going on a field trip to see Hamilton on Broadway. It seems like that announcement was made such a long time ago, and it makes me sad that we have missed out on that and other important events like prom, homecoming, sports games, and graduations.
Everything came to a standstill; these events that make up and are an integral part of the high school experience. Instead, they have been replaced by making masks, giving food to the hungry, attending protests, and doing our part to bring attention to police brutality and racism. Those are experiences that could never have taken place in a classroom.
One day, the history books will tell of the challenges and the obstacles that came with the arrival of the COVID-19 pandemic, and the changes to society that came about after the death of George Floyd.
For young people like myself, COVID-19 and a huge global anti-racism movement have meant we had to shift our focus away from academics and instead pay attention to the many issues facing our society. I believe this may actually help us.
Instead of theoretically learning about issues, we are practically experiencing them and taking part in efforts to combat and bring an end to these struggles. Many years later, those who are teenagers now will recall how we lived through history, but we'll also remember how we shaped it.
Zipporah Makena Lichoro is a senior at Manhattan Center for Science and Mathematics in New York City.
All views expressed in this piece are the writer's own.