'I've Treated COVID Patients Across America—Healthcare Workers Are Still Struggling to Cope'
Earlier this year, healthcare workers were being applauded, literally, and lauded as heroes. In the early days of the pandemic, the country was paralyzed, economically and emotionally, by SARS CoV-2, the virus that causes COVID-19.
But now, as people are venturing back out into the world, it seems many would like to forget that we are in a pandemic. I have treated COVID-19 patients in two different hot spots in the past six months, and even as we've reached the milestone of 200,000 deaths from this virus, healthcare workers have drifted out of the spotlight.
As a surgeon in the San Francisco Bay Area in California, I was transfixed by the news, perpetually scrolling through Twitter as the case numbers in the U.S. started rising in March. Before long, it became clear that New York was on a different trajectory from the rest of the country, and its hospitals quickly became overwhelmed.
From my cottage in California, I anxiously watched Governor Andrew Cuomo's updates while waiting to see what would happen here. When it became clear that California's case numbers were remaining low, I volunteered to go help in New York. I am not a lung or critical care specialist, but if psychiatrists, endocrinologists, and other doctors were helping, I knew I could too.
It was a moment of great instability and fear, especially for frontline workers who had to keep going to work while everyone else stayed at home. All we knew was that people were getting sick and dying at alarming rates: more Americans died in April than during the Vietnam War. Wearing masks was not the standard yet in the U.S., and most of us were scared and staying at home if we could. Many hospitals were struggling to procure ventilators and personal protective equipment (PPE). Refrigerated trucks held overflow from the morgues.
In New York, I worked almost exclusively with travelers from other parts of the country, caring for patients in an impromptu intensive care unit (ICU). There had been reports of doctors being fired for speaking out about what was happening in their hospitals. Outraged at this, as a volunteer I felt it was my duty to share what I was seeing.
On Twitter, I wrote about how hard it was to lose so many patients. By my third night in New York, 40 percent of the patients I was caring for had come close to death. I had never experienced anything like that before. A colleague commented that in her three weeks there, she hadn't seen any patients leave our ICU except to go to the morgue. As strong as we all are, seeing this much death takes a very real toll.
I was a visitor, so I could leave anytime. But those who lived and worked in New York were continuing to show up even if they were separated from their families and as their own colleagues became patients.
It was reassuring to me that people wanted to know what was happening. Engagement with these stories was high, especially when I shared the story of an inspiring patient who wrote, "I'm not giving up," despite having been hospitalized for weeks on a ventilator. On the frontlines, we were seeing death and dying, more than I had ever seen before in my life, and the general public seemed to care.
By August the world had changed. By this time, most people were wearing masks and social distancing. New York was recovering. Many, it seemed, wanted to put COVID in their rearview. However, hot spots were still developing all over the country, now in Texas, Florida, and Arizona, and this time I found myself traveling to Arizona to help care for COVID-19 patients there.
I wondered how the experience would compare—had patient care changed significantly in the intervening months? When I was in New York, it seemed like the recommendations for care were changing weekly, if not daily. Should we use hydroxychloroquine, steroids, or azithromycin? It has taken months to find the answers to questions such as these (no, yes, and no, respectively). In the interim, as clinicians our heads have been spinning, trying to stay on top of the latest data.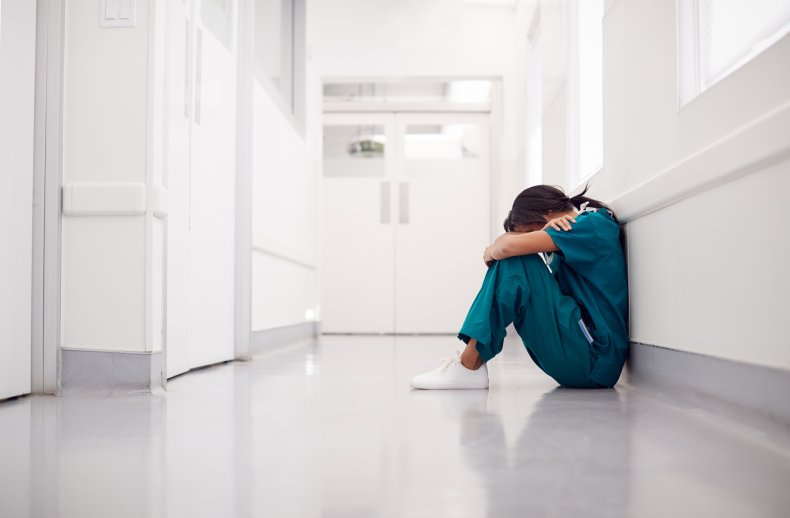 By August, we had settled somewhat into the not-knowing. The velocity of new medical papers coming out with suggestions and strategies seemed to be decreasing. The ground beneath us was no longer shifting on a daily basis. With that came a sense of resolve.
But by then, it felt that many had forsaken healthcare workers in their desire to forget about the virus. Yet many of the early challenges persisted.
There were, and are, still PPE shortages—I was given two N95 masks for three weeks of work—but many of the nurses and physicians had bought their own respirators. We still had no cure for COVID-19, but we had gone back to the mainstays of critical care management, focusing on what we currently believe works, such as supportive care alongside treatment with steroids.
And yet people continued to die despite the best care we could possibly provide. When I wrote about my experiences in Arizona, it seemed that the gaze of the world had shifted.
When one of the patients I was caring for took a sudden turn for the worse and died, I was reminded of the many times I had seen COVID-19 ruthlessly snatch people from us even as we tried desperately to hold onto them. Just before we placed a breathing tube for another patient, we connected them with their partner, so they could have what might have been their last chance to talk with each other.
Sharing these stories, I felt like a whiny child, tugging at Mom's sleeve, trying to refocus attention on what is going on in our hospitals.
Of course, there were other significant national events, including the Democratic and Republican National Conventions and continuing social protests prompted by repeated police violence against Black people. In the background, pandemic fatigue had also set in. Unlike the early days, when all anyone wanted was to understand COVID-19, now it seemed like the favored responses were distraction, or maybe even denial.
I completely understand. It's too hard to constantly think about a disease that has devastated so many communities, especially those that are Black or Latinx, and has fundamentally changed the way we live.
But those who are working in hospitals, especially in hot spots, don't have that luxury. While many people are now focusing on the upcoming election or how to home-school their children, healthcare workers continue to show up, day after day, mustering everything they can to fight this virus.
Yet they still lack the adequate tools to do so. Families are still separated from their sick loved ones and have to use phone calls or video chats to communicate. The recent passing of Dr. Adeline Fagan, a 28-year-old obstetrics and gynecology resident in Houston who was infected with COVID-19, reminds us that healthcare workers are still risking their lives, each day, to support their communities.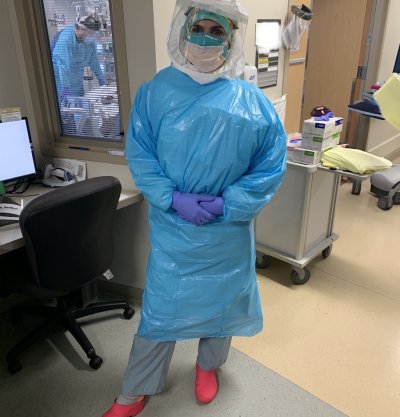 As if taking care of dying patients were not hard enough, they are also struggling to manage their own families. They worry about bringing the virus home with them and accidentally infecting their loved ones. Those who have survived a surge, like those in New York and Arizona, live with anxiety about if and when the next surge will come and whether they will survive it. We are all hoping there will be better treatments and a vaccine, but those will take time. In the interim, what healthcare workers will experience depends largely on how the public acts.
Luckily wearing masks has become somewhat less controversial now, but even last week President Donald Trump downplayed their role, contradicting the director of the Centers for Disease Control and Prevention (CDC), Dr. Robert Redfield, when the latter stated that masks may be more effective at preventing infection than a vaccine. This anti-mask rhetoric feels like a direct offense to healthcare workers who are risking our lives to take care of patients. Our safety depends on the public taking precautions by wearing masks, alongside other measures such as handwashing and social distancing.
Pretending the virus doesn't exist can have severe consequences. The Sturgis Motorcycle Rally in South Dakota, which took place against all public health recommendations, led to a spike in infections. The return of students to college campuses has led to a significant increase in the number of cases. None of this is a hoax.
We all would love for COVID-19 to disappear, but hoping, praying, and wishing won't make it happen. While we're waiting for a vaccine or other effective treatment, remember this is still a crisis for healthcare workers. We're the ones who have to call the daughter, partner, or parent with every death. I, myself, have listened to their sobs, tears welling up in my eyes.
Wanting to restore some sense of normalcy is natural. I get it. But if in April you thought we were heroes, please do what you can now to mitigate the spread of this virus. You want to go out to dinner? Make sure you're outside and at least six feet away from those around you. You want to go for a walk? Wear a mask. You want to throw a party and pretend everything is normal? Don't.
These are small sacrifices compared to the challenges healthcare workers navigate every day.
Arghavan Salles, MD, PhD, is a surgeon and scholar in Menlo Park, California. Follow her on Twitter @arghavan_salles and Instagram @arghavansallesmd. To learn more about her time in New York, watch this video.
All views expressed in this piece are the writer's own.