'I'm a Former United Airlines Attendant, I'm Walking 220 Miles For Colleagues Lost on 9/11'
I went to work for United Airlines in 1997 and I started flying out of Boston, which is my home, in 1998. Flight 175 was a route I worked on all the time. Once flight attendants find their niche with an airline they tend to stick with certain trips and that flight to California and back was one I enjoyed.
But when I did my schedule for September 2001, an extra day had been added on to that trip. It was normally two days, but a flight to Chicago had been added after L.A.
So I flew Saturday morning on 175 to L.A, on Sunday I flew to Chicago and on Monday night I arrived back into Boston. It just happened that I wasn't able to get that particular weekend off. So, on the morning of Tuesday, September 11, 2001, that crew went out on Flight 175.
I knew that crew because we worked together and would trade our trips with each other. If I wanted a certain day off I would contact one of them and we'd trade. I was very friendly with Amy Jarret. Amy and I used to work coach class together all the time. I knew Kathryn Laborie too, she'd normally work in business class. Amy King and Michael Tarrou were a couple and they normally worked in business class together.
When I arrived home on the night of September 10, I went to bed and the next morning I went over to a friend's house to help him build a stone wall. There were builders inside the house and one of them came running out and screamed for us to come inside. A plane had already hit the North Tower and when we came into the house we saw the second plane hit the South Tower. I remember I called Boston Logan International Airport, but no-one was able to talk. It sounded like chaos there.
Then, my phone started buzzing with people calling me. My family didn't know if I was on the plane or not, because people who knew me, knew that 175 was a flight I normally worked. It was surreal, like an out of body experience. I was in shock. I felt that no matter where I was, I was alone.
Of course, I knew that I was going to know the crew who had been on Flight 175. It wasn't confirmed right away, but I knew.
Everything in my life changed at that point. It might sound crazy but I almost wanted to have been on that flight. I was a single guy at the time and I felt like I was someone who could protect themselves. I had so much anger that someone could hurt these women that I knew. I wanted revenge, but I knew I was never going to get it.
That played on my mind for a long time. I don't know what I would have done, but I would have rather been up there battling with those terrorists instead of those poor women. There were guys on the flight, so I understand that my thought process wasn't valid. Perhaps it was my way of appeasing myself. I just couldn't comprehend Amy or Katherine, or any of those crew members, being hurt. I loved working with those people. I guess it was survivor's guilt.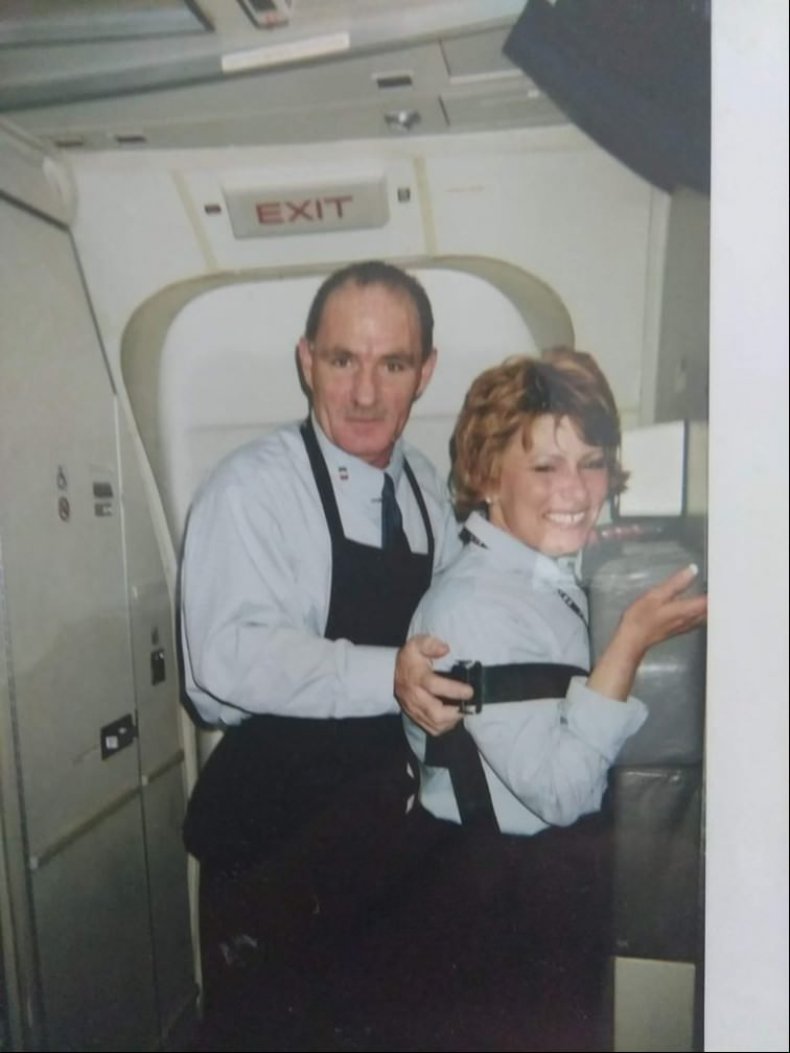 I didn't go back to work for about a week. But when I did go back, my whole life and how I felt had changed. I got a photo of all the crew members who had been on that Flight 175 and I put it on my flight bag. I wasn't going to let people forget about them. They were the first, first responders on 9/11 and I felt they had not been properly honored for their heroism. For 10 years I flew around the country and people had no choice but to see that picture.
After 9/11, I was prescribed pain medication and I developed an opioid addiction that almost took my life. I struggled with it for more than 10 years. I realize now that it stopped me from processing what I should have been processing. I came to a dead stop from the minute I began to take it.
I don't know how I got through 10 years working on an airplane. It was just sheer determination to not let those terrorists take my career away from me. But I was pretty much a zombie for many years and in 2011 I crashed and burned, right before the 10 year anniversary of 9/11.
In 2013, I left United Airlines. I was in treatment and trying to find my way out of addiction. I told myself that if I survived the only thing I had to do was recognize and honor the crew members who died that day. It wasn't until 2015 that I was finally successful in beating my addiction.
All of a sudden I could care for people and give to people again, instead of being handcuffed to a drug. I knew the minute I got clean that I was going to walk from Boston to Ground Zero in New York to honor the flight crews who died in 2001. But I didn't know when, because the first thing I had to do was take care of myself, and I couldn't rush that. Then, 18 months ago I decided I could do it, and decided to complete the 220 mile walk to arrive at Ground Zero on the 20th anniversary of 9/11.
I started training October 10, 2020. I drove down to a beach at night, got out of the car and walked up and down the beach. I started doing that every day. Gradually I built up the distance and as the weather got warmer, I began bringing a flight attendant's beverage cart out with me.
On March 1, 2021 I took it to a park in Boston and walked it around. I did that each day until May 1. Then I took it out on the street so I would be comfortable with anything I'd encounter on the street on the way to New York. So I trained on the streets of Boston until I left for New York on August 21.
There was a hurricane on my first day of walking. The rain was coming down and I just said: "Let's go." I left the hotel in downtown Boston and I thought I'd walk 5 miles that first day. I ended up walking 18 miles.
But it's not a race. Each day, the distance I walk depends on the terrain, how I feel and the weather. I've already been through 40 miles of woods. Connecticut had some big hills. I've walked about 175 miles so far.
On top of the cart I have a photo of the United Airlines flight attendants from both planes and on the sides of the cart I have the names and details of the flights from both United Airlines flights and both American Airlines that day. If my feet start to hurt or the weather is bad I just look at that photo of their smiling faces. How can I not keep pushing when I think about what they went through that day?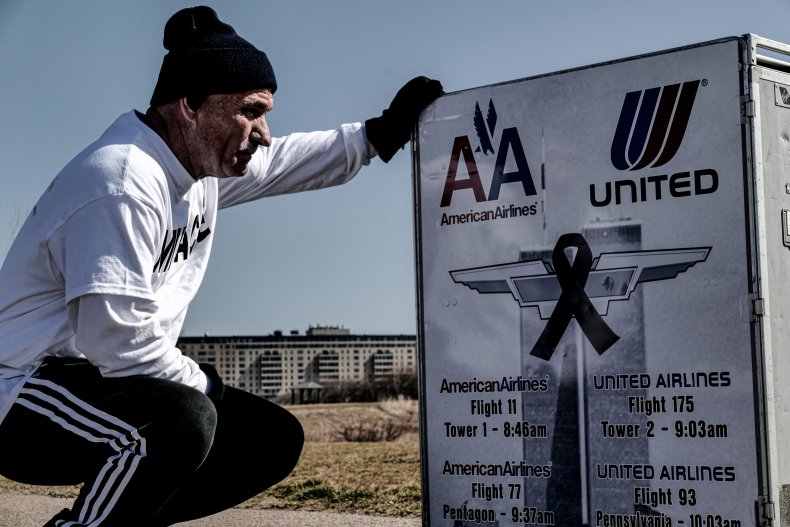 When I'm on the street walking, people have been coming out with signs and the police and fire departments are supporting me. It's unbelievable. We have an RV that is travelling alongside me and we're putting all the signs kids have made on it. My camera on the cart has a GPS unit so people can track where I am. Now, they're waiting down the street for me to arrive. It's crazy.
People tell me stories and they want a picture with me. Some are crying. I've never seen anything like it. In four or five towns in Connecticut I had between one and three fire trucks escorting me and two police cars behind them all the way through the town.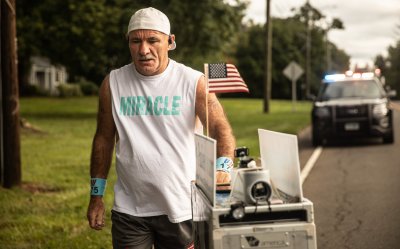 I'm ahead of schedule but I can't predict how long it's going to take, because there are so many people who want pictures with me. And that's fine. I stop for every single one. I can't believe that it's me uplifting these people to the point that they are waiting in the rain on their porches, making signs and screaming my name. Cars in the towns I walk through are beeping their horns. It's not why I'm doing it but it's incredible that it happens. It makes me emotional.
On September 9, I will be coming into Arthur Avenue in Little Italy in New York, they're going to shut the street down and have a feast for me. On September 10, I will arrive at Rockefeller Plaza and on September 11, I will be at Ground Zero. I haven't planned a speech, the main purpose is to get this beverage cart to that point. But, if people want me to say something, I'm sure I will.
The families of the United Airlines and American Airlines crew who died on September 11 come from all over the country. I wanted everyone who is related to them to hear, from this country and the whole world, that they were heroes that day. Kids of those crew members should hear that they were heroes. Their relatives should hear that. I don't think those crews have been honored as they should have been.
There's only one thing I want to say to the crews that died: I'm sorry it took so long.
I made a promise to myself five days after 9/11 that I would make sure that they weren't forgotten and that they were recognized for their heroism. I'm now doing what I promised myself, so that all their families and relatives can see them honored for what they accomplished that day. I'm doing what they would have done for me.
I'm just glad that I can finally fulfil that promise. I know they're looking down. It's a privilege to be able to do this for them, it really is.
Paul "Paulie" Veneto is a former United Airlines flight attendant. He is walking from Boston Logan International Airport in Boston to Ground Zero in New York to honor the United Airlines and American Airlines crew who lost their lives on September 11, 2001. You can find out more about his walk on pauliespush.com. Paulie's Push is supported by Power Forward, a nonprofit organization helping recovery.
All views expressed in this article are the author's own.
As told to Jenny Haward.