'I'm a U.S. Olympian Who Left Tokyo After Getting COVID'
I grew up with a volleyball in my hand. My dad played professionally and his brother, my uncle, was assistant coach for the U.S. men's national volleyball team at the '84 and '88 Olympic Games. I also have multiple cousins who have played professionally. Lindsey Berg, who won silver twice in the Olympics with the U.S. women's national volleyball team, is my cousin. Every weekend when I was younger, my friends and I would go down to the Outrigger Canoe Club in Hawaii and fool around with a volleyball at the beach.
I can remember watching Jake Gibb play in the Association of Volleyball Professionals (AVP) beach volleyball league and compete in the Olympics when I was a kid. We actually became partners in 2017 through a mutual coach; Tyler Hildebrand. When Jake was considering retiring, Tyler suggested he aim for the Tokyo Olympics in 2020 and partner with me. We met at Tyler's house to go over our goals and see if they were aligned. They were. We both wanted to get to the Tokyo Olympics and leave with a medal.
Jake is like a brother to me. I love and respect him and we would do anything for each other. And, some of the biggest moments of my professional beach volleyball career so far have been with him.
In June 2021, we were in the Czech Republic together at our last Olympics qualifying event, eating lunch and watching Nick Lucena and Phil Dalhausser's qualifying match on my phone. The U.S. has three teams in the top 16 and only two could qualify, so if they lost this game, we were automatically in the Olympics. Jake got up to get a cup of coffee because he couldn't watch anymore—it was too nerve wracking. When he came back, the game was over, and I told him that Nick and Phil had lost the match, which qualified us—although they still qualified too. Jake's face lit up and so did mine. The other players at lunch were definitely looking at us strangely because it appeared we were just hugging each other randomly over lunch!
I didn't want to risk this opportunity, so I was one of the first people to get vaccinated when it became available in my state and my age group. And, in the two weeks leading up to the Tokyo Olympics I was only around my immediate team, Team USA staff and my girlfriend. I also tested negative twice in the week leading up to our departure. I did everything I could to be prepared and make sure my body and mind were at 100 percent. It was the best I have ever felt.
Then, when we arrived in Tokyo on July 17, I was grabbing my bags from baggage claim when two staff members came over, removed me from my group and sat me on a chair by myself. I immediately knew it had something to do with COVID-19, but it took about an hour before I was actually told that I had tested positive for the virus.
I have no idea how I could have caught COVID. My girlfriend and everyone I was around have all tested negative before and since. It's very confusing and frustrating knowing that I took every precaution I could. At times, I almost wish I had an excuse like, "I didn't get vaccinated" or "I wish I hadn't gone out with that group of people." But I took all the right steps and precautions, which is why this has been so frustrating and devastating. That day, I had to go straight into quarantine, from the airport to the hotel. I didn't get to train at all.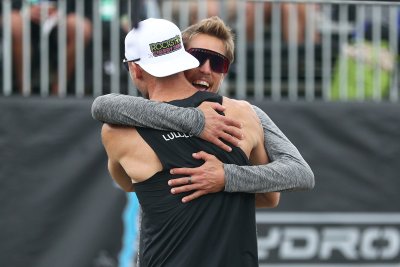 If I had risked a positive COVID test at the end of my quarantine, I would have taken both Jake and I out of the tournament. I knew Jake would have been by my side no matter what I chose, he was ready to ride with me, but although I was symptom free, I had positive test results in the early days of my quarantine, so I made the decision to pull out in time for a change to be made to the team and have Tri Bourne replace me as Jake's teammate.
My mindset all along was: keep Jake in the tournament, whatever the cost. I could not ruin this moment for him. Tokyo is his last Olympics before he retires, so it was bigger than just me. There's nothing I wanted more than for him to go out on top.
But quarantining for the full 10 days was the hardest experience of my life. On top of not being able to compete in the Olympics I was stuck in a hotel room where I didn't have the space to do anything. Luckily, I had amazing support from the United States Olympic & Paralympic Committee (USOPC). They were able to deliver food to me and my parents and girlfriend would FaceTime me everyday, which helped the time pass. Jake and our coach Rich Lambourne were also sending me videos of what they were doing and the facilities in the Olympic Village, but I went 10 days without sniffing fresh air. So, it was the best feeling ever arriving back in the U.S. The USOPC was actually able to change my flight and send me straight home to where I grew up so I could see my family.
I've been working out every day since getting out of quarantine and my focus has been on making sure I am ready for Jake when he returns from Japan. I'm also doing the scouting reports and strategizing for every game that Jake and Tri are playing in Tokyo. I FaceTime them before every match to go over it with them.
To be honest, nothing makes me happier than seeing the pair of them do well and overcome this adversity. They had never played together before and yet they are coming together and playing as a team for each other, for me and for our country. I'm here for them in any way they need and I want them to succeed.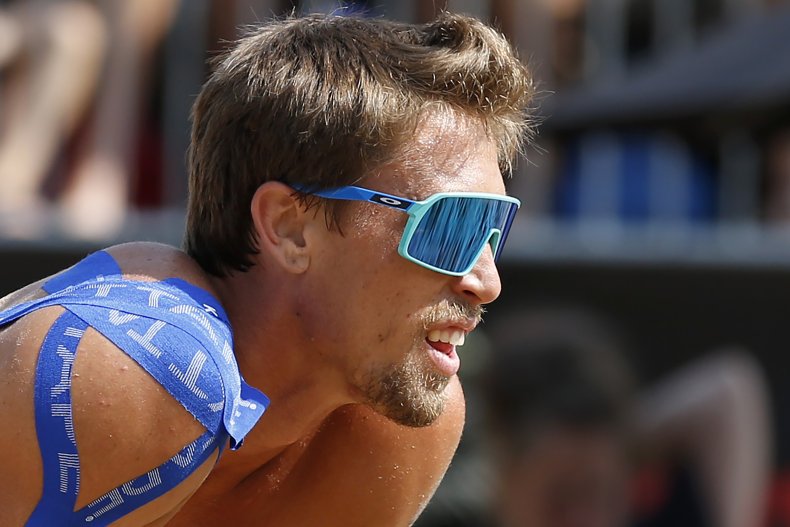 But at the same time, it is hard to watch, knowing that it should be me out there.
Because it takes four years of grind to make it to the Olympics, and that includes the qualification process, which starts two years out. It takes a lot of determination and sacrifice.
Thankfully, I only have to wait three more years for the next Olympics. I want to compete in at least two more Games, and win gold. In the meantime, my immediate goals are to win all three AVP tournaments this season and finish Jake's career strong together. Jake is my idol and my inspiration. I strive to be like him, not just as an athlete but as a friend, a mentor and hopefully one day, as a husband and father.
I'd like other Olympians and athletes to know that it's okay to hurt and it's okay to be sad and depressed. But try and use any setbacks to come back stronger. Look for silver linings. I had an unbelievable amount of support from other athletes when I shared my statement that I had tested positive for COVID on my Instagram. Everyone was devastated for me and supported me 100 percent. It was one of the coolest things to see.
Although I experienced the most devastating 10 days of my life, I would like to thank Japan and the International Olympics Committee for trying to keep all the athletes healthy and safe as best they can. And, I want to thank USOPC for supporting me while I was in quarantine and trying to make me as comfortable as possible.
I am also really happy with the journey Jake and I took together to make it to the Olympics. Nothing can take that away.
Taylor Crabb is a professional beach volleyball player living in Hawaii. You can follow him on Instagram @tcrabbs. Jake Gibb and Tri Bourne play their Round of 16 match on August 2 at 9am EST.
All views expressed in this article are the author's own.
Edited from an interview by Jenny Haward.