'I'm a Very Modest Individual': Trump Claims Hole-in-One at His Course
Responding to social media claims casting doubt on his golfing prowess, former President Donald Trump issued a self-congratulatory statement lauding a hole-in-one he says he hit at his golf course.
Trump issued the statement through a spokesperson Monday evening in response to what he called "a lot of chatter about it" and "people everywhere seem to be asking for the facts."
Republican House candidate Tim Swain on Saturday tweeted in all caps the news of Trump's hole-in-one along with a picture of the beaming former president holding the golf ball. However, Twitter users responded with skepticism, with some likening the claims to North Korea's insistence that leader Kim Jong-il scored 11 holes-in-one during his first-ever time playing golf.
But Trump said in the statement, "I'll give it to you now, it is 100% true." According to the statement, Trump was playing at his club in in West Palm Beach, Florida, with professional golfers Ernie Els, Gene Sauers, Ken Duke and Mike Goodes. The shot, according to the statement, occurred on the seventh hole, playing 181 yards into a slight wind.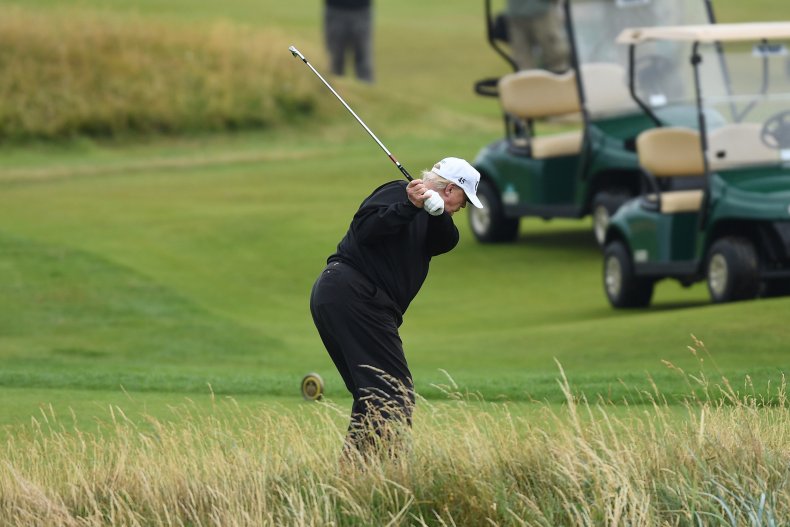 The website for the golf course described the seventh hole as an "unassuming par 3 [that] has thwarted many quality rounds" that requires the player to carry their ball over water guarding the right side of the hold.
"I hit a 5-iron, which sailed magnificently into a rather strong wind, with approximately 5 feet of cut, whereupon it bounced twice and then went clank, into the hole," Trump said in the statement.
The former president's golfing partners noticed the hole-in-one before Trump because of their better eye sight, according to the statement.
Accompanying the statement is a video of Trump walking to retrieve the ball and being congratulated by his golfing partners.
However, the famously braggadocious president noted in the statement that despite the golfing feat, he wouldn't say who won the round out of a sense of modesty, which he likely meant in jest.
"I won't tell you who won because I am a very modest individual, and you will then say I was bragging—and I don't like people who brag!" he said
Famously, Trump has bragged about the size of crowds at his rallies. However, reporters said that Trump's rally in Georgia attracted just thousands of people, noticeably smaller than previous events. Trump spokeswoman Liz Harrington disputed the journalists' assessments, putting crowd estimates between 25,000 and 35,000.
Newsweek has reached out to Donald Trump for comment.