Image Shows Asteroid That Just Came 'Exceptionally Close' to Earth
An asteroid has raced by the Earth at a distance of just 16,700 miles only four days after it was discovered.
The asteroid, known as 2021 GW4, was travelling at 18,700 miles per hour when it passed our planet—nine times faster than a rifle bullet.
At its closest point, 2021 GW4 passed by us at just 7 percent of the distance between the Earth and the Moon. It was also much closer to us than some man-made geostationary satellites, which typically orbit at around 22,000 miles. The asteroid's closest pass occurred at 9:01 a.m. ET.
Astronomer Gianluca Masi, founder of the Virtual Telescope Project, wrote on his website that the asteroid came "exceptionally close" to the Earth.
Astronomers think the space rock is between 3.5 meters and 7.7 meters wide, according to NASA statistics, meaning it is relatively small.
Because of its size, the asteroid was not visible to the naked eye when it passed by, but amateur astronomers were able to capture it with telescopes.
The below photo was captured just after 8 p.m. ET on Sunday by the Masi using a single 180-second exposure on a PlaneWave 17-inch telescope.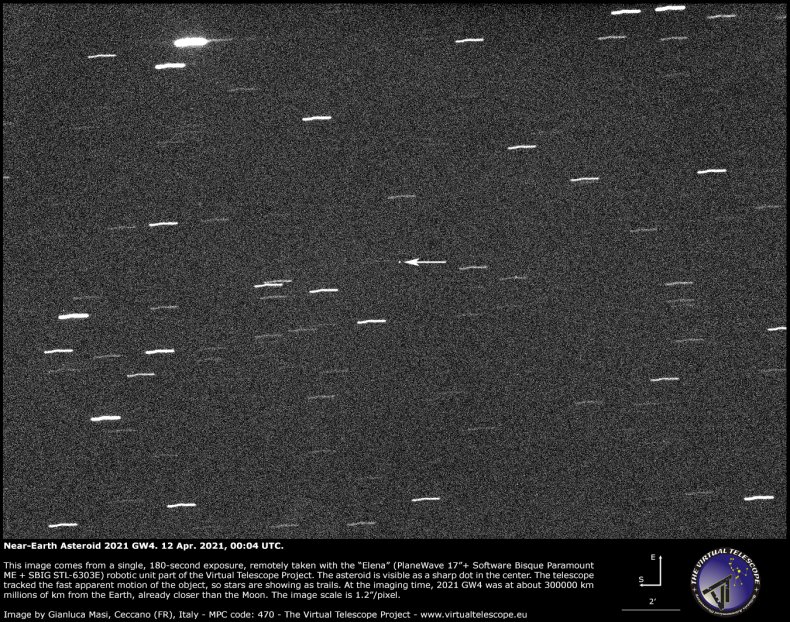 2021 GW4 can be seen as a single white spot in the middle of the photo, highlighted by an arrow. At the time, it was around 186,000 miles away. The blurry lines are caused by the light of stars as the telescope moves to track the asteroid.
Masi wrote that 2021 GW4's approach was safe. "Asteroids of that size coming so close are relatively rare, but so far this year we had four objects coming within 0.07 lunar distance from Earth's center: 2021 GW4 is the largest of these four rocks," he said.
Sometimes asteroids do impact with Earth's atmosphere, and they tend to explode mid-air due to the violent forces produced by their speed.
In October 2008, the asteroid 2008 TC3 exploded in the air over Sudan with the force of around 1,000 tons of TNT.
The space rock had been detected just one day beforehand by Richard Kowalski at the Catalina Sky Survey. Astronomers then predicted when and where it was going to land, and NASA said at the time the prediction "underscored the successful evolution of the Near-Earth Object program," which tracks the orbits of asteroids that are deemed to be close to our planet.
NASA's Center for Near-Earth Object Studies has discovered more than 25,000 asteroids so far. Around 1,000 of them are thought to be larger than 1km, but most are smaller.