Image Problem: Taliban Warn Foot Soldiers Against Selfies, Sightseeing, Stylish Clothes
Afghanistan's new defense minister recently criticized young Taliban foot soldiers for taking selfies, wearing stylish clothing, and sightseeing in Kabul—sending a warning that such activities are "damaging" the Islamic group's status.
Defense Minister Mawlawi Mohammad Yaqoob chastised soldiers in a Thursday speech as photos circulated of young Taliban men—many of whom have never lived in an urban area—enjoying the sights and attractions of Afghan cities.
"Stick to the tasks you have been assigned," Mawlawi Mohammad Yaqoob warned soldiers, according to The Wall St. Journal. "You are damaging our status, which has been created with the blood of our martyrs."
Mawlawi Yaqoob also criticized Taliban soldiers for taking selfies with senior members of the group, noting that as the images end up on social media, they can compromise the Taliban's security.
The defense minister added that Taliban fighters should improve their appearance and ensure that their beards, hair and clothes are in line with Islamic rules.
In Afghanistan's Helmand province, the Taliban already banned hairdressers from shaving or trimming beards, stating that it breaches an interpretation of Islamic law, the BBC reported.
However, recent photos have shown Taliban men sporting trendy hairstyles, stylish clothing and sunglasses, and high-top sneakers—drawing sharp criticism from the nation's strict conservative leadership, according to the Journal reported.
"This is the behavior of the warlords and gangsters of the puppet regime," Mawlawi Yaqoob said, in reference to the previous U.S.-backed Afghan government that the Taliban overthrew. "If we continue to act like this, God forbid, we will lose our Islamic system."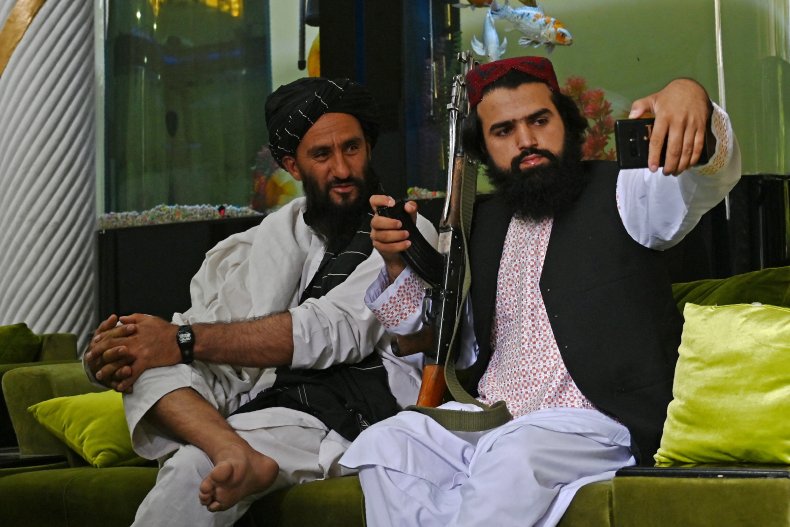 Mawlawi Yaqoob's comments come after thousands of young Taliban men from across the country were deployed to Kabul after the Afghan republic collapsed on August 15.
Since the takeover, Taliban fighters have reportedly committed violent acts reminiscent of the group's previous rule in the 1990s, with several abuses against women and assassinations of political enemies in the last month.
On Saturday, the Taliban reportedly hanged a dead body from a crane positioned in the center of a city square in the Western city of Herat. That was believed to be the first public execution since the group took over, according to the Associated Press.
Last week, Mullah Nooruddin Turabi, a co-founder of the Taliban and its chief enforcer of sharia law in the 1990s said the new government will be informed by the same stringent policies of the past. During their reign, the Taliban frequently performed executions or amputations in public spaces, including in stadium crowds.
"Everyone criticized us for the punishments in the stadium, but we have never said anything about their laws and their punishments," Turabi told the AP. "No one will tell us what our laws should be. We will follow Islam and we will make our laws on the Quran."