Images May Show 'Catastrophic' Levels of Human Waste From Chinese Vessels in South China Sea
Satellite images collected over the past five years show human waste piling up from Chinese vessels in a contested portion of the South China Sea, causing significant damage to coral reefs and wildlife, a U.S.-based analyst warned on Monday.
Liz Derr, head of Simularity Inc., a software company creating artificial intelligence technologies for satellite imagery analysis, said Monday that hundreds of Chinese fishing ships have anchored in the Spratlys region and dumped human waste, sewage, and wastewater.
During a Philippine online news forum on China's actions in the region Monday, Derr warned that the level of waste has accumulated to such significant portions that algae blooms are damaging coral reefs and threatening fish in catastrophic ways.
"When the ships don't move, the poop piles up," Derr said Monday, according to the Associated Press. "The hundreds of ships that are anchored in the Spratlys are dumping raw sewage onto the reefs they are occupying."
Derr said at least 236 Chinese ships were spotted in the reef area, internationally known as Union Banks, on June 17. She warned that fish such as migratory tuna, which breed in the reefs, could become threatened and cause fish stocks to considerably decline in an offshore area where they serve as a key regional food source.
"This is a catastrophe of epic proportions and we are close to the point of no return," Derr added during the forum, according to AP.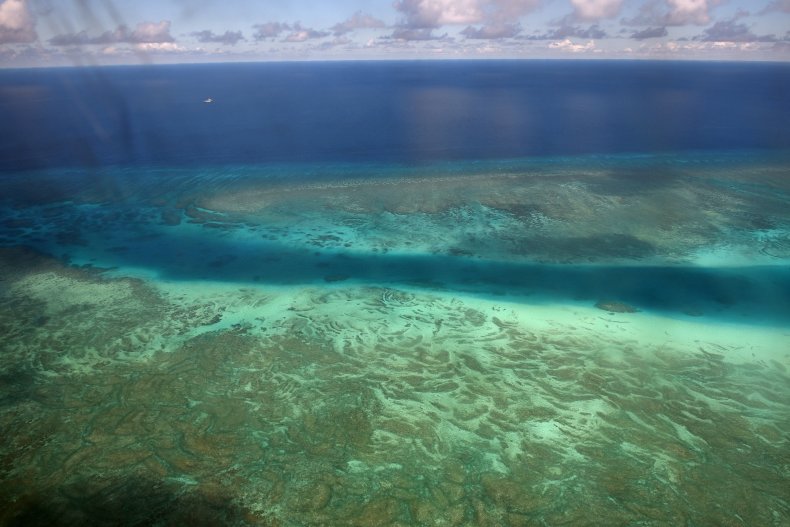 In response, the Philippine Department of Foreign Affairs said Derr's findings would have to be assessed and validated before authorities decide whether or not to confront China. Earlier this year, China and the Philippines disputed over another area of the sea after China kept over 200 fishing vessels at Whitsun Reef, in the northeastern periphery of Union Banks.
Chinese officials on Monday did not immediately respond to Derr's environmental report, but have defended their work to protect the environment and local fisheries in the South China Sea in the past, according to the AP.
China's vast territorial claim over the South China Sea has long caused tension with neighboring areas including Japan, India, Vietnam and the Philippines.
In a separate incident on Monday, Beijing claimed to have chased a U.S. warship out of different disputed area in the sea after Washington warned against attacks on the Philippines. The U.S. Navy disputed those claims on Monday.
Beijing has laid claim to hundreds of islands in the resource-rich South China Sea. The region reportedly holds an estimated 190 trillion cubic feet of natural gas and 11 billion barrels of oil in proved and probable reserves, with more to be potentially discovered, according to the Asia Maritime Transparency Initiative.
Newsweek contacted China's Ministry of Foreign Affairs for additional comment but did not hear back in time for publication.