Incredible Images Show Earth From Space As Seen by SpaceX All-Civilian Crew
The crew members of the SpaceX Inspiration4 mission are continuing to share photos and footage from their all-civilian spaceflight last week.
The mission was the first time an all-civilian crew had been launched to orbit. The four crew members were U.S. businessman Jared Isaacman who commanded the mission; cancer survivor and physician Hayley Arceneaux; geoscientist, pilot, and space enthusiast Sian Proctor; and U.S. Air Force veteran Chris Sembroski.
Altogether they spent three days in orbit aboard one of SpaceX's Dragon transportation capsules, which had been specially modified for the mission.
One of the most significant modifications to the capsule was its cupola—a transparent dome at its tip which gave the crew a 360-degree view of space, as well as the Earth rotating slowly below them.
The crew members used the cupola to take photos and videos of their view from space, while cameras fitted to the outside of Dragon also captured the moment.
Photos from SpaceX show crew members sticking their heads into the cupola as the curved horizon of Earth dominates the view below.
And on Twitter on Tuesday night, Isaacman shared a clear video taken inside the cupola, which he said was shot on his iPhone during the flight. He added the crew were "so fortunate to have this perspective and we will do all we can to share the experience with the world."
Another video, uploaded by Proctor the same day, shows the moment the crew were able to open the cupola access hatch for the first time, which she called "a true highlight" of the mission. The crew members audibly express shock as they are able to catch their first view of Earth as seen through the dome.
Inspiration4 ended on Saturday, September 18, after the capsule made a successful reentry and splashed down off the coast of Florida in the Atlantic Ocean.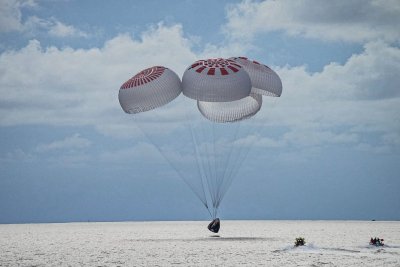 Earlier this year, Isaacman explained to Newsweek that the purpose of the mission was to showcase the possibility of all-civilian spaceflight as well as raise money for St. Jude Children's Research Hospital.
After landing, Todd Ericson, an Inspiration4 mission director, said the end of the mission marked a "second space age" and that it had managed so far to raise $160 million of its $200 million goal for St. Jude's, according to CBS.
Still, the mission was not without some hiccups. In a tweet earlier this week, SpaceX CEO Elon Musk said there had been "challenges" with Dragon's on-board toilet during the mission and that the facility would be upgraded for future flights.
Details are scarce, but Benji Reed, a human spaceflight programs lead at SpaceX, said in a post-flight news conference on Saturday that the issue involved the toilet's suction fan, according to Space.com. Reed added the issue was worked out and that the crew "was happy and healthy."