Texas Student with Autism Arrested for Allegedly Firing 'Imaginary Rifle'
A boy with autism was arrested for allegedly pretending to fire an imaginary rifle at his art teacher.
David Sims, 12, was talking with his friends about BB Guns at Conroe Independent School District's Bozman Intermediate School in Texas when he allegedly pointed the imaginary gun at his art teacher, FOX26 reported. His hand gestures made the teacher feel uncomfortable, which led to the 12-year-old boy being arrested by authorities on Monday.
"They just said, 'We don't tolerate that. We take it as a threat.' A threat? He didn't threaten anyone. He didn't do anything but play," David's mother, Amy Sims, told FOX26.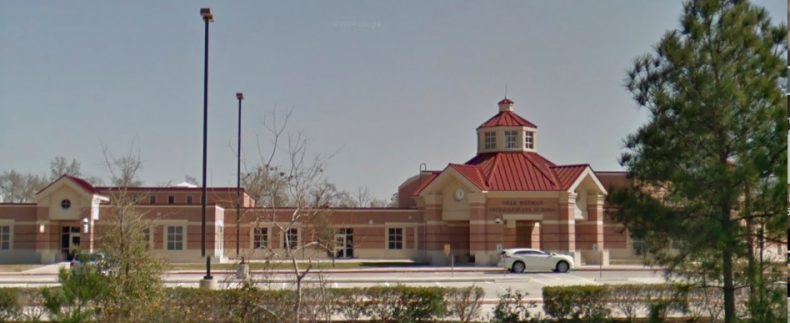 Amy said she never got a call from the school district of the incident in the classroom until he was in custody, she told the TV channel.
"Being put in handcuffs, not knowing what he did wrong, I could have had a talk with him and told him look, I know you like to play guns, but you can't do it in school," the mother said.
Sims, who has autism, was taken to Montgomery County Juvenile Detention Center where he was held there for two hours. Amy told KRPC that his son's diagnosis doesn't allow him to truly understand the consequences of his actions.
"He doesn't understand why, I don't understand why. He didn't attack anyone, he didn't put his hands on anyone, he didn't even threaten anyone," Amy said.
In a statement to KRPC, the Conroe Independent School District (ISD) said they were not able to specifically comment on the matter, but added that campus administrators are working with Conroe ISD Police in the investigation.
"Actions or statements containing specific elements are responded to in a manner that will initiate access to the appropriate support resources, and situations involving students with special needs are responded to with consideration for each unique need," the statement read. "Conroe ISD administrators along with the Conroe ISD Police Department do everything possible to make Conroe ISD a safe place for all of our employees and students."
This is not the first time the 12-year-old has got into trouble at school. Local publication The Courier reported that Sims wrote a "death note" at school with a list of his classmate's names.