Imagine Dragons Face Divorce and Change On 'Origins', Dan Reynolds Speaks On Creative Process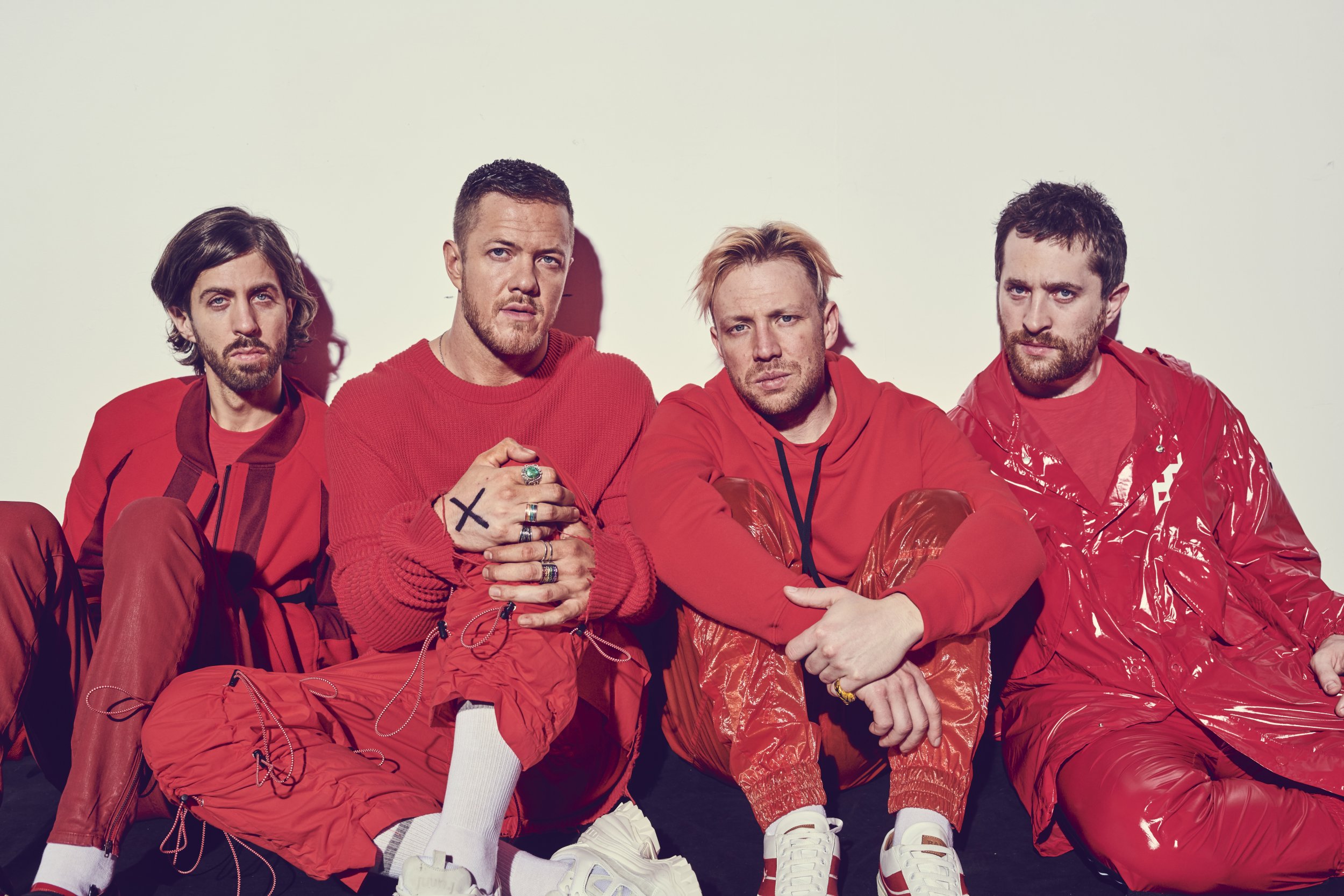 Imagine Dragons are known as a rock band of hard-hitting metaphors and a strong, celebratory facade, but it's all broken down in Origins, the band's fourth album. Out Friday, Nov. 9, the upcoming release is more somber than anything, jumping from a point of heartbreak into something emotionally sincere.
The inspiration comes from the band's lead singer, Dan Reynolds, who is in the middle of a divorce (though he said he and wife Aja Volkman are "dating" again in a tell-all video released Tuesday) and a writing change, one that strips the band's heavily hidden messages to a point of poetic revelation. He laughed to Newsweek about the interpretation of the band's first radio hit, "Radioactive," and how many listeners thought the song was about an apocalypse. In reality, it's a heavy-hitter written about depression.
Origins shows Reynolds undoing his metaphorical writing habit, which he started at age 14, as he jumps into lightly-coated reality.
"I was struggling with my faith at the time [I started writing] and the religion that I was raised in," Reynolds told Newsweek. "I didn't want my mom to know that. But I knew that she was gonna hear the songs I was writing. So I would really hide everything in metaphors. I think that I've grown as a lyricist and writer and it's become more important to me to strip back being overly metaphorical. It's still a beautiful thing to be poetic, but to me it's more powerful to be a little more straight. You can still be quite poetic while being understandable."
And Reynold's lyrics on Origins prove he's excelling at exactly that: letting in the true emotion while playing with concepts. Many of the lyrics on the album directly confront heartbreak and loss. Track "Cool Out," for example, includes obvious and raw lyrics: "Standing on your front porch saying don't go/You were looking at me wild saying just go home and Cool out/ baby I don't think I'm the one for you."
Aside from his divorce, Reynolds found inspiration in his constantly changing surroundings over the last year. The band's last album, Evolve, was just released in 2017. To Reynolds, Origins acts as a sister album, one that has been influenced by a tumultuous and performance-based year.
"I think being on the road relentlessly for 400 days, which is how long we toured this record, 400 plus days, you know, you change," Reynolds said. "You grow as a human being as you travel."
And much has changed since Imagine Dragons released their debut album, Night Visions, in 2012. Reynolds noted the change in diversity at their shows, which he said are now "littered with rainbow flags." But though the band continues to evolve, their music remains voluminous and whole in sound. Sonically, Origins is as full and explosive as ever. Longtime fans of the band can rest assured the album won't lo
se the spirit of the band they love, though its members are facing trying times.
For the close timing to Evolve, Reynolds just knew it was right to release Origins. "This past year has been so tumultuous," he said. "High highs, low lows. It really created a perfect environment for creating. Often times when I'm bored or life is vanilla, I find myself having a hard time creating music. It's been a really intense year, so it just felt natural to create another album."