How to Watch Yoko's Memorial Tower for John Lennon Light Up Tonight
The Imagine Peace Tower appears as little more than a white stone, cylindrical structure on a tiny island in Iceland until tonight, when it will be transformed into a shimmering tower of lights in honor of John Lennon's 80th birthday. You can watch the dazzling show at 5:00 PM Eastern Time, 3:00 PM Pacific, from the comfort of your home on the tower's official site or its YouTube channel. The lights will be on until sunrise tomorrow, and then lit up for one hour every night until the anniversary of his death on December 8.
This outdoor memorial and art project was conceived by Yoko Ono in honor of her late husband's memory, as well as to spread his enduring message for world peace by putting forth some light into the dark night sky.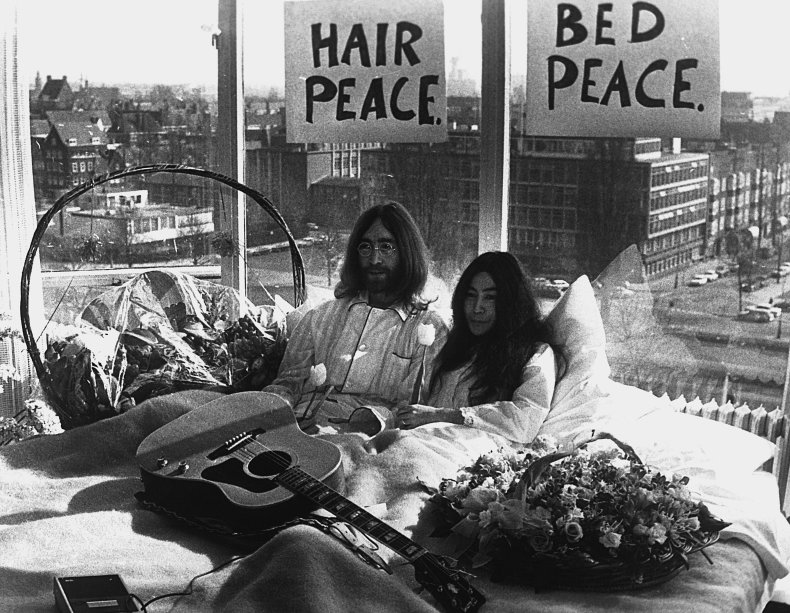 Located on Videy Island in the bay near Iceland's capital Reykjavík, the tower was first revealed to the world in 2007 with a dedication attended by Ono, Sean Lennon, Ringo Starr, and George Harrison's widow, Olivia.
The white walls of the monument are known as the Wishing Well, on which the phrase "Imagine Peace" is inscribed in 24 different languages. It's lit with 15 searchlights with prisms that act as mirrors, reflecting the columns of light vertically into the sky. If the night is clear, the lights project more than 13,000 feet upward. Iceland's famously beautiful skyline full of stars and shifting clouds are said to enhance the experience.
Since the electrical energy source for Iceland, and thus the Imagine Peace Tower, is geothermal, it is powered by water, instead of oil. The fact that it emits no air pollution was a key factor in Ono choosing Videy Island as the site.
If you somehow miss the Imagine Peace Tower's show before December 8, you can also see the tower illuminated online from the Winter Solstice (December 21) until the morning of the New Year (January 1). In addition to then, the tower lights up for the first week of spring (March 20th -27th) to coincide with the dates of John and Yoko's wedding and honeymoon in 1969. The city of Reykjavík also pays tribute to Yoko by turning on the tower on her birthday, February 18.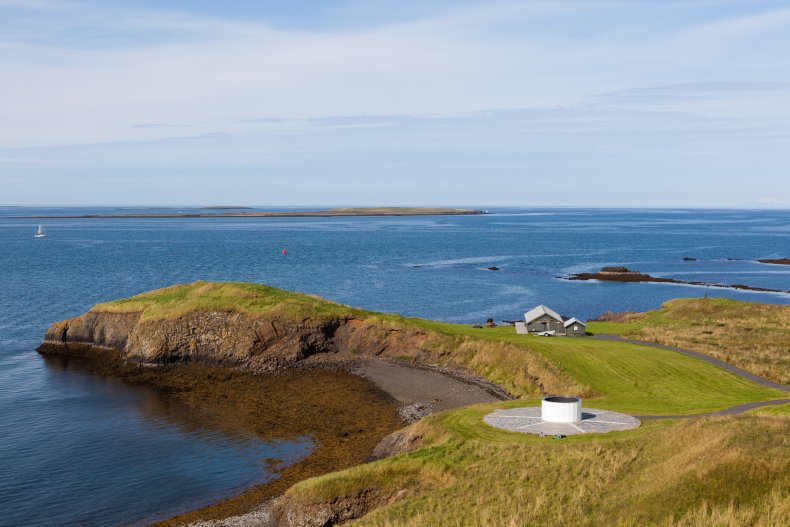 Unfortunately, visitors can't see the monument in person for the time being due to the COVID-19 virus, but they can observe the tower safely from the mainland (or online). People are also encouraged to send their wishes--any positive ones they may have--to the Imagine Peace Tower by emailing the website or sending an old-fashioned letter to the address on the site. But you can also publicly share you wishes or pay your respects to John on the Imagine Peace Tower's Twitter, Instagram, or Facebook pages, also linked to their website.