Winnie, Beaumont, Texas Flood Map: Massive Flooding caused by Tropical Depression Imelda Prompts Road Closures
Flooding in parts of Texas has become so severe that evacuation orders have been issued, prompting one sheriff to declare that the impact dwarfed that of Hurricane Harvey.
Tropical Depression Imelda brought heavy rainfall to the Southeast part of Texas this week, causing what the National Hurricane Center (NHC) described as "significant and life-threatening" flooding. As of Thursday, the rain still had not let up, and the NHC forecasted the upper Texas coast and southeast Texas could experience an additional five to 10 inches through Friday. With the additional forecasted rain, isolated storm totals could range from 25 inches to 35 inches.
"What I'm sitting in right now makes Harvey look like a little thunderstorm," Chambers County Sheriff Brian Hawthorne told KTRK.
The flooding forced the evacuation of multiple patients at Riceland Medical Center, which took on four to six inches of water. Some homes also had up to five feet of water and Hawthorne told KTRK that about 20 percent of the estimated 2,500 people in Winnie, Texas, have water in their homes.
Chambers County Judge Jimmy Sylvia issued a disaster declaration on Thursday, stating that the area was under "imminent threat" of severe damage and loss of life.
"The community of Winnie is being devastated by rising water. The sheriff office has deployed high water rescue vehicles and airboats," the Chambers County Sheriff Office posted on Facebook.
In addition to Chambers County, heavy flooding and rain also hit other parts of the state. The National Weather Service (NWS) issued a Flash Flood Watch for the Texas counties of Hardin, Jefferson, Northern Jasper, Northern Newton, Orange, Southern Jasper, Southern Newton and Tyler.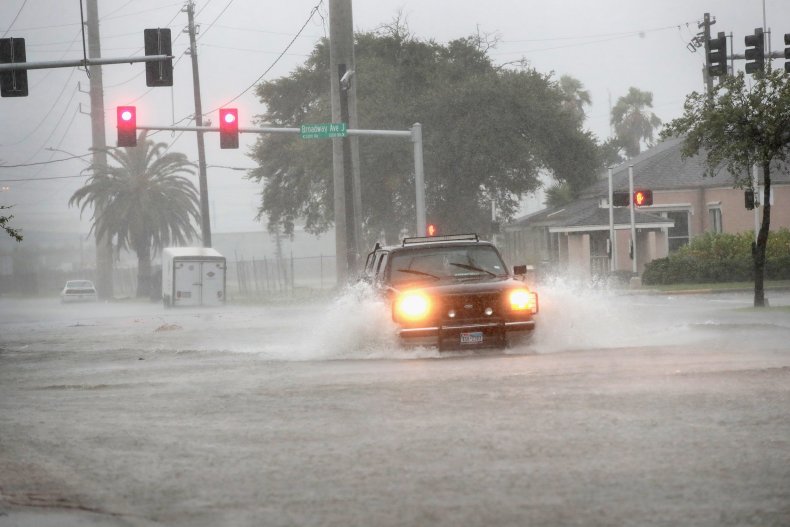 During a Flash Flood Watch, conditions could develop that lead to flash flooding, which the NWS labeled in all capital letters a "very dangerous situation."
Jefferson County and Orange County were also under a Flash Flood Emergency, which is far more serious than a watch in that conditions were imminent and residents needed to immediately get to higher ground.
"Move to higher ground now. This is an extremely dangerous and life-threatening situation. Do not attempt to travel unless you are fleeing an area subject to flooding or under an evacuation order," the NWS stated.
Areas in Texas that were expected to experience flooding were identified as: Beaumont, Port Arthur, Orange, Nederland, Groves, Port Neches, Vidor, Bridge City, Nome, Hamshire, Central Gardens, Mauriceville, China, Rose City, Pine Forest, Port Acres, Forest Heights, Orangefield, Fannett and La Belle.
The Weather Channel reported some areas of Texas already had almost 28 inches of rain and Hamshire, according to the Weather Prediction Center, was at 28 inches of rainfall as of Thursday morning and San Bernard had 21 inches.
Some people found themselves trapped in their homes, prompting rescues, which Hawthorne said were carried out using airboats and dump trucks.
Roads were also impassable and KBMT reported Highway 105 and 1131, as well as, several roads in Rose City were underwater. The freeway, according to KTRK, was shut down in both directions from FM 365 to SH 73 in parts of Chambers and Jefferson Counties.
Over the next few days, Imelda is expected to bring heavy rain to parts of Louisiana and possibly Arkansas and Oklahoma.