Is Imelda Worse Than Harvey? Tropical Storm Causes Texas Mass Flooding 2 Years After Deadly Hurricane
Despite failing to reach hurricane status, Tropical Storm Imelda, now downgraded to a depression, has drawn several comparisons to Hurricane Harvey, which devastated swathes of the American southeast in 2017.
Imelda's maximum sustained winds were recorded at around 40 miles per hour (mph), meaning it missed the 74mph threshold required to be classified as a hurricane.
Mo Danishmund, chief financial officer for Riceland Healthcare told the Houston Chronicle the floodwaters caused by Imelda were "worse than Harvey."
Speaking to The Weather Channel Thursday morning, Rod Carroll, Chief of the Vidor Police Department in Texas, echoed these comments. He told reporters flooding in the town was "worse during this storm than it was during Hurricane Harvey."
"We have many areas that are underwater that were not previously underwater," he said.
This week's storms flooded Houston and Southeast Texas, with preliminary data compiled by the National Weather Service (NWS) suggesting Imelda is the seventh wettest tropical cyclone in U.S. history and the fourth wettest in Texan history. The highest storm rainfall estimates were in Jefferson County, where it is thought 43.15 inches collected.
Meanwhile, Thursday's rainfall broke September records with the highest daily maximum rainfall for Houston topping 9.18 inches. The previous record was 7.73 inches, set in 2008 on September 13, when Hurricane Ike hit the area.
Still, this falls shy of the levels of rainwater brought by Hurricane Harvey in 2017, which dumped 16.07 inches of rainwater on the city on August 27. Harvey has gone down on record as the wettest tropical cyclone in U.S. history—but how does it compare to this week's natural disaster?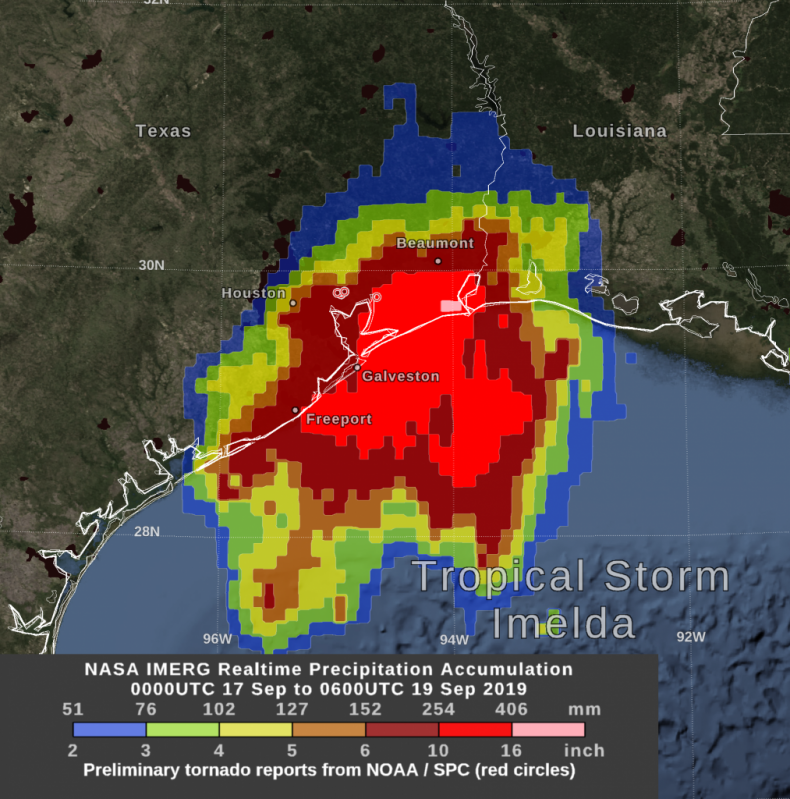 Rainfall
As well as having higher daily maximum rainfall, Hurricane Harvey broke the total rainfall record for a single storm in the continental U.S. with levels of 60.5 inches in Nederland, Texas—almost 20 inches higher than the 43.15 inches of Jefferson County.
Harvey also exceeds Imelda in terms of its 20-inch plus rainfall footprint, which was approximately 13 times larger than this week's storms and covered a landmass (28,949 square miles) almost the size of South Carolina, The Weather Channel reports. According to their calculations, Imelda's 20-inch plus rainfall footprint is around 2,200 square miles.
Casualties
Two people have been declared dead and more people injured from the flash floods caused by Tropical Storm Imelda this week. Though these figures may be updated and amended, the death toll of Hurricane Harvey exceeds this number. By October 2017, 88 people were reported to have died from the disaster.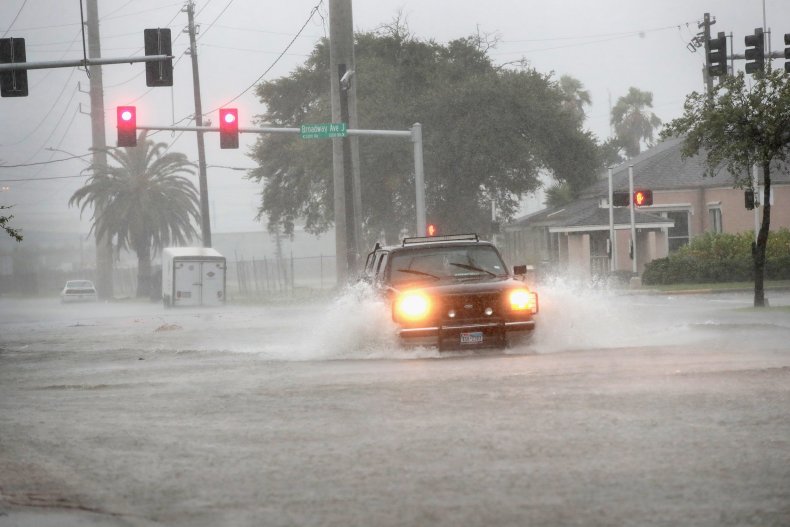 Cost
While the total cost of the clean-up required for Tropical Storm Imelda is currently unknown, Hurricane Harvey cost the country $125 billion—more than a third of the cumulative cost ($306 billion) of the 16 separate billion-dollar weather events that struck the U.S. that year.
According to the National Oceanic and Atmospheric Administration (NOAA), it is the second costliest hurricane to hit the U.S. Only 2005's Hurricane Katrina (total cost: $161 billion) exceeds the amount spent on the Hurricane Harvey clean-up.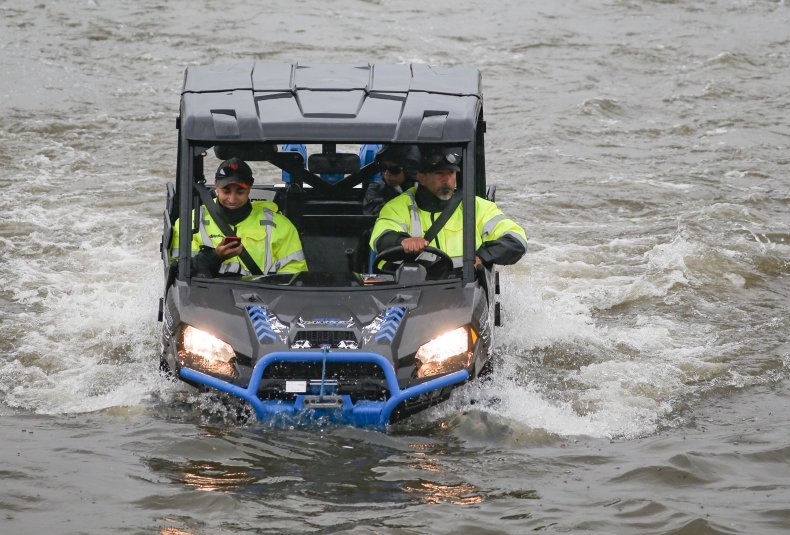 Though it might not have been quite as extensive as Harvey, the severity of flash flooding brought by Imelda encouraged Governor Greg Abbott declare a State of Disaster in several counties on Thursday.
"I thank our first responders who are acting swiftly to help the communities that are facing this severe weather event. I urge all those in the path of this storm to take the necessary precautions and heed all warnings from local officials," said Governor Abbott.
American Red Cross shelters have been opened across the state, where those affected by the storm can access food, drink, health services, emotional support and help reconnecting with loved ones. (For information on where to find a shelter, click here.)