IMF Issues Reminder of Greece's Financial Woes Ahead of Sunday's EU Referendum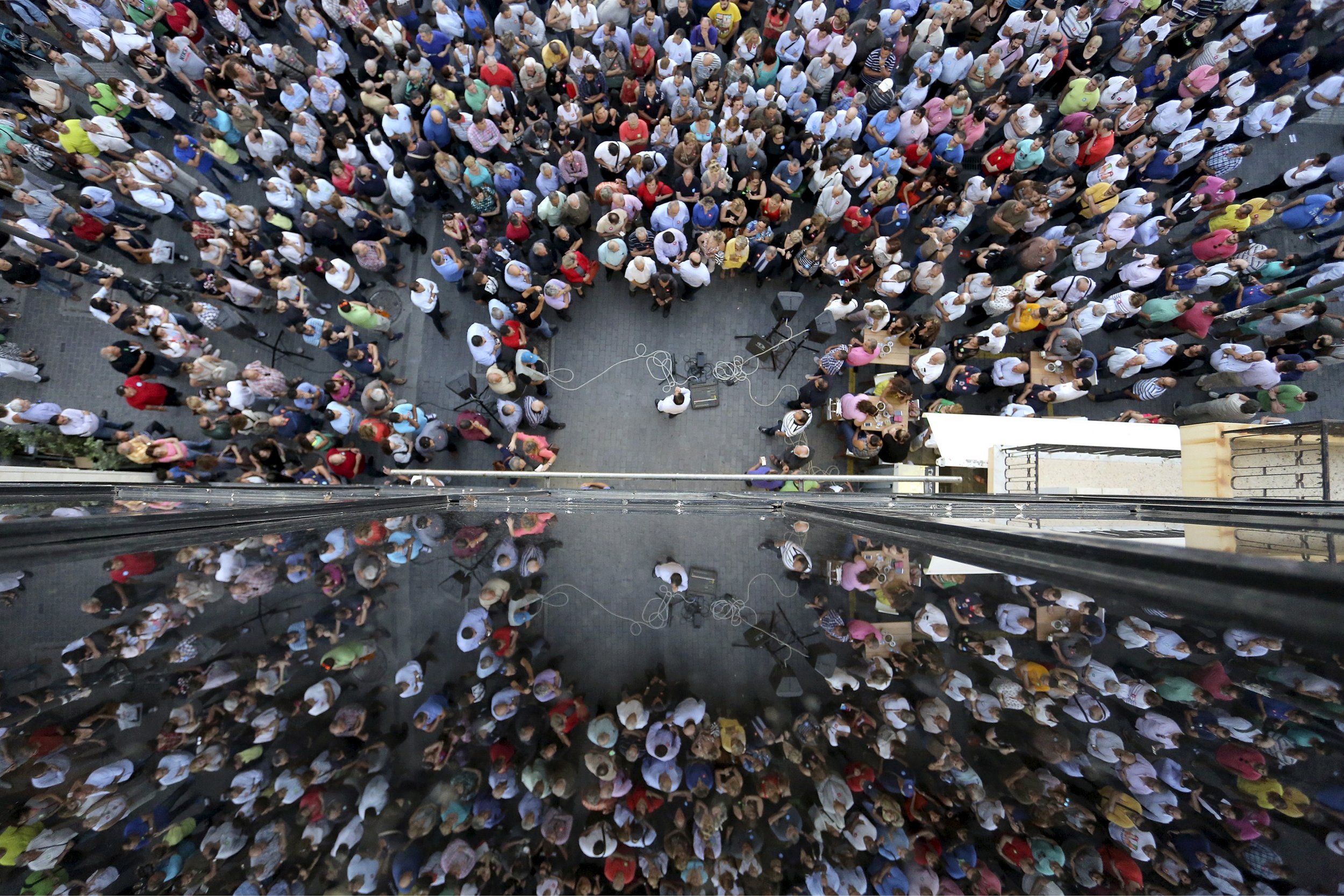 ATHENS/WASHINGTON (Reuters) - The International Monetary Fund delivered a stark warning on Thursday of the huge financial hole facing Greece as angry and uncertain voters prepare for a referendum that could decide their country's future in Europe.
Days after Greece defaulted on part of its IMF debt, the Fund, part of the lenders' "troika" behind successive international bailouts, said Greece needed an extra 50 billion euros over the next three years, including 36 billion from its European partners, to stay afloat. It also needed significant debt relief.
The assessment, in a preliminary draft of the Fund's latest debt sustainability report, underlines the scale of the problems facing Athens, whatever the result of Sunday's referendum on the bailout offered by creditors last month.
Prime Minister Alexis Tsipras' rejection of what he terms the "blackmail" of EU and IMF creditors demanding spending cuts and tax hikes has so angered Greece's partners that there is no hope of reconciliation before Sunday.
With banks closed for a fourth day and capital controls in place, the future of the left-wing government hangs on the result, given the angry mood of voters in Greece, torn between resentment of the lenders and scorn for their own politicians.
"People have lost it completely. And it's all the fault, one hundred percent, of all the politicians. They are to blame for the situation we are in now," said pensioner Thanos Stamou.
On Sunday it will fall to the Greek people to decide an issue that their government was unable to settle in months of acrimonious negotiations with their European partners.
CONSEQUENCES OF A 'NO'
"We are asking them to vote with their eyes open and think hard about all the consequences of a 'No' vote, which could lead Greece to leave the euro zone," French Prime Minister Manuel Valls said on the sidelines of an economic summit in Lyon.
The comment reflected the fear of many in the euro zone that a Greek exit would change the nature of a 15-year-old currency union intended to be unbreakable.
For Tsipras, if voters back a bailout plan that he has scorned, his government is likely to fall, leading to new elections by September.
Already, his coalition is crumbling as a succession of deputies from the right-wing Independent Greeks, his junior partners, have backed the 'Yes' vote.
Tsipras and his finance minister, Yanis Varoufakis, remain convinced Athens can negotiate better terms, including debt relief, if voters reject the conditions on offer. But both have signaled they will quit if voters choose the bailout.
"I want to believe that these problems won't last long," Tsipras said on Thursday of the bank closures. "The banks will open when there is a deal," he said in a television interview, predicting it would come within 48 hours of the referendum.
The only full survey to be released since the referendum was announced showed the "No" vote ahead, but falling sharply after the announcement that banks would be shut.
DEEP SHOCK
For Greeks, the sight of closed banks and long lines of pensioners queuing for cash has been a deep shock and a reminder of the potential cost of being shut out of the euro, the symbol of Greece's membership of modern Europe.
Highlighting the surreal choice facing Greek voters, the lenders' proposal that the ballot is supposedly about is no longer even on the table.
"They send a third proposal and at the same time they ask the people to say their opinion about the proposal that doesn't exist any more. It's crazy. We don't know what to do," said 47-year-old lawyer Nicole Papathanasopoulo.
Tsipras' government came to power in January vowing to protect pensioners, and much of the argument with creditors stemmed from his refusal to accept the pension cuts that they demanded.
With unemployment over 25 percent, and youth unemployment over 50 percent, the plight of pensioners, who may be providing the only source of income for families, is acutely sensitive.
In a bid to reassure voters, State Minister Nikos Pappas, one of Tsipras' closest aides, denied speculation that the government would impose a levy on bank deposits.
BANKS "ALREADY FAILED"
However, the ratings agency Fitch said the four biggest banks had already failed, and would have defaulted if capital controls had not been imposed.
Unless the European Central Bank lifts the ceiling on emergency funding it provides at its next meeting on Monday, there is little prospect that they will reopen soon.
"We might run out of banknotes by Tuesday if people keep taking out 60 euros a day," one senior banker said.
ECB Governing Council member Josef Bonnici said the value of collateral that Greek banks must offer in exchange for emergency funding would depend on the result of the referendum.
The IMF analysis suggested that, even on the most optimistic assumptions, the Greek economy would remain on life support for many years to come, and that Athens would be forced to persuade its European partners to help.
Loans made by Europe "will need to be extended significantly" and Greece would need further concessional financing, it said.
The ratings agency Standard and Poor's said Greece's economy, which has already shrunk 25 percent since 2009, would contract by another 20 percent within four years if it made a distressed exit from the euro.
Konstantinos Nikolopoulos, a 70-year-old former employee of U.S. entertainment group Warner Bros, emerged from his bank empty-handed after being told that benefits from his pension fund were not being paid out.
Even so, he was ready to contemplate a vote that could set his country on a path out of the euro.
"On Sunday, I am slightly confused," he said. "I believe the message should be that the Greek people has to take a decision to settle its debt with a fair compromise; I am leaning more to voting 'No'."