Immigrant Children Allegedly Beaten, Had Bags Placed Over Their Heads in Virginia Detention Facility
Virginia Governor Ralph Northam ordered state officials on Thursday to investigate abuse claims by migrant teens who were held in a juvenile detention center in the state.
Northam said he asked Virginia's Department of Public Safety and Homeland Security and the state's Department of Juvenile Justice to investigate the allegations against the facility, which houses immigrant children and is under the oversight of the U.S. Office of Refugee Resettlement.
"If Virginia public safety officials find evidence of abuse or mistreatment at this facility, my administration will do everything we can to ensure the safety of these children," he said.
The governor's announcement follows a report by the Associated Press about abuse claims made by six Latino teens in a lawsuit against Shenandoah Valley Juvenile Center.
Court documents and written accounts claim the young boys were beaten while handcuffed, strapped to chairs with bags over their heads and locked in solitary confinement while nude and shivering in concrete cells.
The teens were held in the detention center for months or years as a result of coming to the U.S. illegally. Most of them were apprehended crossing the border unaccompanied and were not separated from families as part of the Trump administration's "zero tolerance" immigration policy.
In sworn statements, the six teens gave grim details of what their lives were like inside the detention facility. Multiple teens said they were often stripped of their clothes and strapped to chairs with bags over their heads, placed in solitary confinement for sometimes weeks at a time and were put in what they called "restriction," where guards, according to one teen, "took away my mattress and blanket," and "took my clothes away about eight times."
One of the teens, who is now 20 years old, said he came to the U.S. from Honduras when he was 15. He described how he was treated by guards after he would get in trouble, like try to hurt himself inside his cell.
"Whenever they used to restrain me and put me in the chair, they would handcuff me. Strapped me down all the way; from your feet all the way to your chest, you couldn't really move," he said. "They also put a bag over your head. It has little holes; you can see through it. But you feel suffocated with the bag on."
Another boy said he came from Mexico to the U.S. when he was 15 and was detained at Shenandoah for over a year and a half. He said they would get awarded points for good behavior but had points taken away for bad behavior. The same boy said guards would call him "pendejo" and "onion head" because of his race.
"If you had all of your points at the end of the week, you could buy things like toothpaste and soap," he said. "I regularly got points taken away for things like not wanting to work on the mural in art class, complaining about a headache, or throwing a ball that hit the ceiling in the gym."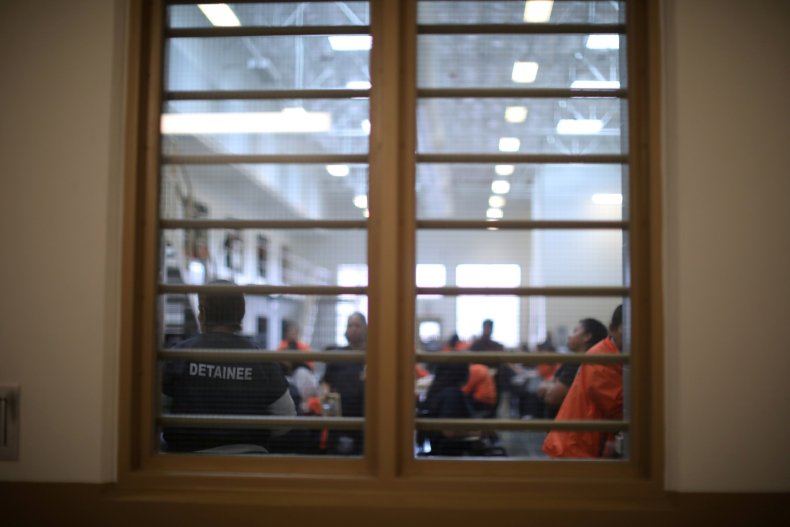 Testimonies from multiple teens mentioned a desire to hurt themselves at some point, resulting in cutting themselves and banging their head against the wall.
The immigrant children also said that American teens at the facility were treated better, receiving "pods" that were equipped with soft chairs, iPods and Xboxes every day of the week.
Many of the migrant children sent there were believed to have some sort of behavioral problem or were suspected members of violent gangs like MS-13. One of the teens held at Shenandoah said he was moved from facility to facility because he was thought to be an MS-13 member, even though he "told them I was not part of anything."
The AP reported that lawyers for Shenandoah have denied all allegations of physical abuse. The facility is one of three juvenile detention centers with federal contracts to provide "secure-placement" for children who had problems at other facilities. About 92 children come through the center each year, most with mental health needs stemming from trauma that happened in their home countries before coming to the U.S.
Financial documents reviewed by the AP showed that the local commission that runs Shenandoah received nearly $4.2 million last year.