Immigrant Families Camp Outside Jeff Bezos' House Demanding Billionaire's Help After Being Denied COVID Relief
An immigrant organization in New York is in the midst of hosting a series of events calling for a billionaire wealth tax to financially assist essential workers who are struggling to pay rent during the coronavirus pandemic.
Make the Road New York's events have thus far inspired participants to fast, march through New York City and set up camp outside Amazon founder and billionaire Jeff Bezos' Manhattan apartment to raise awareness of the struggles many immigrant families face while putting their lives on the line as America's essential workers. The organization has received support from New York Representative Alexandria Ocasio-Cortez, New York state senators and New York City Council members, among others.
Make the Road New York said that while a large number of people who serve as essential workers in New York are members of the immigrant community, many are undocumented or unable to access unemployment benefits for other reasons. For those who lost their jobs because of the pandemic, the inability to earn wages has caused a crisis and puts their survival on the line.
"Those who are undocumented or recently incarcerated and work in the cash economy are completely excluded from unemployment benefits," the organization wrote in one of its event descriptions. "We can pass a billionaire wealth tax to create emergency income for all."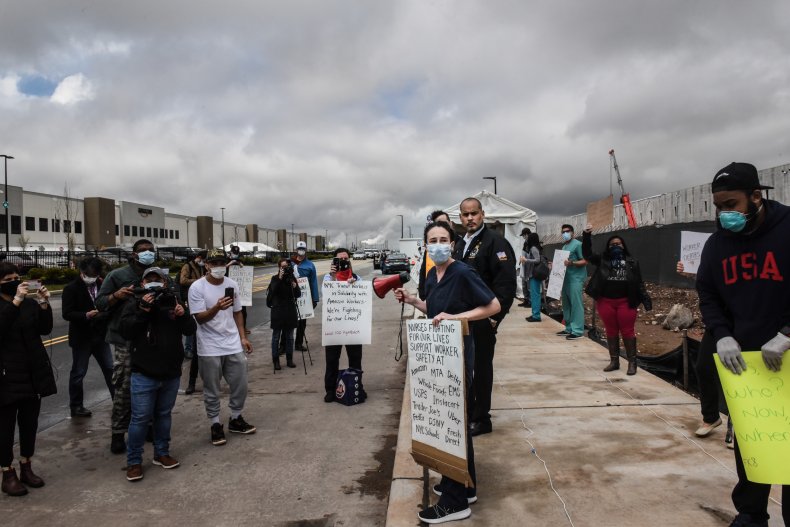 The organization and its supporters have called on New York Governor Andrew Cuomo specifically to take action. "There is a solution: Governor Cuomo can pass a Mark-to-Market Tax to secure retroactive emergency income to all Excluded New Yorkers," the organization wrote in another event description.
In a video explaining the argument behind the proposed wealth tax, Ocasio-Cortez said there are more than 100 billionaires in New York alone—and many of them, Bezos included, have experienced an increase in wealth since the pandemic began. A report last month by the Americans for Tax Fairness and the Institute for Policy Studies' Program on Inequality found billionaire wealth has grown significantly since the pandemic triggered economic shutdowns throughout the country and around the world.
As Americans relied on Amazon's delivery service to receive packages while stores were shuttered, Bezos' already notable net worth climbed to new heights.
Asked by a reporter about the calls for a billionaire wealth tax during a Thursday conference call with reporters, Cuomo said such a move shouldn't be something the state faces on its own.
"If they want a tax increase, don't make New York alone do a tax increase and then just have the people move to Connecticut," the governor said. "Let the federal government pass a tax increase and let them apply it all across the country so you don't hurt any one state.
"If you take people who are highly mobile and you tax them more, then they'll just move next door, where the tax treatment is simpler. It has to be done on a federal level, and that's where we need help and we need attention," Cuomo said.
The governor's office told Newsweek the state already has the second-highest wealth income tax in the country, with about half of its collected income tax coming from individuals representing the top 2 percent.
Newsweek reached out to Make the Road New York for comment but did not receive a response in time for publication.