Immigrant Father Who Took Sanctuary in Church for Over a Year Detained by ICE
A father who took refuge inside a Lutheran church in downtown Seattle more than a year ago after facing deportation orders has been detained by the U.S. Immigration and Customs Enforcement agency after he tried to seek a stay of removal on Wednesday.
Jose Robles had rarely stepped outside of the Gethsemane Lutheran Church in Seattle during the time he took refuge there, according to The Seattle Times.
However, on Wednesday he decided that it was time to present himself to ICE, with the Mexican national marching from the church with his wife and two daughters and a number of supporters, to a Department of Homeland Security building in Tukwila a mile away.
According to journalist Dorothy Edwards, who documented the march, Robles had hoped to be granted a stay of removal from ICE, postponing his deportation. "I'm hoping to walk out and thank everybody," Robles had said, according to the Times.
Instead of walking out free, within half an hour Robles' lawyer, Sandy Restrepo, stepped out of the building to inform everyone that her client had been detained.
It is unclear why Robles made the decision to present himself to ICE when he did. However, the move came following a weekend of small-scale ICE operations throughout the U.S. seeking to arrest undocumented immigrants.
While ICE's operations were nowhere near on the scale of the widespread raids that were expected to take place across the country, immigrant communities were left fearful by the agency's plans, with some families describing how they sat in their homes with the lights out, pretending they weren't home as ICE agents knocked on their doors.
In Seattle, Robles had become known as a "local symbol of the sanctuary movement," according to the Times.
Video posted to Twitter by Edwards shows supporters of Robles singing at the Riverton Park United Methodist Church in Tukwila before marching with him to the DHS building. "No one is illegal and we are singing, singing for our lives," they can be heard singing.
It is unclear whether ICE plans to deport Robles out of the country. However, one activist advocating on his behalf, Alycia Ramirez, said in a tweet that the father was expected to be transported to the Northwest Detention Center in Tacoma.
Ramirez called on Robles' supporters to sign an online petition demanding that he be released from ICE custody, with the Action Network petition having garnered more than 650 signatures by Thursday morning.
ICE spokesperson Tanya Roman told Newsweek the agency could not comment on Robles' case "due to privacy concerns." The agency spokesperson did not immediately respond to a request for clarification on the agency's reasoning for withholding information on Robles' status.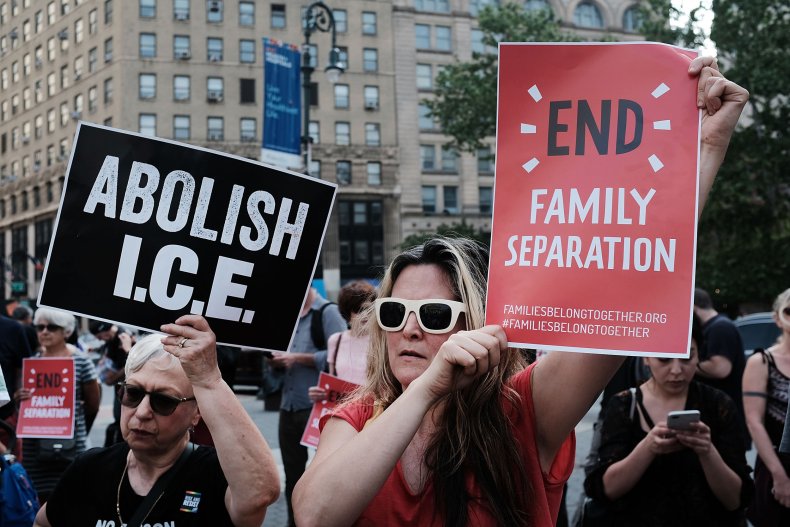 This article has been updated with a statement from ICE.