Immigrant Who Had Prosthetic Leg Mocked by Trump Officials to Be Freed After 'Inhumane' Detention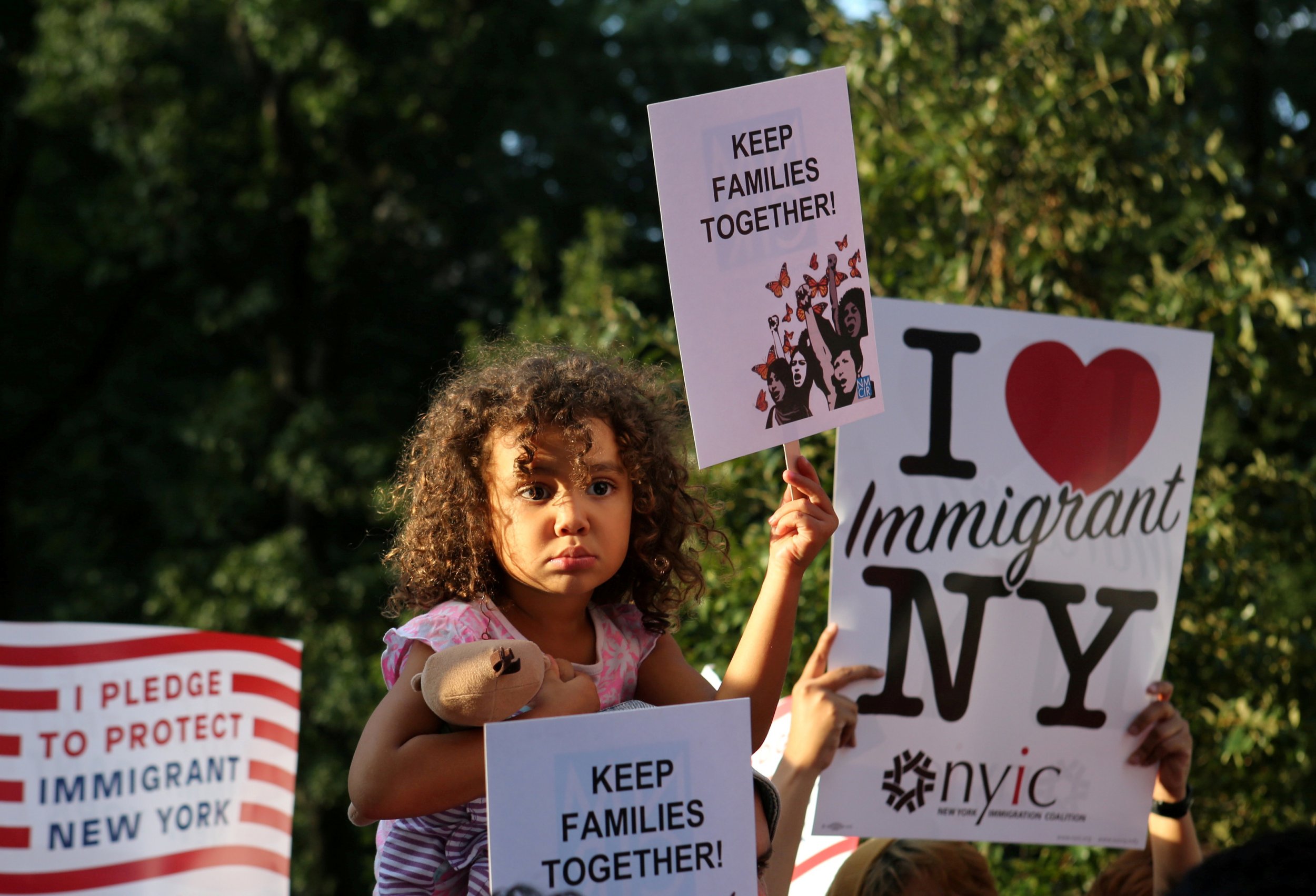 A 20-year-old disabled immigrant detained for more than a month without being charged was to be freed Friday, but he has been stripped of his Deferred Action for Childhood Arrivals status.
After being detained by Customs and Border Protection (CPB) agents on October 11 as part of a human smuggling investigation, Felipe Abonza-Lopez of San Marcos, Texas, was granted a $7,500 bond and will be released sometime Friday, a legal assistant for Abonza-Lopez's attorney told Newsweek Friday.
Abonza-Lopez has lost his DACA status, which had been set to expire in 2019. It was revoked October 12, when he received a notice to appear in immigration court for deportation proceedings, a spokesperson for Citizenship and Immigration Services (ICE) told Newsweek.
Abonza-Lopez's detention at South Texas Detention Complex in Pearsall, Texas, spurred a #FreeFelipe social media campaign demanding his release.
DACA has enabled almost 800,000 eligible undocumented young adults to work lawfully and attend school without the threat of deportation. However, it does not provide permanent legal status. President Donald Trump earlier this year effectively ended the program, directing the Department of Homeland Security to stop processing new applications. At the time, though, he tweeted that DACA recipients "have nothing to worry about."
Abonza-Lopez, who lost a leg as a child, has said in a letter made public by his attorney that he has been treated in an inhumane way while in detention and mocked for his disability.
"You can put a broomstick in his leg and he can sweep," a guard said in his presence, Abonza-Lopez wrote.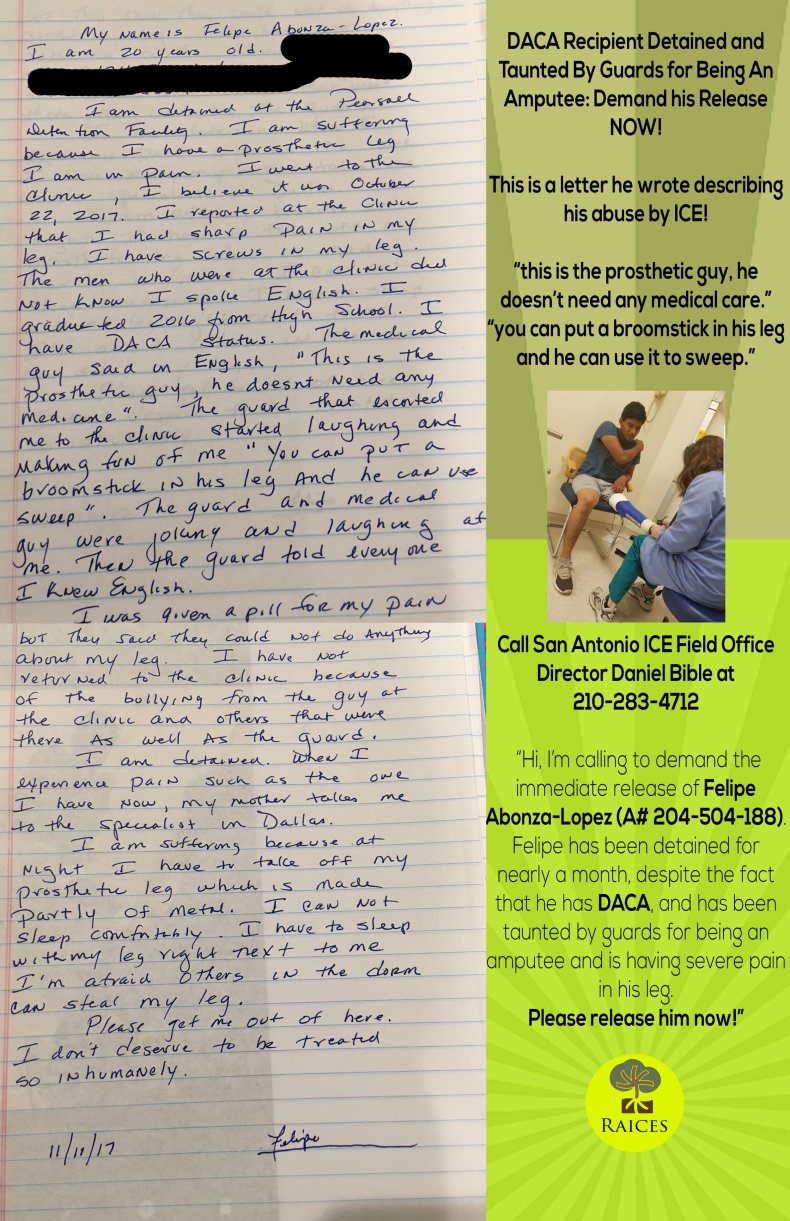 An ICE spokesperson declined to comment on Abonza-Lopez's medical care, citing patient privacy.
Abonza-Lopez was detained near Uvalde, Texas, when the car he and three of his undocumented relatives were in was pulled over by local police and they were handed over to Border Patrol, Amy Fischer, policy director of Refugee and Immigrant Center for Education and Legal Services (RAICES), told Newsweek Tuesday. Fischer is working with Abonza-Lopez's lawyers to get him released, she said.
CBP officials maintain Abonza-Lopez was involved in human smuggling and stand by the decision to process him for deportation.
"Border Patrol agents determined the situation was consistent with a human smuggling attempt: three passengers in the rear seat were extremely dirty, common characteristics for subjects walking through the brush for several days," a CBP spokesperson told Newsweek in an email.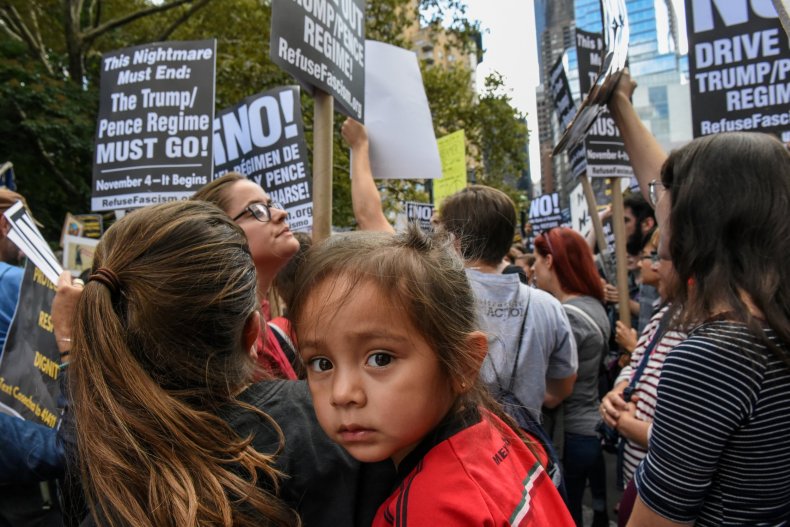 Abonza-Lopez is not the only recent case of a disabled undocumented immigrant being detained by federal immigration agents.
The other case involved 10-year-old Rosa Maria Hernandez, who was detained on October 24 en route to Driscoll Children's Hospital in Corpus Christi from her home in Laredo, Texas, for emergency gallbladder surgery. Rosa Maria, who suffers from cerebral palsy, was brought illegally into the United States at three months of age by her mother. She was held for more than a week in a San Antonio detention center, sparking international outrage.