Immigrant Murder Acquittal Ignites Political Firestorm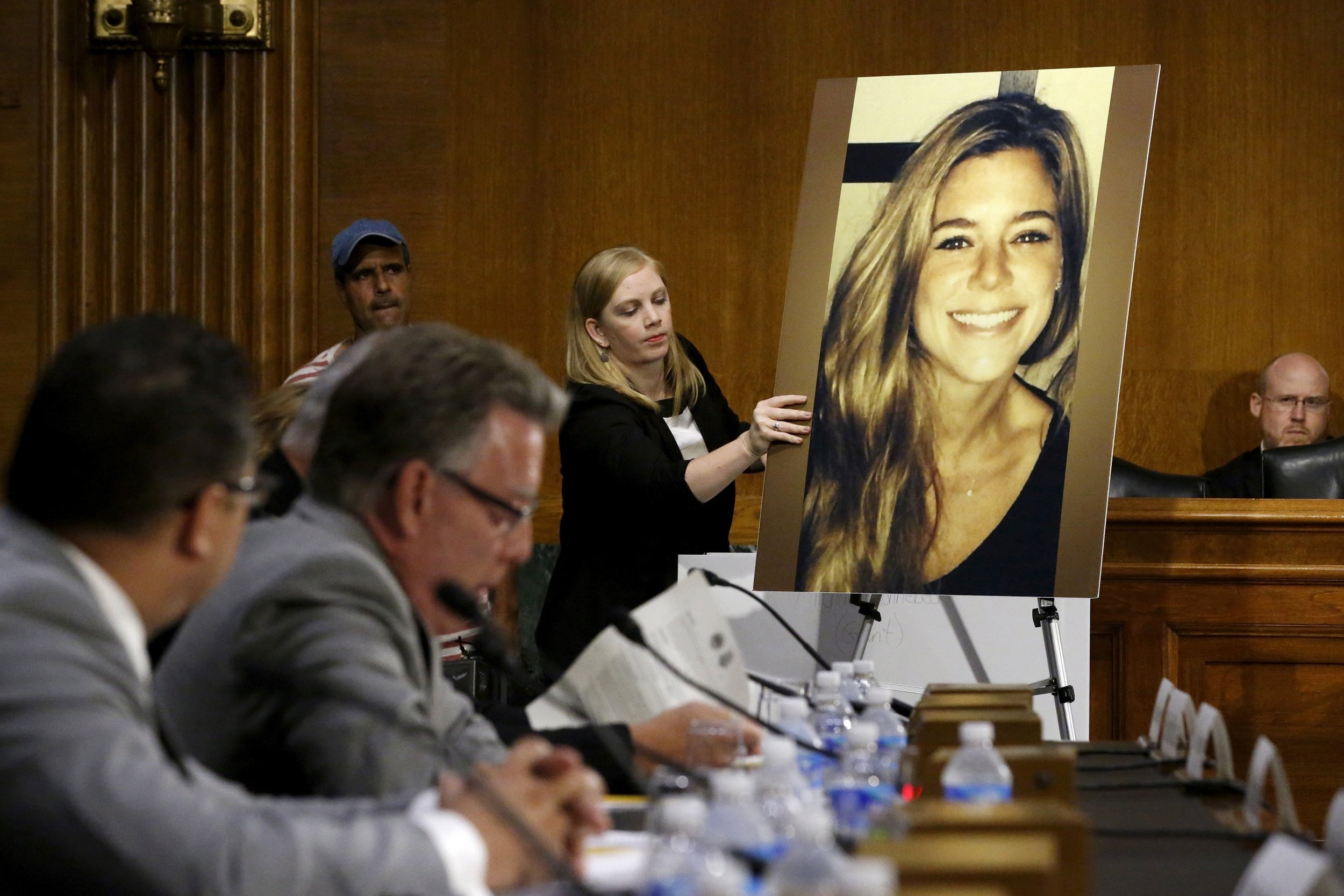 The acquittal of an undocumented immigrant accused of murdering American Kate Steinle on a San Francisco pier in 2015 has reignited a national firestorm over immigration and renewed Republican vows to crack down on people coming into the country illegally.
In the aftermath of the GOP candidate's loss in the Virginia gubernatorial election last month, Republicans wondered aloud whether pursuing immigration in an aggressive manner was the right way to go. Ed Gillespie, who lost the Virginia race to Democrat Ralph Northam, ran paid advertisements about the threat of violence from the Latino gang MS-13, promised to preserve the state's Confederate monuments and vowed to ban sanctuary cities.
After his loss, many operatives pushed for a more compassionate approach, and a leading moderate senator, Lindsey Graham of South Carolina, urged the party to come up with a deal to save the Deferred Action for Childhood Arrivals program.
In light of the Steinle verdict, though, President Donald Trump signaled to GOP members that they should double down on pursuing stringent immigration laws.
"The Kate Steinle killer came back and back over the weakly protected Obama border, always committing crimes and being violent, and yet this info was not used in court. His exoneration is a complete travesty of justice. BUILD THE WALL!," Trump tweeted Friday.
Republicans got the message, calling for a ban on sanctuary cities following the acquittal of Jose Ines Garcia Zarate, who has seven felony convictions and was deported five times before Steinle was shot.
"Jose Zarate should never have been in this country in the first place after being deported 5 times already," Representative Steve Scalise (R-La.) tweeted Friday. "We must secure our borders, put an end to so-called 'sanctuary cities,' and prevent the kind of injustice suffered by Kate Steinle and her family."
Zarate was released from prison months before the deadly encounter with Steinle in San Francisco. Republicans argue Steinle would be alive and her killer deported to Mexico if not for San Francisco's sanctuary policy. Jurors acquitted Zarate of murder and manslaughter, but convicted him of being a felon in possession of a firearm, which carries a three-year sentence.
"San Francisco's policy of refusing to honor ICE detainers is a blatant threat to public safety and undermines the rule of law," Attorney General Jeff Sessions said in a statement Thursday. "This tragedy could have been prevented if San Francisco had simply turned the alien over to ICE, as we requested, instead of releasing him back onto the streets."
He added: "It is unconscionable that politicians across this country continue to endanger the lives of Americans with sanctuary policies while ignoring the harm inflicted on their constituents."
For Democrats, who have long sought to advance a DACA fix, the verdict is a setback. Hardened Republican opposition will make it even more difficult to get a deal.
Republicans on Friday also demanded the passage of Kate's Law, which seeks to stiffen jail time and fines for illegal immigrants who have been deported and are captured after returning to the U.S.
"We have passed Kate's law. It is sitting in the Senate. I hope when they get done with [the tax bill], they take that up and send it to the president's desk," House Majority Leader Kevin McCarthy told Fox News Friday. "This should never happen to another family.… The number of felonies this individual had and the number of times this person came illegally across the border, shot and murdered an American citizen—that should not take place in this country again."
Kate's Law passed the House in June with a vote of 257 to 157. Twenty-four House Democrats voted yes, while only one Republican opposed it.
"Good news, House just passed #KatesLaw," Trump tweeted on June 29. "Hopefully Senate will follow."
For Republicans to pass Kate's Law in the Senate, they need the support of at least eight Democrats. It could be a tough sell to Democrats, who have distanced themselves from Trump, as his approval rating sank to an all-time low last month, according to a Washington Post-ABC poll.