Immigrants Are Standing Up for American Values—Even if House Republicans Will Not | Opinion
In President Donald Trump's America, not even a veteran and Purple Heart recipient is safe from the Republican Party's xenophobic rhetoric and anti-immigrant attacks.
Throughout his campaign and presidency, Trump has reliably deployed a toxic, anti-immigrant playbook that aims to scapegoat immigrant communities and distract from his own misdeeds. The impeachment hearings have proved no different.
Faced last month with powerful testimony from Lieutenant Colonel Alexander Vindman, an immigrant from Ukraine and Purple Heart recipient, Trump and other leading Republicans scrambled to undermine this decorated veteran with thinly veiled attacks on his immigrant background. Some Republicans even spuriously implied that Vindman was a Ukranian spy.
But, in fact, Vindman, along with Marie Yovanovitch and Fiona Hill, two other longtime public servants who happen to be immigrants, demonstrated how immigrants make America the country we want it to be: a place where the rule of law matters and citizens stand up for it—even if Republican politicians will not.
In their impeachment report released on Monday in defense of Trump, Republicans dismissed the inquiry as "the accusations and assumptions of unelected bureaucrats." It appears they are more committed to maintaining their own power than the rule of law.
Vindman—whose loyalty was so scrutinized that he felt compelled to declare "I am an American" during his testimony—was born in what was then the Ukranian Soviet Socialist Republic of the Soviet Union. He came to the U.S. when he was 3 and spent most of his career in the military. Like Vindman, Yovanovitch, the former U.S. ambassador to Ukraine, also arrived in the U.S. when she was 3 and comes from a family that fled the Soviet Union. Hill, the daughter of a coal miner in England, moved to the U.S. as a graduate student and went on to rise through the ranks of the National Security Council.
Each of their testimonies highlighted the deep patriotism of immigrants in the United States, as well as the commitment of these immigrants in public service to helping America live up to its ideals. As people who became Americans, Vindman, Yovanovitch and Hill recognize that values like justice and equality and principles like the rule of law are not to be taken for granted. They came from countries where their stories wouldn't have been possible—it was America where they were able to achieve their dreams.
Indeed, all three witnesses spoke about their love of their adopted country in their testimonies. Identifying herself as an "American by choice," Hill said in her opening statement, "I can say with confidence that this country has offered for me opportunities I never would have had in England. I grew up poor with a very distinctive working-class accent. In England in the 1980s and 1990s, this would have impeded my professional advancement."
Vindman movingly addressed his father, who fled the Soviet Union, directly in his testimony. "Dad, my sitting here today...is proof that you made the right decision 40 years ago to leave the Soviet Union and come here to the United States," he said. "Do not worry. I will be fine for telling the truth."
These brave public servants and immigrants spoke out to defend America under the harsh glare of a national spotlight and the intimidating tweets of a vengeful president. In their testimonies, they demonstrated how the rule of law requires consistency, uniformity and non-discriminatory enforcement, in sharp contrast to the hypocrisy, cruelty and arbitrary pronouncement of laws that we have learned to expect from this administration, especially when it comes to immigrants.
For their brave words, they are being rightfully celebrated by Americans of all backgrounds. But Americans would also do well to remember that these three officials represent millions of immigrants who are defending this country's values and pushing America to live up to the promise of its ideals every day, even as our communities face attack after attack from the current administration.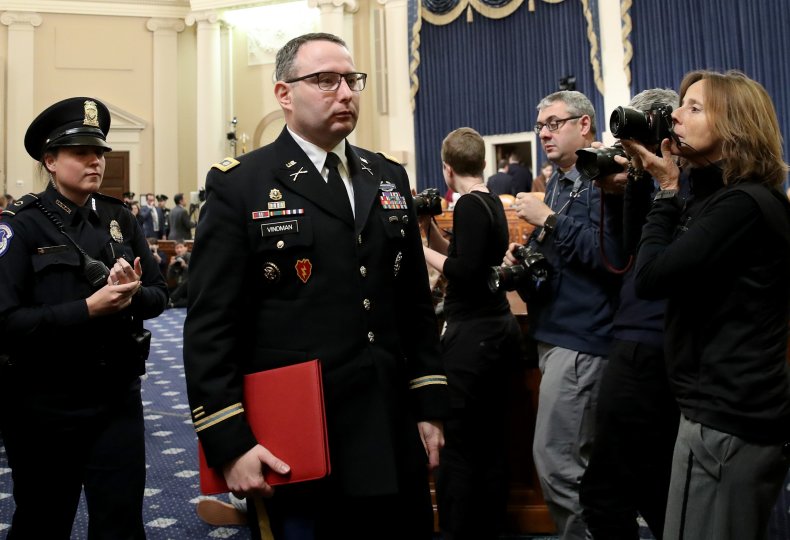 Take the role of immigrants in our military as one example. Thousands of noncitizens are enlisted in the U.S. military, including recipients of the Deferred Action for Childhood Arrivals (DACA) program. But, under the Trump administration, the military has discharged hundreds of immigrant enlistees, including those recruited for their medical and language skills. These are reversals of programs and policies to welcome immigrants into the military, and they are detrimental to the country, given the ongoing challenges in military recruitment.
Or consider the 800,000 DACA recipients threatened by this administration, like the paramedic in Houston who saved people stranded in flood waters after Hurricane Harvey or the wildland firefighter in Washington state who fought more than 20 fires. These young men who helped rebuild communities after climate disasters could lose their ability to remain in the country they call home because of this administration's effort to end DACA.
At a time when many of our country's most powerful leaders are attempting to demonize and dehumanize all immigrants, it's more important than ever to celebrate how immigrants are upholding our country's most precious values, from speaking truth to power in impeachment hearings to the daily acts of patriotism and bravery. Vindman, Yovanovitch and Hill remind us that immigrants represent the best of America.
Throughout our history as a nation, one of the main reasons so many of our parents and grandparents made personal sacrifices to leave their families, language and culture behind was that they believed in our democracy. It is no surprise, then, that amid the most virulent anti-immigrant attacks in recent history, it is immigrants who are safeguarding our democracy.
Marielena Hincapié is the executive director of the National Immigration Law Center Immigrant Justice Fund. She is a naturalized citizen who, like Vindman and Yovanovitch, came to the U.S. when she was 3.
The views expressed in this article are the writer's own.