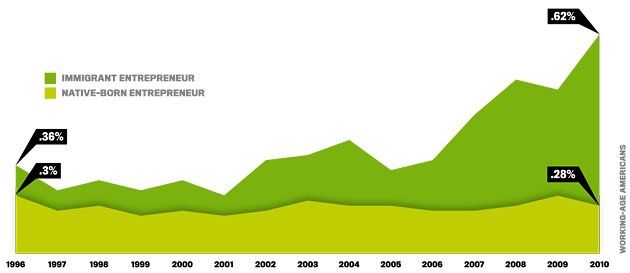 The sluggish recovery has policymakers privately echoing one popular commentator, who said that when it comes to job creation, all the low-hanging fruit has been picked.
While there's no denying the economic and fiscal challenges facing America, a watermelon-size piece of accessible stimulus remains: immigrant entrepreneurs. For more than two centuries, the United States has been the top destination for those seeking to start and grow successful businesses. In the 10 years prior to 2006, the most recent period with data available, fully one quarter of technology and engineering businesses started in the United States were founded or cofounded by immigrants, including Sergey Brin (Google) and Jerry Yang (Yahoo), creating tens of thousands of American jobs.
The importance of immigrant entrepreneurs extends well beyond technology. Newcomers have raced ahead of native-born Americans in terms of starting companies—they're now twice as likely, regardless of the sector. And those companies create jobs.
If the U.S. wants to maintain a dynamic future—and remain central to the global economy—it must continue to grab the low-hanging fruit: attracting more immigrant entrepreneurs, and keeping, through visa extensions, the high-tech foreigners who graduate here.
Schramm is CEO of the Kauffman Foundation.
Immigrants = Jobs | World