Immigrants Are Not 'Criminals, Drug Dealers and Rapists,' ICE Director Says, Contradicting Trump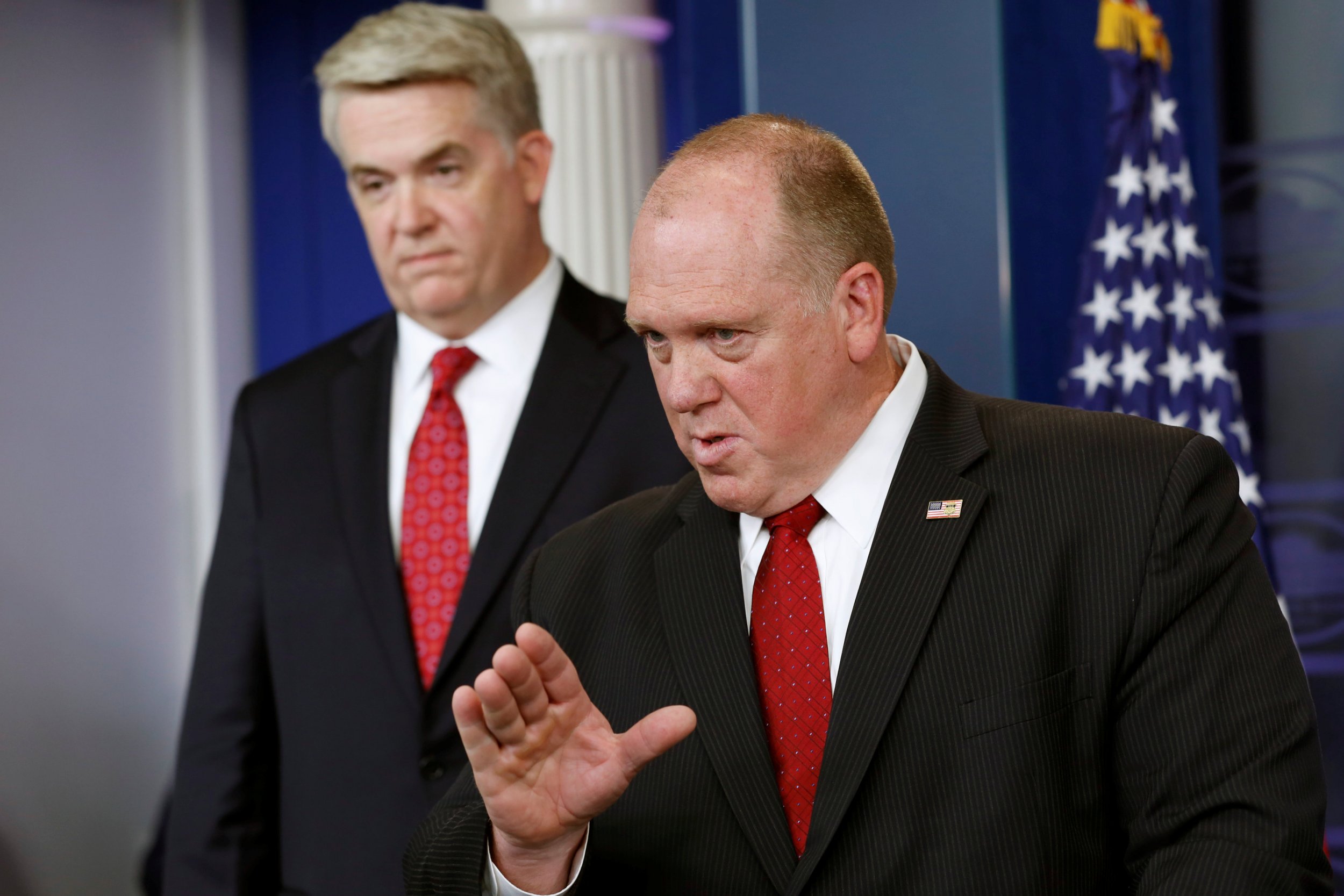 The acting director of Immigration and Customs Enforcement (ICE), Thomas Homan, has effectively conceded that a claim that helped propel Donald Trump toward the White House was, as the president might put it, "fake news."
Related: Families fearing deportation because of Trump's immigration policies prepare for I.C.E. raid
During an off-camera briefing at the White House on Wednesday, Homan was asked whether undocumented immigrants committed more crimes than native-born Americans. He said they did not, according to CNN reporter Jim Acosta.
The comment stands in stark contrast to what kick-started Trump's campaign for presidency two years ago.
"When Mexico sends its people, they're not sending their best," Trump said as he announced his candidacy in June 2015. "They're sending people that have lots of problems, and they're bringing those problems with us. They're bringing drugs. They're bringing crime. They're rapists. And some, I assume, are good people."
The message that undocumented immigrants were not just breaking the law by entering the United States but were far likelier than U.S. citizens to do so once in the country was repeated often during Trump's campaign. Trump many times also highlighted specific cases of crimes committed by undocumented immigrants and made the victims and their families mainstays of his campaign speeches.
It was a similar scene on Wednesday, when Trump held a meeting at the White House with families of victims of crimes committed by undocumented immigrants. The meeting came ahead of two votes in Congress Thursday on immigration, one on a bill that would increase maximum penalties for people who have been deported and illegally reentered the country, and another on legislation that takes aim at so-called sanctuary cities.
Trump's anti-immigrant rhetoric has continued since he became president, and he turned some of his words into actions with one of his first executive orders. Titled "Enhancing Public Safety in the Interior of the United States," the order claims that "many aliens who illegally enter the United States...present a significant threat to national security and public safety." It directed the Department of Homeland Security to publish a weekly "comprehensive list of criminal actions committed by aliens."
A subsequent executive order established an ICE hotline to assist victims of crimes committed by undocumented immigrants.
The statistics, though, have never backed up Trump's claims. Not only do undocumented immigrants not commit more crimes than native-born Americans, but, as a whole, immigrants actually commit fewer offenses.
Census data taken between 1980 and 2000 showed that among men aged between 18 and 39, native-born Americans were anywhere from two to five times more likely to be incarcerated.
A March 2017 study from the Cato Institute, a libertarian think tank, found that illegal immigrants had incarceration rates of 0.85 percent, compared to 1.53 percent for native-born Americans. A study from the Sentencing Project, also from March, noted, "Research dating back more than a century documents a pattern whereby the foreign-born are involved in crime at significantly lower rates than their peers."
Despite those facts, ICE has dramatically stepped up its efforts under Trump, and in May announced a 40 percent increase in arrests from late January to late April over the same period last year.
Earlier this month, Homan said that all undocumented immigrants should be worried.
"If you're in this country illegally and you committed a crime by being in this country, you should be uncomfortable, you should look over your shoulder," he said. "You need to be worried. No population is off the table."
Expanding on those comments Wednesday, Homan afforded no sympathy to immigrants being torn away from family members.
"Families of U.S. citizens get separated every day," he said.