Immigration Activist Interrupts Joe Biden At Debate With Mexican Scarf Banner Demanding 'Stop All Deportations'
An immigrants rights activist snuck in a message on a Mexican rebozo scarf to interrupt former Vice President Joe Biden during the second Democratic debate Wednesday night—"Stop All Deportations On Day One." ​
The activist had that message across her scarf which she turned into a banner, and directed it at all the candidates in Detroit but Biden in particular, because he has not apologized for the more than 3 million deportations that occurred while he served in the Obama White House.
​​"I did this because the immigrant community in Michigan is facing a crisis and we need our voices and our demand to be heard: any candidate who claims to be against Trump's raids and family separations needs to make a real commitment to protect all 11 million undocumented immigrants from detention and deportation," Ofelia, a leader with immigrant rights group Movimiento Cosecha in Detroit who only wanted to be identified by her first name, said in a statement to Newsweek on Wednesday.
"That means using executive authority to stop all deportations on Day 1 in office. We won't accept empty promises of immigration reform," continued the activist.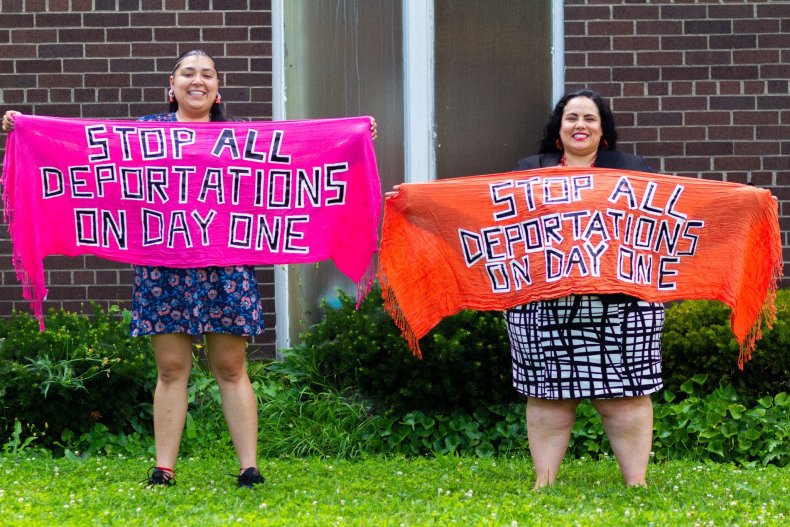 The Cosecha Movement, which fights for protection, dignity and respect for immigrants, earlier this month launched a Dignity2020 campaign calling on 2020 candidates to end deportations and detention on their first day in office, reunite migrant families that were separated, and immediately legalize all undocumented immigrants.
After Movimiento Cosecha activists interrupted Biden, New York City major Bill de Blasio asked the former vice president directly about his past with deportations.
"I didn't hear an answer. He went right around the question," de Blasio said, not satisfied with Biden's response.
"I was vice president. I am not the president," Biden said, again going around the issue. "I keep my recommendations in private."
In early July, migrant families with the movement protested outside Biden's campaign headquarters in Philadelphia and demanded that he apologize for families who were separated during the Obama era. They called on the former vice president to adopt the demands of their dignity platform.
The same week, another immigrant activist whose brother was deported during Biden's vice president tenure confronted him in New Hampshire, asking him for an apology and to end deportations and detention.
Demonstrators with Movimiento Cosecha briefly blocked the Detroit-Windsor tunnel at the border between U.S. and Canada before the debate, to make a statement against migrant family separations and American immigration policies.