Why Some Immigration Activists Fear the Federal Dream Act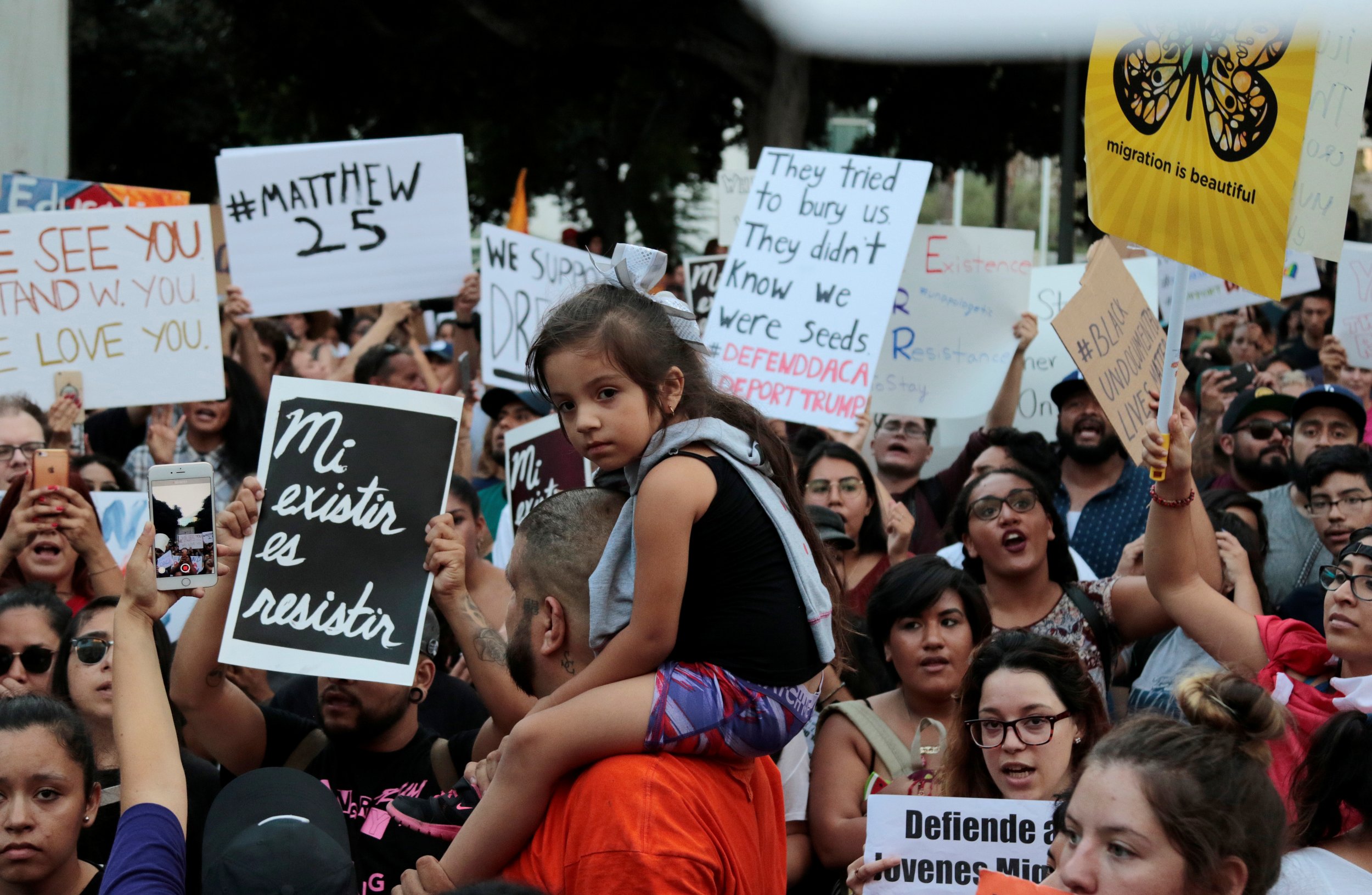 Capital & Main is an award-winning publication that reports from California on economic, political and social issues.
The day President Donald Trump announced he would rescind DACA—the Deferred Action for Childhood Arrivals program—some 50 young people, many of them directly affected by the move, gathered at the UCLA Labor Center on the western edge of MacArthur Park.
Many in the room felt numb. Some were angry, fed up or annoyed. No one expressed surprise. Many, like 34-year-old Julieta Loreto, were veteran Dreamers who'd been fighting for the right to education and jobs. Loreto was a high school student when she had lobbied for Assembly Bill 540, the 2001 bill that granted her and other undocumented students in-state tuition at California state colleges and universities.
"I just went through the five stages of grief in one day, so I'm dizzy," Loreto announced to the group.
She said her life had been on hold for a decade until she got DACA status four years ago. Now, she's a newly minted registered nurse searching for work. But her plans to earn a bachelor's degree and become a nurse practitioner are suspended once again.
"We seemed to be moving forward, but now we're back to square one," said John Perez, an organizer with the Immigrant Youth Coalition. Perez, who hosted the meeting, rolled out an agenda on brown butcher paper that noted how break-out groups would follow the intros, including a healing space and an action space. "I heal by doing shit," Perez added.
One thing Perez won't be doing: joining Congressional Democrats, California legislators and a host of immigrant-rights organizations in a push for the bipartisan Dream Act 2017, sponsored by senators Lindsey Graham (R-SC) and Dick Durbin (D-IL). The bill would offer permanent residency to young people who were younger than 18 when they came to the U.S. and who graduated from high school or earned a general education diploma, and can pass a background check.
"There's a false narrative that people are for the Dream Act," Perez said, speaking for his coalition the next day. "We have been building a different movement."
Dream Act legislation would likely involve trade-offs, such as increased enforcement that could, Perez notes, get Dreamers' loved ones tossed out of the country.
"If you ask a mother, 'Do you want your kid to be safe or do you want to be safe?,' you know the answer," said 29-year-old activist Neidi Dominguez. "But that mother, even if she did make a mistake, is equally important. It's a terrible position they've always put us in."
Dominguez, who grew up in L.A. and now lives in Washington D.C., is credited with coming up with the original idea that then-President Barack Obama could take executive action to set up the DACA program, and with helping to push the administration to make it happen. Dominguez said she likes Durbin's bill, but that before it comes to a vote, it's almost certain to contain unacceptable sweeteners for Congressional immigration hawks.
"Settling and not fighting back against a bill that is 75 percent bad proves to this administration and politicians that we're in their hands. We should not be playing to their tune. We need to be playing to ours."
Hoping for 'clean legislation'
Indeed, some immigration hardliners see the Dream Act as an easy enough pill to swallow if it includes long-sought changes to the U.S. immigration system. "Every amnesty sends the message abroad that you can get away with it," said Mark Krikorian, who heads the Center for Immigration Studies, which the Southern Poverty Law Center has branded a hate group. "You have to have enforcement measures to blunt that effect."
Krikorian would like to see Congress make E-Verify, the federal online tool to determine employment eligibility, mandatory for all employers, cut legal immigration by half, reduce the flow of refugees and prioritize immigration of those with English skills, advanced degrees and money to invest in the United States. The latter three provisions are included in the RAISE (Reforming American Immigration for Strong Employment) Act, sponsored by Senate Republicans Tom Cotton of Texas and David Perdue of Georgia.
For their part, most pro-immigrant and progressive groups were quick to leap into the fray nearly as soon as Trump made his September 5 announcement. Victor Narro, a long-time immigrant rights activist and project director at the UCLA Labor Center, said the futures of 800,000 young people are at stake if there is no bill to replace DACA, which expires in six months. It's important to avoid concessions that could hurt other immigrants, but, he said, "[Our] responsibility as advocates is to go into this process. The uncertainty is this is the most polarized Congress we've ever seen."
The debate within the immigrant-rights movement over whether and how to engage legislatively goes back two decades, Narro said. He contended that ever since 9/11, compromise has become more onerous because of the increased focus on national security: "The problem is you include surveillance, employment verification—it's not healthy."
DACA advocates need an initial groundswell of support, Narro said. But even then, there are no guarantees.
"The lives of immigrant youth are not a bargaining chip," said the National Immigration Law Center in an online statement. The Campaign for Humane Immigrant Rights of Los Angeles (CHIRLA) also argued on its website that the Dream Act was the solution to Trump's decision to rescind DACA. "We will support clean legislation that does not throw our loved ones, our family, under the bus," its message noted. Less than a week after the president's announcement, Moveon.org had already collected nearly 250,000 online signatures urging support for a stand-alone bill.
In Phoenix, Reyna Montoya, a 26-year-old DACA recipient, who last year founded an immigrant-rights organization called Aliento, has also joined more established groups in pushing for a legislative solution.
"It's very terrifying knowing I can be deported," Montoya said. "I have a little brother, who's seven years younger, who also has DACA." In addition to lobbying, Montoya's group is warning DACA recipients against immigration scams and pushing those whose benefits expire before March 5, 2018, to renew before the October 5 deadline.
Robin Urevich is a journalist and radio reporter whose work has appeared on NPR and Marketplace as well as in the San Francisco Chronicle and the Las Vegas Sun.