Immigration enforcement arrests and deportations both decreased in 2021 compared to 2020, while the Biden administration's policies of focusing on violent and dangerous offenders led to an increase of 51 percent in arrests of aggravated felons, according to a new report from Immigration and Customs Enforcement (ICE).
The U.S. deported 59,011 noncitizens, a decrease to the lowest number in the agency's history, according to the Associated Press.
A total of 74,082 "administrative arrests" of noncitizens took place in 2021, compared to 103,603 reported in ICE's year-end report for 2020, which was already lower than the number arrested in 2019 because of policies put in place to prevent the spread of COVID-19.
Biden's immigration policies have been at the center of discussions on both sides of the aisle in Congress for months, as more than 100 House Democrats signed a letter Thursday requesting that the administration review several ICE policies, facilities and contracts.
Republican politicians and commentators have for months called for more arrests and deportations, vocally critical of what some Republicans have deemed Biden's "open border" immigration policies, which experts told Newsweek is an exaggerated, inaccurate description.
"I've been studying immigration politics for now 20 years, and I haven't seen such a mismatch between the accusations of one party and the policies of the other which are actually not close to open and probably stricter than what we've seen in a long time," immigration politics professor Rebecca Hamlin said in January.
Hamlin and other experts have said that while "open border" is not a correct description of Biden's policies, it is likely still used by Republicans because of its polarizing nature and how dramatic it sounds.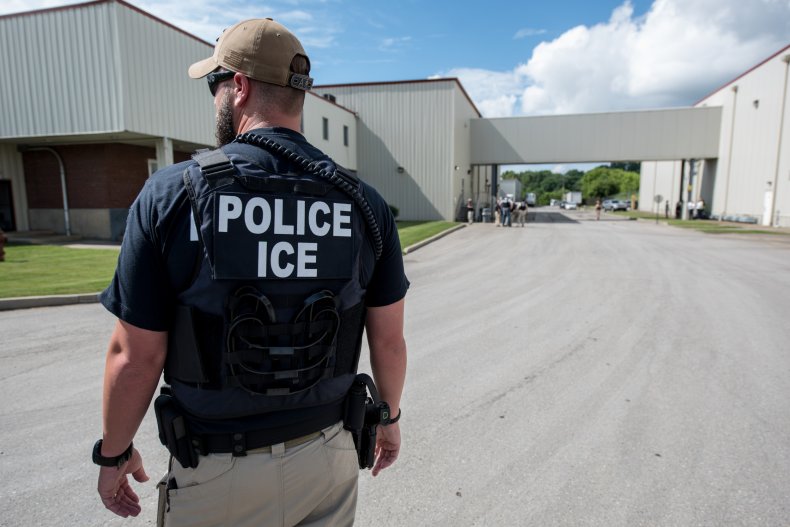 This week's letter from dozens of House members told Biden that private, for-profit detention centers that are connected to ICE should be abolished, and existing detention centers should be re-evaluated to ensure they are safe for migrants who are arrested.
However, Friday's report shows significant decreases in arrests and deportations, while other statistics like arrests of aggravated felons and nearly 500 people who were arrested due to a new initiative targeting sex offenders, up from 194 sex offenders arrested in 2020.
Several executive orders from Biden issued in 2021 "refocused the agency's civil immigration enforcement efforts on the greatest threats to national security, public safety, and border security, while empowering career law enforcement officials in the field to make discretionary decisions about which noncitizens to arrest, detain, and remove," ICE Acting Director Tae Johnson said in a statement preceding the report.
Johnson also pointed out one case as a point of pride for the agency—the February 2021 removal of Friedrich Karl Berger, a 95-year-old German citizen living in Tennessee who was confirmed to be a former guard at Nazi concentration camps during World War II.
Update 3/11/22, 3:09 p.m. ET: This story has been updated with additional information and context.