Immigration Beats Gun Control as Top Issue in 2018 Election, Florida Poll Finds
Immigration has beaten gun control policy as the most important issue in the upcoming 2018 elections, a new survey in Florida has revealed. The Florida Atlantic University (FAU) Business and Economics Polling Initiative interviewed 1,000 registered state voters for the survey, which was released on Thursday.
Gun control policy has certainly captured the attention of voters in the state and beyond following the deadly school shooting at Marjory Stoneman Douglas High School in Parkland, Florida, this February. Yet the survey found that Florida voters were more worried about immigration and health care than about gun control.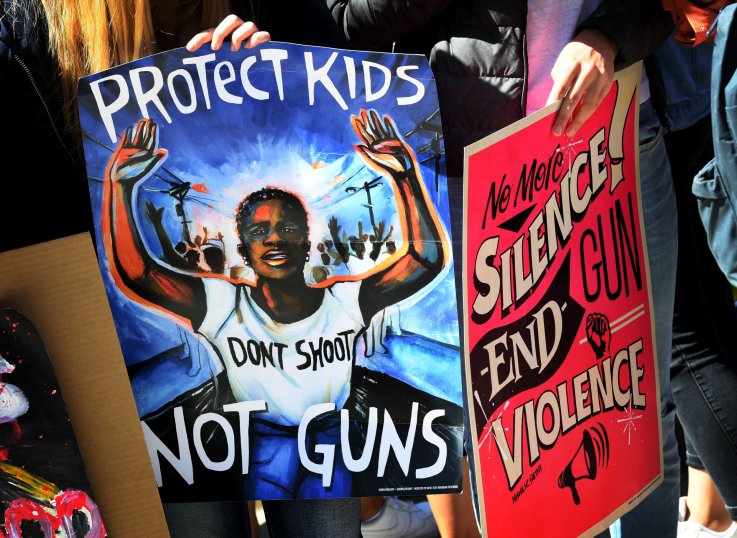 The poll found that 23 percent of voters believed immigration was the most important issue, followed by 20 percent who picked health care. According to The Sun-Sentinel, gun control policy was statistically tied with the economy, which was chosen by 13 percent of respondents.
The Sunshine State's millennial voters, those aged 18 to 34, were nearly four times more likely than voters 75 and older to choose gun control at their top issue. Gun control was picked by 18 percent of voters aged 18 to 34, 12 percent of voters aged 35 to 54, 9 percent of voters 55 to 74 and just 5 percent of voters 75 and older.
Kevin Wagner, a political scientist at FAU and a research fellow at the polling institute, spoke about the age divide with Newsweek. "I think it reflects the impact Parkland had among high school students and younger voters."
Wagner noted that the results do not mean that younger voters do not care about other issues. In fact, health care ranked high among young respondents.
The poll also found bigger discrepancies between voters of different political affiliations. Immigration was a top issue for Republicans, Democrats and independents, but gun control policy ranked much higher among Democrats than it did among Republicans.
The divide among voters of different political affiliation showed "the power of partisanship," Wagner noted. He told Newsweek that he was not surprised at what issues ranked higher among voters in different political parties. "It doesn't look like it's likely to change any time soon," he added.
Despite other issues taking top spot among voters in Florida, public opinion polls in the state have revealed the public supports a wide range of gun control measures, The Sun-Sentinel reported.
The poll was conducted from May 4 to 14, with voters reached online and via automated calls to landline phones. The survey had a margin of error of plus or minus 3 percentage points.
Immigration Beats Gun Control as Top Issue in 2018 Election, Florida Poll Finds | U.S.