Immigration Courts Close 250,000 Cases in 2019, But Backlog of Nearly 1 Million More Still Waits
Posting its second-highest numbers ever, the Executive Office for Immigration Review (EOIR) completed 275,000 cases for the fiscal year 2009. That number represents roughly 80,000 more completions that the fiscal year 2018. However, a backlog of nearly one million cases still exists.
Cases judged under the EOIR umbrella include "cases involving detained aliens, criminal aliens and aliens seeking asylum as a form of relief from removal, while ensuring the standards of due process and fair treatment for all parties involved."
According to the Transactional Records Access Clearinghouse, a majority of the backlogged cases are in California which has 175,739 deportation cases pending. Texas is in second place with 160,759 cases while New York comes in third with 124,000 cases.
Immigration Impact says that new immigration court policies set forth by the Trump administration have caused that backlog to increase. There were over 542,000 cases when Trump was inaugurated in 2017. Within three years, the number of cases has practically doubled.
Newsweek subscription offers >
The graphic below, provided by Statista, illustrates the backlog of U.S. immigration cases.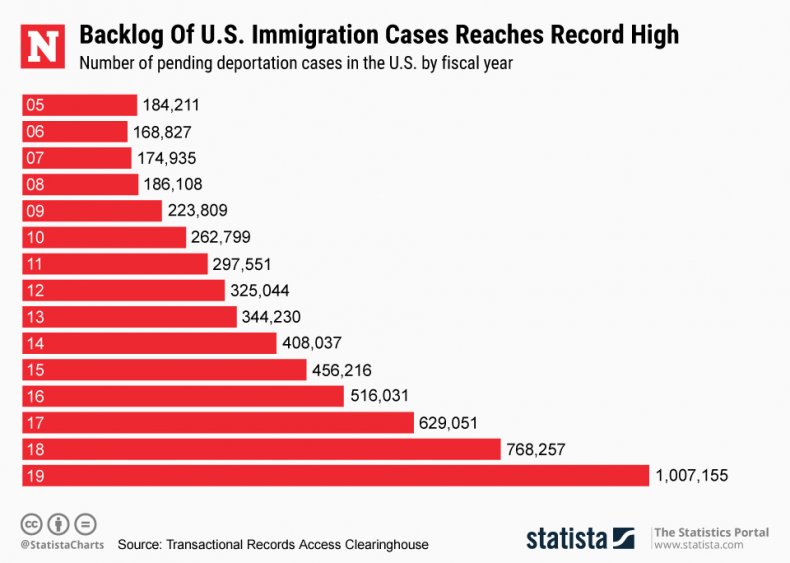 Governmental initiatives for speeding up the process in immigration court included the Strategic Caseload Reduction Plan (SCRP) which looked to hire more judges, claim more physical space for adjudicating cases and implement video teleconferencing.
Quotas for judges were established in 2018 which required them to close 700 cases per year to receive a satisfactory rating. The appeal process played into that rating also, with a requirement of fewer than 15 percent of judicial decisions overturned by appeals, according to National Public Radio.
Newsweek subscription offers >
The SCRP dovetailed nicely with the Migrant Protection Protocols (MPP) which were established in January 2019. According to the Department of Homeland Security (DHS), the MPP returns aliens to Mexico until their cases come up in immigration court.
"This includes aliens who claim a fear of return to Mexico at any point during apprehension, processing, or such proceedings," said the DHS, "but who have been assessed not to be more likely than not to face persecution or torture in Mexico."
"Our immigration courts are doing everything in their power to efficiently adjudicate immigration cases while respecting due process rights, but efficient adjudication alone cannot resolve the crisis at the border," EOIR Director James McHenry said in a press release.
"While EOIR is doing an unprecedented job adjudicating cases fairly and expeditiously, the nearly one million case backlog will continue to grow unless Congress acts to address the crisis at the border."
But the cases continue to pile up, which the Trump administration has blamed on unfounded asylum claims. Judge Ashley Tabaddor, president of the National Association of Immigration Judges, thinks it might be something else.
"If nothing else, the continuing rise of the backlog shows that the immigration court is broken," Tabaddor told CNN. "Until we fix the design defect of having a court in a law enforcement agency, we will not be able to address the backlog in a fair and effective manner."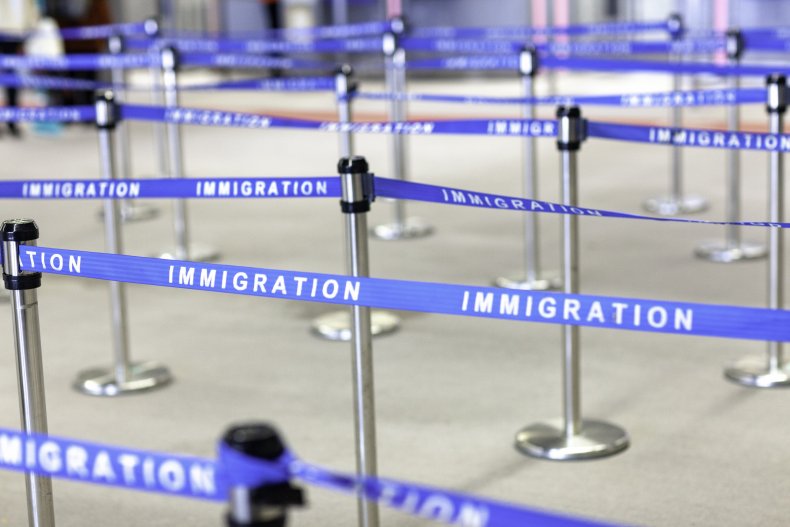 This article was updated to include an infographic.
Immigration Courts Close 250,000 Cases in 2019, But Backlog of Nearly 1 Million More Still Waits | U.S.