'Immigration Nation': New Netflix Show Gives Inside Look Into ICE Operations
A new docuseries airing on Netflix next month is set to give viewers an unprecedented glimpse into how the Trump administration's hardline immigration crackdown has played out on the ground since President Donald Trump took office in 2017.
"Immigration Nation" is set to launch on Netflix on August 3, but a trailer for the series launched exclusively on Newsweek's website and an interview with the filmmakers behind the project reveals what viewers can expect from the new show, including a startling look at how Trump's "zero tolerance" family separation policy was enforced at the border and a glimpse into the inner workings of the Immigration and Customs Enforcement (ICE) agency.
Following the Trump administration's immigration crackdown over the course of three years, filmmakers Shaul Schwarz and Christina Clusiau tell the story of what immigration enforcement has looked like under Trump from a range of perspectives, including those of ICE agents, Border Patrol officers and the asylum seekers, migrants and undocumented residents impacted by the president's hardline policies.
Speaking with Newsweek on Tuesday, Schwarz and Clusiau said they were, at times, stunned by the level of access they were given to the government's immigration agencies, which they said was granted thanks to rapport Schwarz had built with ICE while previously documenting the agency's work.
"During the family separation policy, when this whole story was blowing up, we were actually there, walking around and seeing the day-to-day of these fathers [who were separated from their children at the border]," said Schwarz, who came to the U.S. as an immigrant himself.
The filmmaker said he was, at times, taken aback by immigration agents' candidness when discussing ICE operations, including the push for agents to ramp up arrests of undocumented immigrants without serious criminal convictions.
In one part of the new trailer for Immigration Nation, an ICE agent can be seen getting orders from his superior to make more arrests, whatever it takes.
"Yeah, what's up man?" the ICE agent says, responding to a call from his superior while driving.
"I don't care what you do, but bring at least two people in," his manager can be heard saying.
"He knew you guys were with me, right?" the ICE agent says, directing the question to the filmmakers sitting in the backseat. "'Cause that's a pretty stupid thing to say."
The incident is far from isolated in the new series, with ICE agents speaking candidly throughout the show about the orders they are handing down and enforcing.
Throughout the series, immigration agents also speak about the internal conflicts they have faced in enforcing Trump's hardline immigration policies, including one of the president's first orders, which saw the scope of "removable immigrants" in the U.S. expanded to include anyone living in the country "illegally."
While Schwarz said that "in every place, there were always some people who didn't want to collaborate and said, 'Look, I don't even tell my neighbors and my friends what I do," many were willing to open up in front of the camera.
"I'm a dad. Nobody wants to see children hurt," one ICE worker says in the trailer for the series, which shows one father being arrested in front of his young daughter by ICE workers and another father consoling his daughter after the pair were separated at the U.S.-Mexico border under the government's "zero tolerance" family separation policy, which saw more than 2,500 families separated.
Among the stories documented in the new series are the experiences of two fathers separated from their young children at the border. Not only does the series document the treatment they received while in U.S. custody, but also the pain and anguish they faced during separation and the long-lasting impacts the experience has had on their families.
Clusiau told Newsweek that she hope viewers will come away with a realization of just how "complicated" and "broken" the U.S. immigration system is.
"Everybody," who participates in the system, from those who enforce it to those who suffer the consequences of that enforcement ends up "chewed up by this broken system," Clusiau said.
In Schwarz's view, Immigration Nation paints a picture of how "bad bureaucracy" can "overcome common sense" when it comes to U.S. immigration policy and its enforcement. And that bad bureaucracy can "equal the destruction of a family," he said.
While Schwarz said he does not believe abolishing immigration enforcement is the answer, he said he hopes viewers will come away from Immigration Nation inspired to demand greater accountability, transparency and change from their government.
"I want people to take away that we can do better," he said.
But first, he said: "We just want people to leave their heated political thoughts before they come into the show and, just for a moment, kind of let their guard down and see how everybody's somehow being destroyed and chewed by this broken system."
Immigration Nation airs on Netflix on August 3, 2020.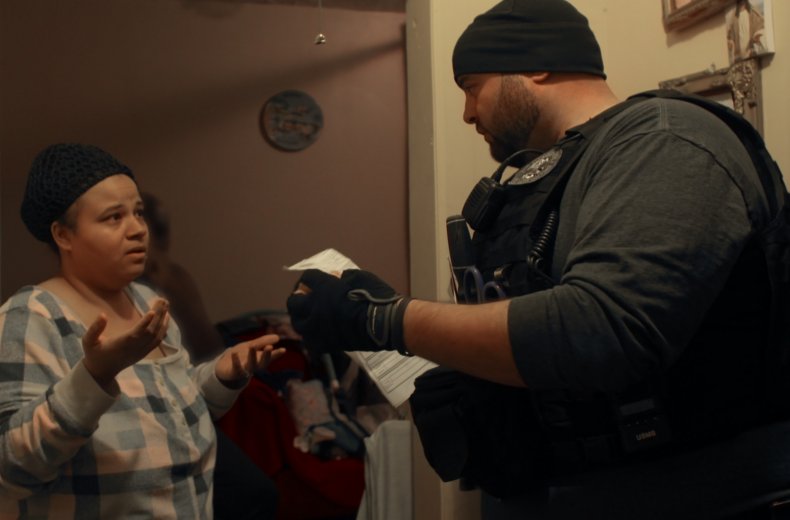 Correction 7/22/20, 11:15 a.m.: This article was updated to correct a typo in the name Shaul Schwarz.