A Russian immigration officer spouted homophobic and overtly anti-LGBTQ comments in an interview with a gay HIV-positive asylum seeker, leaked audio has revealed.
The unnamed man from Uzbekistan and his lawyer met the officer at the Moscow branch of the Russian Interior Ministry's Main Directorate of Migration Affairs to request asylum, Radio Free Europe reported on Thursday. Although Russia has received significant international criticism for its "gay propaganda law," same-sex relations is not illegal in the country. In the former Soviet republic of Uzbekistan, however, gay relations remain criminalized with a punishment of up to three years in prison.
The agent, who was also unnamed in the report, showed no sympathy toward the applicant, according to the recordings, even suggesting that he and other LGBTQ individuals should be executed.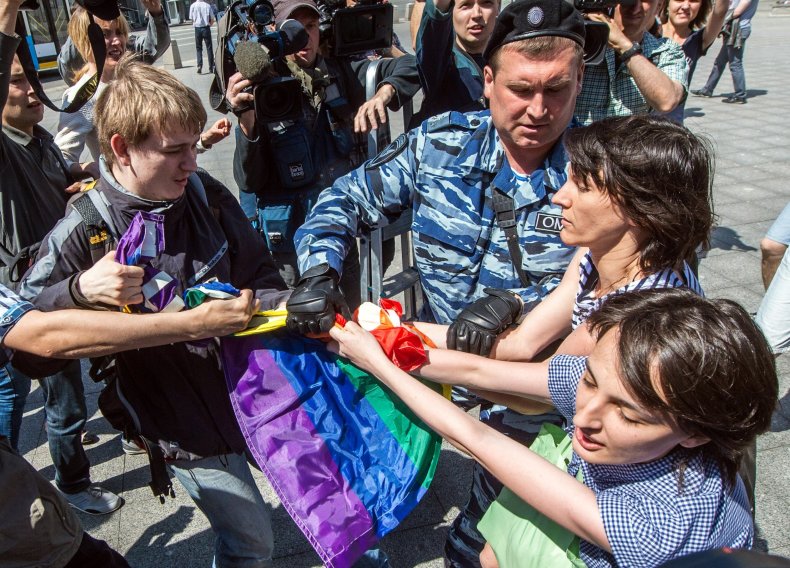 "If it were up to me, they would all be put up against a wall," the woman, who also said she had Uzbeki origins, told the man and his lawyer. "Cursed be your father. Do you understand me, dog?" she added in the man's native language.
In further remarks, she referred to the man as "AIDS boy" and a "disgrace to society."
The man's lawyer Anton Ryzhov told Radio Free Europe that he has filed an official complaint on behalf of his client as well as gay men from Turkmenistan, Nigeria and Cameroon, who are all seeking asylum in Russia. While the situation for the LGBTQ community is better in Russia than in the applicants' home countries, as they would not face criminal prosecution for their sexuality, some admit that they were unaware of the country's "gay propaganda law" before coming to the country.
"I didn't know about [the 2013 'gay-propaganda' law]. I learned about it after coming to Russia," Thierry, a gay asylum applicant from Cameroon who only revealed his first name, told Radio Free Europe.
Ryzhov explained that many of his clients viewed Russia to be the same as Europe. They thus assumed LGBTQ rights are respected in a similar manner to how they are in Germany, Denmark or other Western European nations.
Legislation in Russia, often referred to as the "gay propaganda law," places restraints on portrayals of LGBTQ relationships as equal to heterosexual unions. Moscow claims it does not discriminate against sexual minorities, and that the law is simply in place to protect children. However, the LGBTQ community also faces significant social stigma within the country.
"Russia's 'gay propaganda' law is just a flimsy excuse to discriminate against LGBT people and is abjectly harmful to public health in the process," Human Rights Watch said in a May statement. "Factual, positive, and affirming information about sexuality and health is essential for adults and children, including for HIV prevention."
Regardless of how they identify, however, asylum seekers face a difficult reality in Russia. Official data cited by Radio Free Europe reveals that the country only had 598 recognized refugees last year, which is the lowest number since 2008.
Varvara Tretyak, a counselor with the Civic Assistance Committee, a Moscow-based non-governmental organization that helps forced migrants, told the news site that she is not aware of any individual who has been granted refugee status for citing persecution "due to their sexual orientation."
"We're very interested to see what immigration services say this time about why they decide not to grant these individuals refugee status," she said, referring to the group of applicants represented by Ryzhov.