Immigration Officer Bribe Arrest Adds to Homeland Security Corruption Woes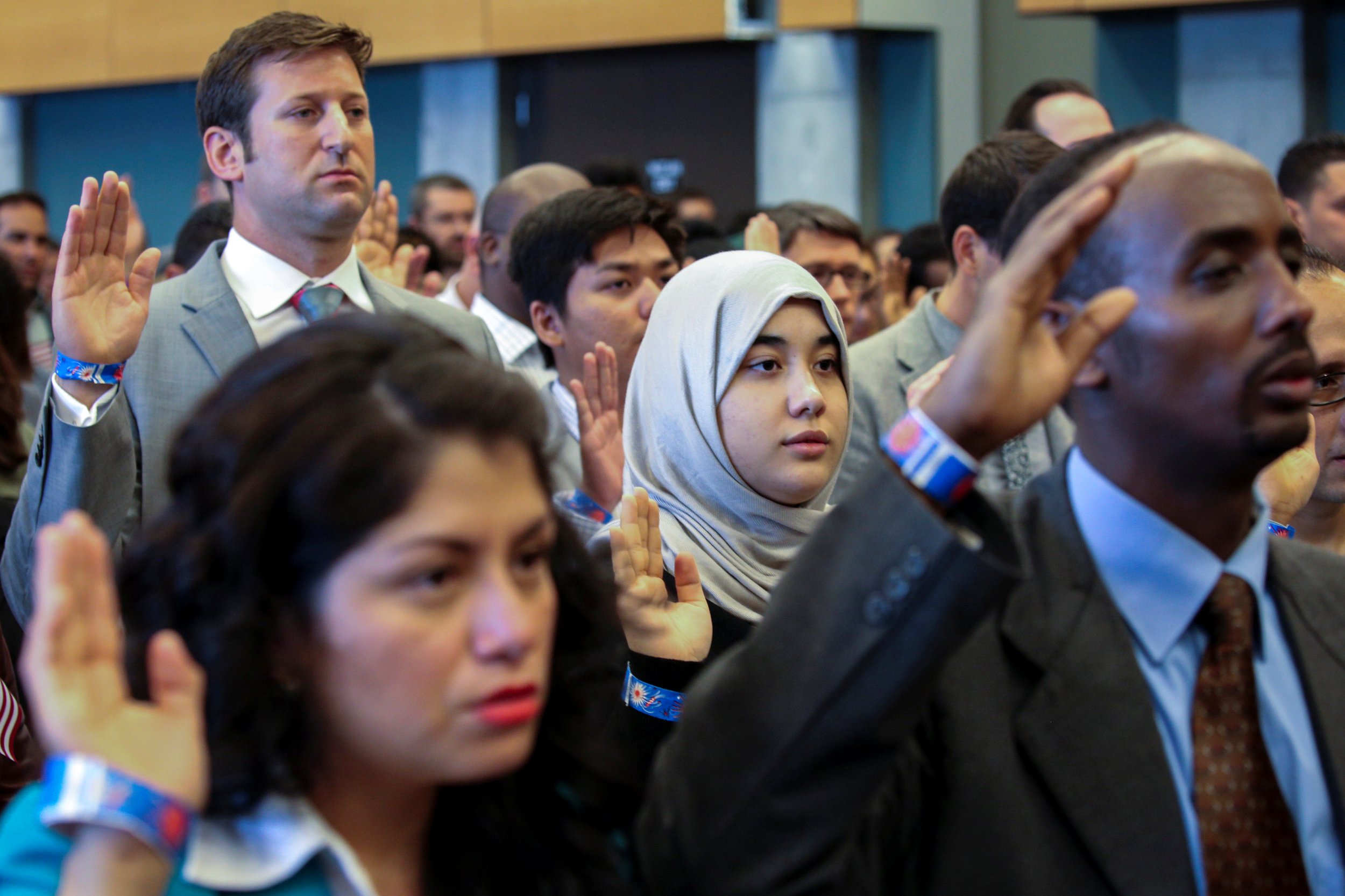 Updated | A federal Immigration officer in Miami was accused of accepting a $2,000 bribe and sexually assaulting a woman who was trying to become a U.S. citizen, the latest in a string of corruption cases involving officers at the government agency.
During a citizenship interview on April 20, the officer, Jovany Perez, allegedly told the woman he had determined her marriage was a sham and she signed a statement admitting as much. The 34-year-old Perez then gave her his Facebook address and said he could help her with her case, but said he couldn't do anything while at his U.S. Citizenship and Immigration Services office.
The woman messaged Perez on Facebook the same day, and the pair met in the parking lot of a Miami-Dade County restaurant. "While sitting with [the woman] in his vehicle, Perez fondled [her] breasts, asked her whether she was wearing a wire, and exposed his penis to her," reads the criminal complaint against Perez, which was filed Friday in Miami federal court. "Perez also explained to [her] that he was the ultimate decision maker in her case, and stated that the two could have a sexual encounter there in the vehicle."
The allegations against Perez are not unique: At least five other immigration officers have been sentenced for taking bribes since 2012. Those cases included:
-Jesus Figueroa, a Los Angeles immigration officer who was found guilty in 2016 of taking bribes from an immigration lawyer to approve applications for legal permanent residence that he knew were bogus.
-Daniel Espejo Amos, a Los Angeles immigration officer, was sentenced to almost three years in prison for accepting over $53,000 in bribes in exchange for giving citizenship to 60 applicants he knew shouldn't get that benefit. (Amos even gave an applicant test answers to help pass the required English test.)
-Billy Louis Nelms, yet another Los Angeles immigration officer, was convicted and sentenced in 2014 to taking $5,000 ub bribes from Cambodian immigrants in exchange for giving them temporary legal status in the U.S.
-Mai Nhu Nguyen, also a Los Angeles immigration officer, was sentenced in 2014 for taking bribes from an immigrant applying for citizenship. "Nguyen is accused of taking $1,000 from an immigrant seeking a 'green card' and 200 egg rolls from an immigrant seeking citizenship," the FBI said when she was arrested.
-Melford Christmas, a Long Island immigration officer, was sentenced to 18 months in 2012 for meeting applicants near their homes and taking bribes of $500 to $1,500 in exchange for approving their citizenship applications.
The problem of immigration officers taking bribes stretches back even further, according to a 2010 report from the Department of Homeland Security's Office of Inspector General. (U.S. Citizenship and Immigration Services is within DHS.) The report, titled "Efforts to Detect and Deter Fraud Committed by Immigration Services Officers," noted the case of Robert Schofield, a USCIS employee who took more than $600,000 in bribes over an eight-year period. Other officers have been sentenced for sexual assault, inappropriately accessing official information and other offenses, the report stated.
The problem spreads beyond USCIS to other agencies within the DHS. A New York Times investigation in 2016 found that over the previous 10 years, DHS employees and contractors took almost $15 million in bribes.
Asked for comment on the arrest of Perez, a spokeswoman said that USCIS is cooperating fully with law enforcement authorities and that the agency takes misconduct allegations seriously. Regarding past arrests of USCIS officers, the spokeswoman said, "The overwhelming majority of USCIS' 19,000-person workforce conducts their professional duties with honesty and a strong commitment to public service. USCIS continually works to strengthen the security and integrity of the immigration system and to ensure that the very small number who have engaged in criminal wrongdoing are vigorously prosecuted to the fullest extent of the law."
The woman declined Perez's alleged offer to have sex, and after she got out of his car she reported him to the DHS Office of Inspector General. Investigators told her to meet with Perez again in the same parking lot on May 9, at which point he told her that for $2,000 he would replace the signed confession in her file with a new statement he would help her draft, according to the criminal complaint. The woman met with Perez May 17 in a Target parking lot—with investigators recording audio and video—and Perez tore up her first written statement, helped her write a new statement and then counted and pocketed the $2,000 she handed him.
"The conversation ended after Perez instructed [her] to delete all communications that had taken place between them from her cellular telephone," states the complaint. "After the meeting ended, Perez was arrested without incident."
This story was updated with additional comment from a USCIS spokeswoman.