Church 'Detains' Jesus, Mary and Joseph in Cage to Protest Donald Trump's 'Zero Tolerance' Immigration Policy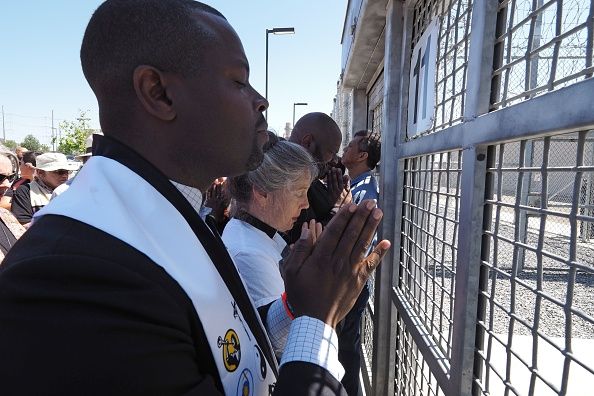 A church in Indiana had placed statues of Mary, Joseph and baby Jesus inside a fence to protest President Donald Trump's immigration policy.
The holy family can be seen in a cage on the lawn in front of the Christ Church Cathedral in Indianapolis. Reverend Stephen Carlsen told the IndyStar on Monday that the display is to protest the immigration policy that is separating families at borders and holding children in detention centers.
"I know what the Bible said," Carlsen told the publication. "We're supposed to love our neighbors as ourselves."
Carlsen told Newsweek that the display was put on the church lawn on Monday night so people going to work can see it first thing in the morning. He said he has never done anything like this before, but felt the display was important to make.
"Our primary motivation as a church comes from religious values. We treat our neighbors the way we want to be treated, and we treat our neighbors as we love ourselves," Carlsen told Newsweek. "The people in detention centers are only trying to make a better life for their children and a secure and safe place for their families."
The Reverend believes the image is powerful and has caused people in the community to discuss the topic of immigration policy in America. The new display is in response to Trump's "zero-tolerance" policy, which has resulted in the separation of over 2,300 children from their immigrant parents who have crossed the Mexican border as they await prosecution.
"Every family is sacred. The story of the holy family is about a homeless couple who had to give birth to their son in a barn, and had to flee to seek safety," Carlsen told Newsweek. "It tells us who God is with and where faithful people should be, too. They should be standing with people who need mercy and justice."
Last week, a church in Arizona hung two banners that depicted a boy next to two border agents that read "Jesus doesn't want to be in cages" during First Lady Melania Trump's trip to visit the detention centers holding immigrant families.