Immigration at Political Forefront After Top Court Deadlock, Brexit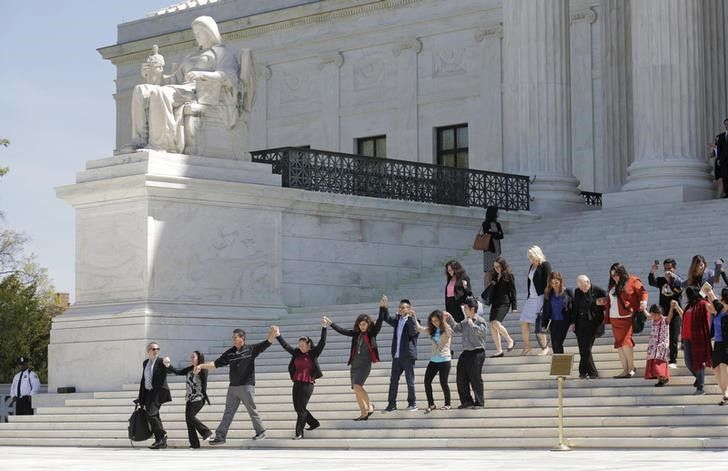 It was a good week for xenophobes. Between Thursday's stunning United Kingdom vote to depart from the European Union and the U.S. Supreme Court's de facto rebuke of President Obama's attempt at amnesty for millions of undocumented immigrants in America, it's clear that fear of outsiders has seized the global narrative in 2016. While Britain's decision may prove catastrophic, though, SCOTUS' split vote presents an opportunity.
The high court issued a terse statement Thursday in U.S. v. Texas, a federal district court ruling affirming a challenge from Texas and 25 other states against Obama's 2014 decision to allow more than 4 million undocumented workers to apply for programs that would let them stay in the U.S. That sentence — "The judgment is affirmed by an equally divided court" — is the bluntest and most high-profile reminder of the Senate's refusal to consider a replacement to former justice Antonin Scalia, who died in February, leaving the court with only eight members.
"Today's decision is frustrating to those who seek to grow our economy and bring a rationality to our immigration system, and to allow people to come out of the shadows and lift this perpetual cloud on them," Obama said in the White House briefing room after the court's announcement. "I think it is heartbreaking for the millions of immigrants who've made their lives here, who've raised families here, who hoped for the opportunity to work, pay taxes, serve in our military and more fully contribute to this country we all love in an open way."
Had Scalia been alive, last week's news would surely have been worse for advocates of immigration reform, as the conservative jurist would certainly have upheld the lower court's rebuke of Obama's amnesty plan. But the split court ruling means the district court's decision stands without a high court precedent, and that millions of migrants living in fear of deportation for decades will remain in limbo.
Here's what won't be suspended, though: immigration as a front-and-center issue in the November elections. Former Secretary of State Hillary Clinton quickly tweeted her opposition to the "heartbreaking" ruling Thursday, warning it "could tear apart 5 million families facing deportation." And Donald Trump lauded the court's decision, which "has kept us safe from exec amnesty — for now."
Immigration as a front-burner issue is good for advocates of reform because most Americans favor a path to citizenship, a new method for dealing with future immigrants and a sensible approach to enforcement of existing laws, Ben Johnson, executive director of the American Immigration Lawyers Association, tells Newsweek. "People are angry, but when you talk to them about that fundamental architecture for reform, 75 percent of the population even in this dark times is in support of reform," Johnson said. "Donald Trump likes to take credit for making immigration an issue in his campaign. That's ridiculous. It's been an important top-tier political issue, it was in the last presidential cycle, and it was going to be in this cycle no matter what."
With the nation's growing population of Hispanic voters and increasing frustration with congressional inaction in either a rightward or leftward direction on immigration, the Supreme Court's decision highlights the importance of November's election, advocates for reform say. With Congress gridlocked and most individual House seats hopelessly gerrymandered, the most likely prospect for action on immigration comes with a new president, and a new Supreme Court justice. "There's a real awareness of the need to fix our immigration system," Johnson says.
With every month that passes, "the clock doesn't stop," Antonio Ginatta, advocacy director of the U.S. program of Human Rights Watch tells Newsweek. "Families continue to grow roots in the U.S. Workers without status continue to be vulnerable."
Ginatta urged the president to reconsider his own deportation policy in the wake of the Supreme Court's ruling. Some advocates deride him as the "Deporter in Chief," noting the 2 million immigrants Obama's administration has sent out of the U.S. since he first took office. Ginatta says the president should rethink his priorities, especially given the slim chance Congress will act before his term ends in January.
"The Obama White House has pivoted to an election framing on immigration," Ginatta says. "But he still has plenty of power. The Department of Homeland Security can't remove everybody. So his department can decide who to remove and who not to, until his term is over." Obama can, for example, choose to focus on only deporting undocumented immigrants convicted of serious crimes.
No matter what happens, politicians can expect an energized electorate to seize upon the Supreme Court's decision and legislative inaction and demand change in November.
"Four to five million people will not be able to come forward to affirmatively apply for temporary protection from deportation, criminal background checks and the ability to work legally," said Rep. Luis Gutiérrez, D-Il., in a statement. "But 45 million Latino citizens will be energized and mobilized by the Court's failure to decide."