In Immigration Politics, Nobody Is Winning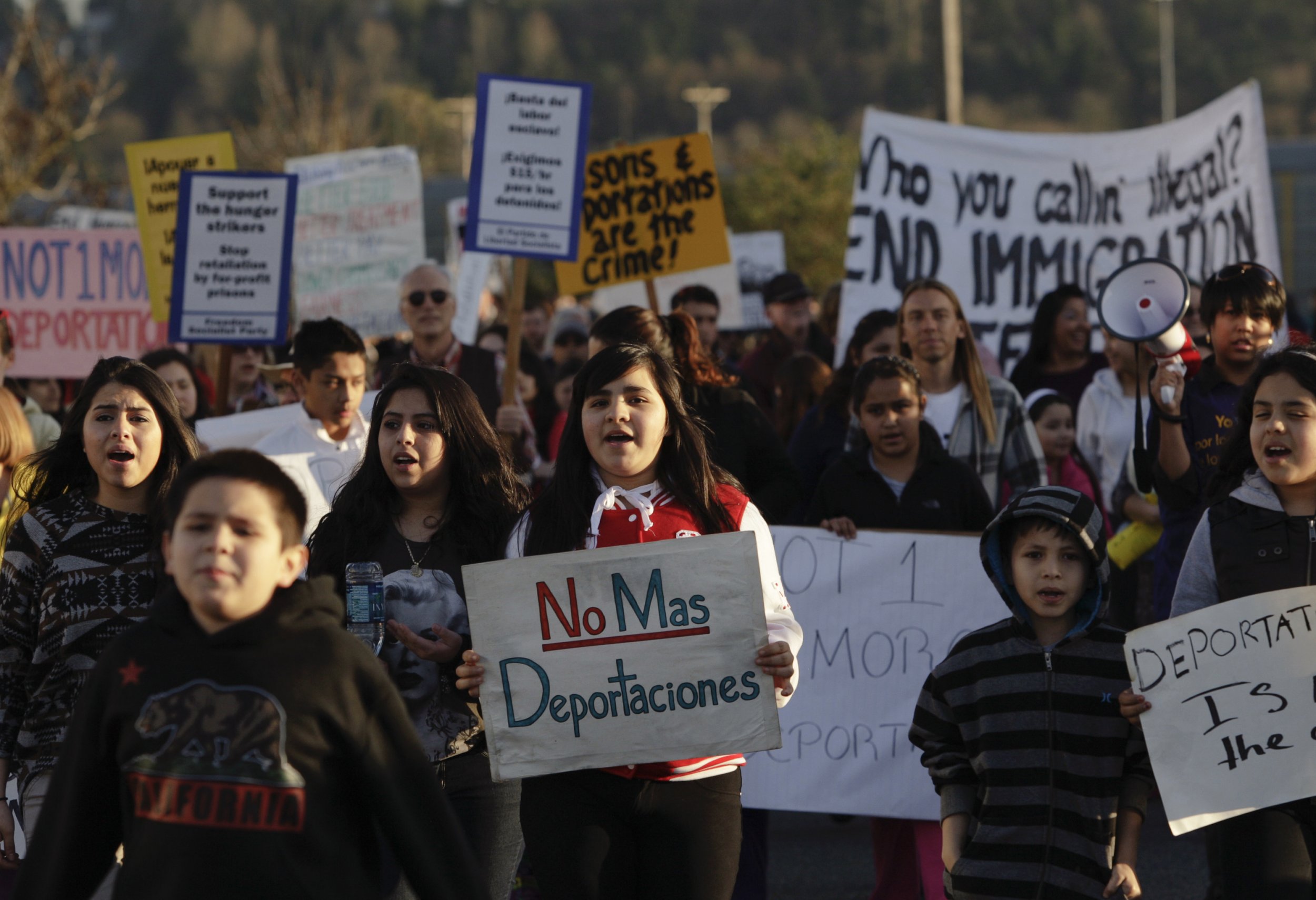 With prospects for immigration reform dimming in Congress, immigration activists have ramped up political pressure on President Barack Obama to use his executive authority to scale back on deportations tearing thousands of families apart every day.
On Thursday, the White House responded to that pressure, announcing it would re-evaluate its deportation policies. The Department of Homeland Security secretary will review current deportation practices to determine how it can conduct enforcement more humanely and within the confines of the law. Though the president cannot change the law unilaterally, the administration can rewrite enforcement guidelines and use prosecutorial discretion to provide significant relief to undocumented immigrants.
The Obama administration's aggressive deportation strategy has earned the ire of reform activists, who dub the president the "deporter in chief." Under Obama, the U.S. government has deported 2 million people. At the current rate, the administration is on pace to deport 1 million more than George W. Bush did during his two terms as president. Obama has already deported twice the number President Bill Clinton did. As Arturo Carmona, the executive director of the liberal activist group Presente.org, told the National Journal last year, Obama "could go down as the worst president in history toward immigrants."
Obama's aggressive deportation record has not won the trust of Republicans who want to ramp up border protection and enforcement. But it could have serious political repercussions for Democrats, who depend on not just a majority of the Latino vote but a large and enthusiastic majority to win the White House as well as down-ballot races across the country. If Democrats come across as not dedicated to reform, they risk losing enough Latino voters to put their electoral prospects in jeopardy both this year and in 2016.
Activists say they will continue to pressure the administration to ease deportations and push Republicans to move on reform.
"Our first priority has been and continues to be to get the House Republicans to act on immigration reform," Frank Sharry, executive director of America's Voice, a reform advocacy group, told reporters during a conference call Friday. "As hopes fade that the Republicans are going to take action, pressure increases on President Obama and the administration to use his pen and phone to take action administratively, to use every ounce of his executive authority to stop the crisis that happens on a daily basis across the country."
"Should we be nice about it?" Sharry asked, referring to his group's pressure on the White House. "Well, we're six years in, and he's deported 2 million people."
Calling current deportation practices "arbitrary and cruel," he said, "You can count on my organization and many others to continue to press the president and the administration very hard."
Thursday's announcement wasn't the first time Obama has used his authority to alter deportation practices or issued prosecutorial discretion memos. In 2012, for example, he deferred deportation for the so-called Dreamers, young adults brought to the United States illegally as children. That action riled Republicans, who argue that Obama cannot be trusted to implement current law. Republicans have cited this as a reason not to pursue immigration reform, and they raised the same objection in response to the administration's action this week.
"I think it's always a mistake when the administration decides not to enforce the laws," Representative Tom Cole, R-Okla., said in response to this week's announcement. "One of the reasons we can't get an immigration bill is that no one believes the administration will actually keep whatever they commit to in the bill. The more they do that, the less likely it is they are able to get their main objective."
Pro-reform Representative Zoe Lofgren, D-Calif., rejected that argument Friday. "I think that their arguments about the president exceeding his authority is an excuse and not a real reason," she said during the conference call with America's Voice. "For us to buy into that bogus excuse is a terrible mistake. There is no reason in the world why we can't have a vote on immigration reform."
While Democrats are facing immediate political pressure over immigration, Republicans don't see it as a beneficial issue to take on in an election year when hammering Democrats over Obamacare is a better strategy. But that strategy will backfire in 2016, when Republicans will be the party that pushed for more deportations, fought Obama over easing deportations and killed a bipartisan immigration bill passed by the Senate in 2013. After Obama won Latino voters overwhelmingly in 2012, many Republicans believe doing nothing about immigration before the next presidential election would be disastrous for the GOP.
This week, Republicans passed a measure that would allow members of Congress to take administration officials to court to make them enforce the law, a bill written in response to Republican allegations that Obama has refused to enforce laws he doesn't like—everything from extending deadlines in the Affordable Care Act to selectively enforcing immigration laws. Among the immigration actions Republicans say Obama has taken illegally is the deferred-action program for Dreamers and the extension of a practice called parole in place, under which the government does not deport the family of service members.
"When I chaired the immigration subcommittee in 2010, we put together a letter signed by nine Democrats and nine Republicans—some of them very conservative Republicans—asking then Department of Homeland Security secretary Janet Napolitano to extend parole in place for military families," Lofgren said. "That the current Republican leadership would attack this now is unconscionable.
"Most people don't think it's right to deport the wife of an American soldier who is in Afghanistan," she added. "In a way, this may give us an opportunity to explain the situation even more."