Immigration Recalls 800 Employment Authorization Cards: Everything You Need to Know
The U.S. Citizenship and Immigration Services announced it would begin recalling 800 Employment Authorization Documents (EADs) that were issued in conjunction with Form I-589, Application for Asylum and for Withholding of Removal. The work permits are being recalled due to a printing error, the USCIS said Thursday.
In a statement, USCIS said that the affected cards involved a printing error that transposed the first and last names of cardholders. The cards, which were granted by USCIS asylum officers, were sent to recipients in April and May 2018.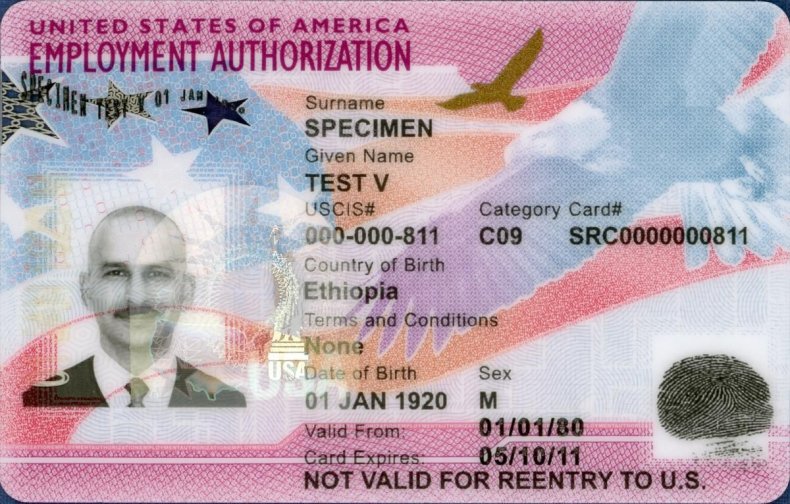 Anyone affected by the recall will receive a notice directly from USCIS or through his or her attorney, if retained, USCIS said in its statement. The agency began sending notices on Thursday.
In a statement to Newsweek, a USCIS spokesperson said, "There is no tangible impact—the card is still valid. However, since that is not how the EAD holder's names normally appear, USCIS wants to recall the cards so there is no confusion."
Individuals who have their EADs recalled will receive a prepaid envelope to return the incorrect work permit cards to USCIS within 20 days of receiving the notice. Affected individuals also have the option to return the EADs to a USCIS field office.
Replacement cards will be shipped out within 15 days of receiving the incorrectly printed cards.
The agency said that the recall will not affect individuals' employment authorization because they are authorized to work without needing the work permit cards. Form I-94, which proves that affected recipients have been granted asylum, also serves as evidence of employment authorization.
Any affected individual who requires proof of employment may call the USCIS Contact Center at 800-375-5283.
The USCIS recalled 8,543 Permanent Resident Cards, also known as "green cards," due to a production error in May. The recalled cards were printed with an incorrect "Resident Since" date and were sent to spouses of U.S. citizens who applied for residency under Form I-751, a petition that removes conditions of residence.
In a statement to Newsweek, USCIS spokesman Steve Blando said, "The IT system error that caused the misprint has been corrected." The recall of green cards did not affect individuals' status as lawful permanent residents.
Immigration Recalls 800 Employment Authorization Cards: Everything You Need to Know | U.S.