Immigration Recalls 8,543 Green Cards: Everything You Need to Know
The U.S. Citizenship and Immigration Services announced Monday that it was recalling 8,543 Permanent Resident Cards, also known as "green cards," due to a production error. The affected cards were mailed between February and April 2018, the agency said.
In a statement, USCIS said the recalled cards were for spouses of U.S. citizens who applied for residency under Form I-751, a petition that removes conditions of residence. The cards were printed with an incorrect "Resident Since" date.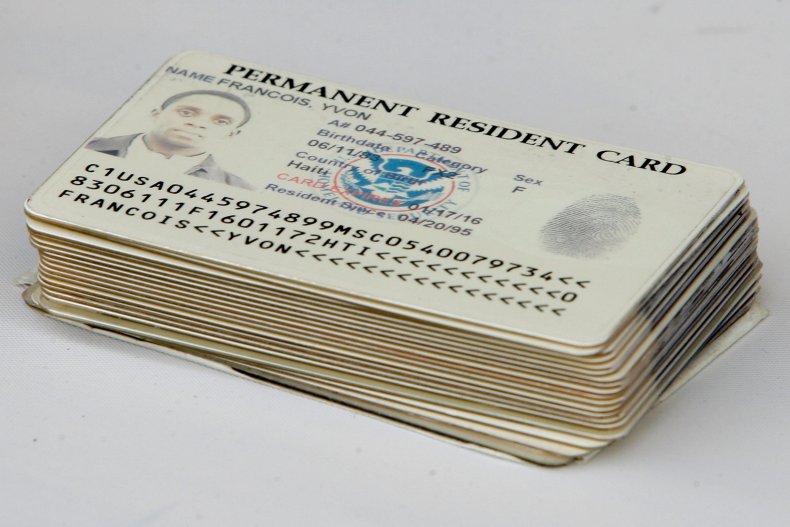 What Those Affected Should Know
Anyone affected by the recall will receive a notice from USCIS directly or through his or her attorney, if retained, the agency said in its statement. In an email to Newsweek, USCIS spokesman Steve Blando said the agency began sending notices on Monday.
Individuals whose green cards are recalled will receive a prepaid envelop and will have 20 days to return their incorrect green cards to USCIS from the time they receive the notice. Those affected also have the option to return the incorrect cards to USCIS field offices, Blando said.
The agency will send replacement cards within 15 days of receiving the incorrect card. "The IT system error that caused the misprint has been corrected," the email added.
USCIS clarified that the recall does not affect individuals' status as lawful permanent residents. Anyone affected who needs to travel internationally or prove legal status while awaiting a new card may call the USCIS Contact Center at 800-375-5283 to determine if additional proof is required, the statement said.
Those affected can "schedule an appointment at their local field office to receive a stamp on their passport for travel and proof of lawful permanent residence while they wait for a replacement card. They should also retain the recall letter on their person as proof of lawful permanent residence," Blando added.
In its statement, USCIS noted that spouses of U.S. citizens are eligible to apply for naturalization following three years of permanent residency. The agency also warned, "The incorrect date on these cards could lead applicants to wait longer than necessary to apply to become U.S. citizens."