Amid Political Tensions, a Bid to Bring Together Immigrants, Americans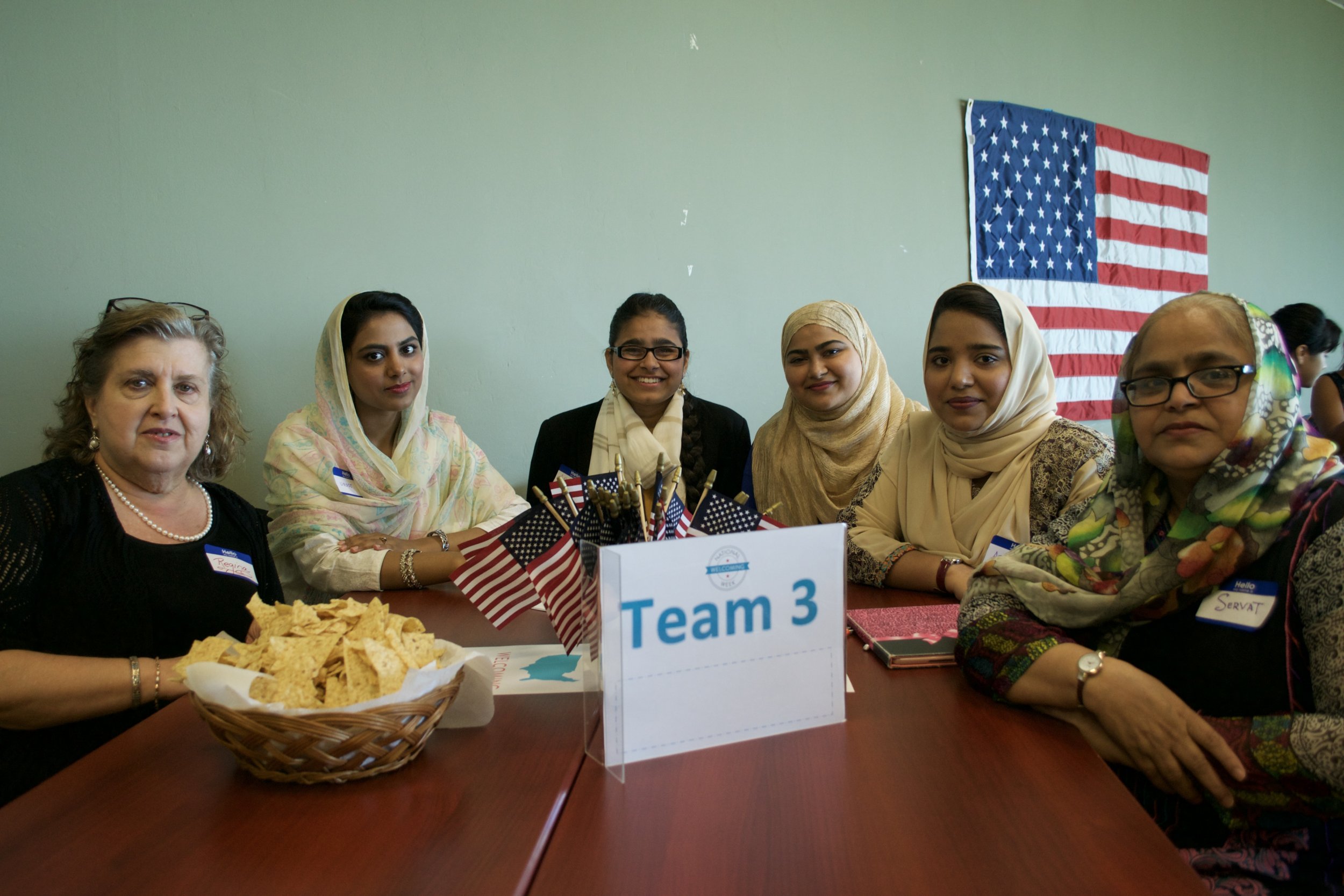 With the U.S. presidential election less than two months away, and as the issue of immigration continues to elicit racist and alarmist rhetoric in U.S. political discourse, more than 300 events are being held in 115 communities across the country that aim to bridge what seems like an ever-expanding divide between U.S. citizens and their foreign-born counterparts.
The Welcoming Week events, now in their fifth year, are taking place through September 25. One of them took place Saturday at Wagner College on Staten Island in New York City.
"Our goal here on Staten Island is really to dissolve and remove a lot of barriers and differences between people. Those things are language barriers, cultural barriers, religious barriers, political barriers," says Rachael Rinaldo, director of New Americans Welcome Center at the Staten Island YMCA. Her organization hosted Saturday's event, which included a game of Jeopardy! featuring several questions taken from the U.S. citizenship test, a drum circle and the cutting and sharing of a "unity" cake.
While widely known as a "red borough" within largely blue New York City, Staten Island voted for Barack Obama, a Democrat, in the 2012 presidential election—though it was very close. In April's Republican presidential primary election, voters overwhelmingly backed Donald Trump, who took 82 percent of the vote.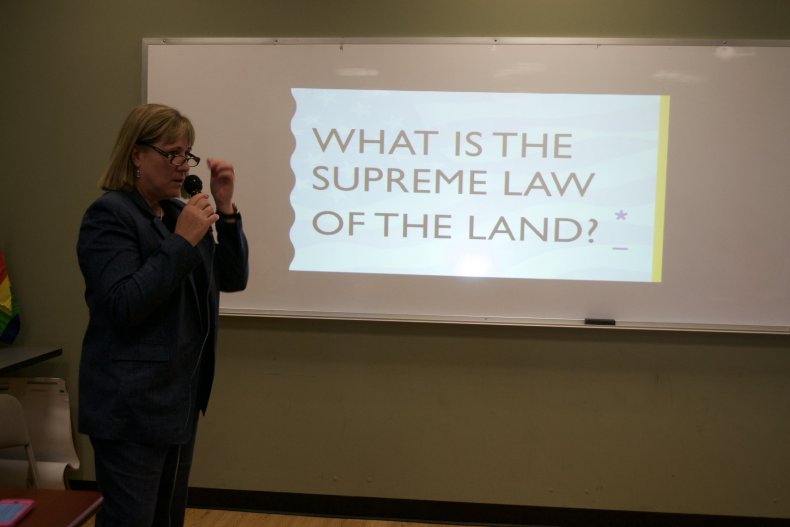 "Staten Island is a very Republican borough. We struggle simply as people who care for others in this borough, nevermind the political divide that exists across our country right now," says Rinaldo. "If we can do just one activity, one unifying event, that will bring people together and break the barriers and stigmas that is being spewed across the country, I think it's really important."
Immigrants from Sri Lanka, Mexico, Peru, Colombia and Pakistan are some of the largest foreign-born groups on Staten Island, and they are among those who visit the New Americans Welcome Center for English lessons and help studying for the citizenship test. Welcoming Week's "ultimate goal is to build welcoming communities," says Rinaldo.
In the current political climate, that goal may be difficult to achieve. Trump last year said he would create a "deportation force" to remove 11 million undocumented immigrants from the U.S., and he has repeatedly said he will build a wall along the southern U.S. border with Mexico to prevent immigrants from entering the country. Earlier this week, one of his sons, Donald Trump Jr., posted a tweet comparing Syrian refugees to Skittles, suggesting some refugees are murderers. His father later asserted that refugees are a terrorist threat and harm quality of life in the U.S.
Immigrants who visit the New Americans Welcome Center haven't raised concerns about what they're hearing or reading in the news, Rinaldo says, but political discussions do occur in citizenship classes.
"No one has really questioned yet the idea that there might be a wall built or there might be deportation," says Rinaldo. "Those kind of issues have not come to the forefront yet, and I think it's because many of us keep reassuring people that, as New Yorkers, we're not going to allow that to happen."
Aiman Lodhi, 19, was worried about receiving negative attention upon arriving in the U.S. from Pakistan as a 12-year-old with her parents and four siblings (a fifth came from Pakistan last year). "When I was coming here, I was scared because I thought people were going to bully me. I'm different from them," she says. "When I came here, it's like, everybody's different and that's the best part."
Now a pre-med student at Hunter College in Manhattan, Lodhi says adjusting to life in America meant mastering the English language and seeing fewer women wearing hijabs, like her. She became a naturalized citizen last month and says she "registered to vote right away." Lodhi says it's particularly important for Americans to interact with other cultures during this highly politicized time "because the media spreads so much hate, and it shouldn't." She adds that few people "understand our religion.
"A lot of people don't know what other cultures [are], so they just assume whatever they're told [is true]. Events like this are helpful because you actually get to know the person, they're human beings just like you," says Lodhi. "You'll realize that your hate, it could be because something happened in your life and it could be totally unnecessary and you just blame that one event on a whole culture or religion. If you meet the person, you're gonna know that they're people like you."
Carlos Vargas, 31, also attended the Welcoming Week event on Saturday. A resident of the Woodrow neighborhood on Staten Island's South Shore, he was 5 years old when his mother brought him to the U.S. from Mexico. "My mom was looking for a better economic opportunity," says Vargas, who works for a nonprofit that provides legal services to immigrants. "We arrived in New York and haven't left since, this is what I call home. I feel like a native New Yorker."
Will such events actually change people's minds about immigration in America? "I hope so," says Vargas. "Right now there's a lot of rhetoric against immigrants. When you say just the name of a group of immigrants, it's easy to put the blame [on them], you don't really put a face to it. But once you put the face to it, to show that we are neighbors, we're school teachers, we're your children's best friends, then it makes a bigger impact, to put a human face onto what immigration really is."
He adds: "Regardless of the rhetoric, regardless of the political landscape, I do have hope in humanity."