Americans See 'Better Food' As Biggest Benefit Immigration Brings to the U.S., YouGov Poll Finds
Of all the ways that migrants contribute to the U.S., the majority of Americans view "better food" as being the best benefit the country has received as a result of immigration, a recently released YouGov poll shows.
With immigration taking center stage as one of the most widely debated issues in the U.S. and abroad, YouGov conducted a study across the U.S. and in seven European nations to "find out exactly what citizens believe to be the impact of migrants on their country–for good and ill." The study was conducted in November 2018 and published on Thursday.
In nearly all countries surveyed, including the U.S., Britain, Sweden, Norway, Finland, Denmark and Germany, "better food" ranked as the greatest benefit countries had received from immigration, outweighing contributions to culture, local businesses and economies, local communities, music and sport.
In the U.S., 50 percent of people surveyed identified "better food" as the top benefit of immigration. Meanwhile, 43 percent said they believed local businesses and economies had benefited most from immigration, while 42 percent said U.S. culture had seen the most benefit.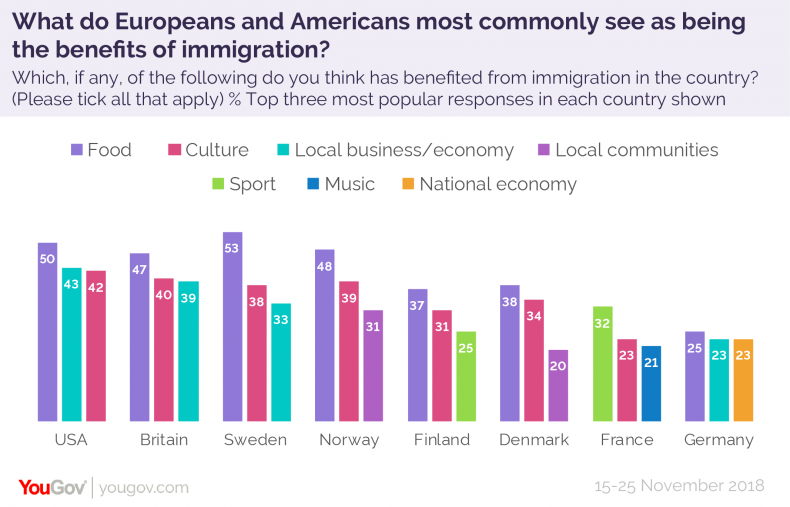 Of all the countries surveyed, only France diverged from the group in terms of the greatest benefit received from immigration, with respondents identifying contributions to sport as the biggest gain.
Most countries identified contributions to cuisine, culture, local businesses and economies and sport as being the biggest benefits of immigration, with Germany being the only country to identify contributions to the "national economy" in its top three benefits at 23 percent.
When it came to considering the downsides of immigration, respondents' views in the U.S. differed greatly from those in the seven European countries surveyed.
For people in the U.S., concerns over the impacts of immigration on the country's "welfare systems" ranked highest, with 42 percent identifying welfare provision as their biggest cause for concern, beating out worries over crime, jobs, security and housing.
Crime followed welfare concerns as their second biggest worry, with 39 percent expressing fears over immigration's impact on crime levels, while 32 percent said they were concerned about jobs.
In Britain, Sweden, Norway, Denmark and Germany, participants viewed crime as their biggest concern when it comes to immigration, while people in Finland and France saw threats to "national security" as their biggest issue.
Interestingly, YouGov found that the proportion of people who named at least one negative impact of immigration was higher in all countries than the proportion who cited a positive one–except in the U.S., where 71 percent of people could name one of the benefits immigrants had contributed, compared to 65 percent who could point to "something bad."
Overall, YouGov said its findings found the U.S. to be the "most pro-immigration nation" out of the eight countries surveyed.
"Looking at combined answers to the positive and negative aspects of immigration reveals that one in four Americans (30 percent) believe it only brings benefits, making them the most pro-immigration nation," YouGov Associate Director Tanya Abraham wrote in an analysis of the study's findings. Britain, she said, falls behind as a distant second with 22 percent believing immigration is only beneficial.
"By contrast, 37 percent of Germans were only able to name negative consequences of immigration, making them the most skeptical of the countries," Abraham wrote. "They are followed by France, Finland and Denmark where around a third quarter (31-33 percent) likewise have nothing good to say about immigration."
In addition to 30 percent of Americans appearing to believe immigration only brings benefits to the U.S., 39 percent of participants from the country said they generally believe immigration has "benefited their country more than it has harmed it," compared with 33 percent who said it had "generally harmed the country more." Thirteen percent said immigration has "neither benefited nor harmed the country," while 15 percent said they didn't know.
Americans were matched only by Britons, of which 39 percent also said they believed immigration has done more good than harm to their country. Across the six other nations surveyed, participants believed immigration had done more harm than good.
YouGov's survey saw 1,233 people surveyed across the U.S., as well as 1,691 people in Britain, 1,003 in France, 978 in Germany, 982 in Denmark, 1,012 in Sweden, 1,016 in Finland and 1,008 in Norway between November 15th to 25th 2018.