Immunity For Police Threatens to Stall Federal Police Reform Bills
Qualified immunity for police officers is hardly a kitchen table issue—at least before the national conversation on race and police brutality that emerged from George Floyd's death.
But the White House considers it a "total and complete non-starter," Republicans can't decide how much—if any—should be eliminated and Democrats want the protection eradicated entirely.
Contentious, no doubt.
The topic could impede lawmakers' sprint to overhaul the country's law enforcement agencies before leaving town for a two-week Fourth of July recess.
Dueling police reform packages by Republicans and Democrats are at complete odds with one another when it comes to the protections for police officers from being the subject of civil lawsuits over alleged brutality and misconduct. Even the hot-button issue of whether to bar police chokeholds is not as divided.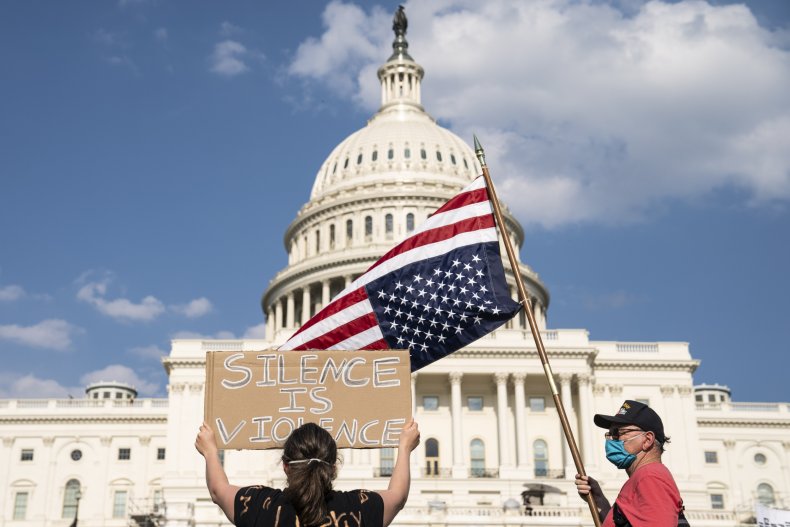 Democrats want to eradicate what they deem a "shield" for bad behavior from law enforcement communities. Their measure would eliminate qualified immunity altogether, among other things.
"Without accountability measures, we're merely exhorting police departments to do better, crossing our fingers and hoping for the best," Senate Minority Leader Chuck Schumer (D-N.Y.) said.
As evidence against immunity, Senator Cory Booker cited the case of Malaika Brooks. In 2004, when she was seven months pregnant, she was tased three consecutive times by Seattle officers for failing to sign a speeding ticket.
"The idea that three police officers in Washington can drag a seven-month pregnant woman out into the streets, taser her three times for not signing a traffic ticket and be shielded by qualified immunity is absurd," the New Jersey Democrat said.
But proponents of immunity argue that without it, police would be hard-pressed to successfully fulfill their duty and would live under the constant fear of being retaliated against for physically protecting themselves or others.
White House Press Secretary Kaleigh McEnany said Wednesday that eliminating immunity was a "total and complete non-starter. What you're essentially doing is not allowing police to do their job," she added.
And Republicans, for the most part, agree. They unveiled a package Wednesday spearheaded by Senator Tim Scott (R-S.C.), "every element" of which McEnany said President Donald Trump and the administration "fully support."
The bill falls short of establishing national mandates for local departments but seeks to incentivize new policies and increase transparency by threatening to withhold federal funds. It does not alter qualified immunity.
"That's an issue I just don't think our folks are—I said it before, it's a bridge too far for our members," said Senate Majority Whip John Thune (R-S.D.). "And I think the view of the law enforcement community for them, too, I mean that's a—in terms of being able to recruit, there's a lot of other factors that are involved in how they go about doing their work. I think that is something that is a non-starter."
Even Senator Mitt Romney (R-Utah), who is no stranger to sometimes taking the minority position within his conference on policies, said he thinks the "qualified immunity line is not one we're going to cross."
But Republicans appear to be split on the topic, as some search for something in between.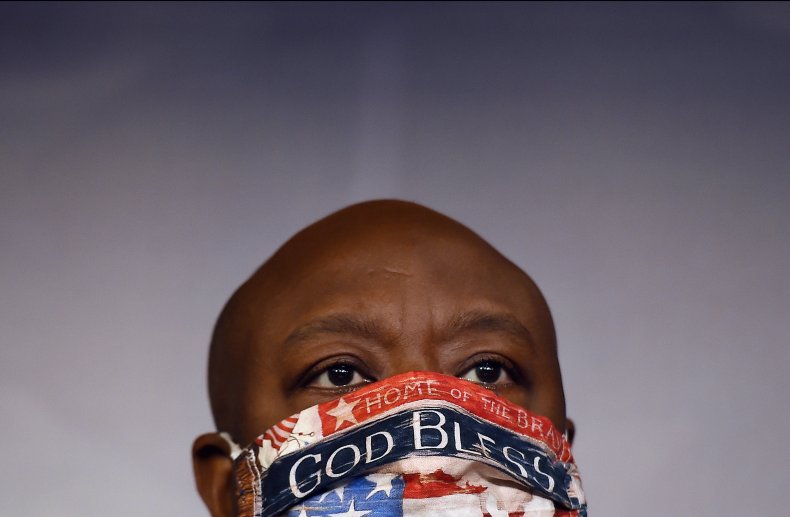 Senator Lindsey Graham (R-S.C.), a close alley to Trump, has signaled he's open to supporting some limitations.
"If you're subject to being sued, you act differently than if you're not. And we don't want to deter people from going into law enforcement, but we also want to have a sense of accountability," the Judiciary Committee chairman said during a hearing on police brutality this week. "Let's take a look at it."
Senator Mike Braun (R-Ind.) also wants an immunity policy in between the all-or-nothing proposals Democrats and Republicans are each respectively pushing. He plans to file his own bill early next week that would at least scale back immunity safeguards to allow reprisal for those whose constitutional rights were breached.
"If you want to do nothing with qualified immunity, to me, we're missing an opportunity because it's based on transparency and accountability," Braun said. "It's important, it's a watershed moment. We ought to do more than window-dress the issue.
With or without the support of his GOP colleagues, Braun vowed to advocate for the modest policy for fear of "missing the moment."
Overall, the two sides are in a war of words. Senate Democratic leadership has yet to determine whether they will support a vote that would begin debate on amendments for the Republican bill. Several Democrats sidestepped the issue, lobbing attacks that the legislation falls far short of true reform and accountability.
Senate GOP leadership reversed course on Wednesday to announce they would prioritize Scott's legislation, with Senate Majority Leader Mitch McConnell (R-Ky.) saying he hoped it can pass next week. But to accomplish that, they need at least support from Democrats, who are not yet ready to make that commitment.
"It gives lip service to the problem. There's just no teeth in it," said Senator Kamala Harris (D-Calif.), who joins Booker and Scott as the only three black senators. "Literally, what [Scott] is proposing would not save a life."