Impact Wrestling on AXS TV Results: Slammiversary Fallout Begins Tonight
Following a massive show over the weekend, Impact Wrestling will look to build on the momentum built from Slammiversary.
The July 21 episode of Impact on AXS TV will see what the promotion's new signings do in a big way. This week's episode will see The North defend their Impact Tag Team Championships against Chris Sabin and Alex Shelly, the Motor City Machine Guns who made their Impact return at Slammiversary.
After defeating Samil Callihan and Ken Shamrock over the weekend, can The North continue their dominance against a couple of legends?
Also in tag team action, Tasha Steelz will team with Kiera Hogan to take on Havok and Nevaeh.
Willie Mack lost his X-Division Championship against Chris Bey at Slammiversary and tonight, the big man will get his rematch. Can Mack regain his title or will Bey's reign continue to rise?
EC3, Eric Young, Heath Slater, and Luke Gallows and Karl Anderson appeared at Slammiversary. What is next for all of these former WWE guys? And what will it mean for the Impact Championship picture?
Here's everything that happened on this week's episode of Impact Wrestling on AXS TV.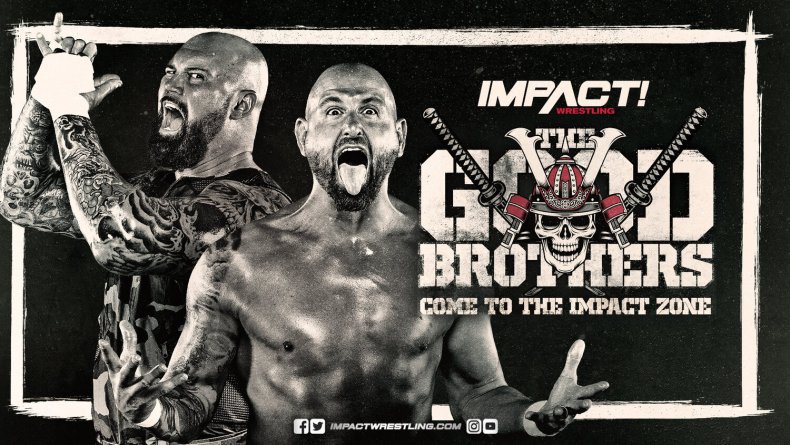 IMPACT WRESTLING RESULTS
EC3 Video Package
Before the show, EC3 asks if you don't feel like you can trust those who are in control. Those who have wronged you. EC3 finishes the package by saying that tou can control your narrative.
Chris Bey (c) vs Willie Mack - X-Division Championship Match
Madison Rayne is on commentary
Chris Bey wins via pinfall after a Springboard Cutter
Karl Anderson and Luke Gallows Promo
Anderson says for months the rumors were circulating and people were wondering where they were going to land. He says that they are beyond excited to be in Impact Wrestling.
Anderson says that they were trending worldwide and that they got text messages from everyone in every company. You don't only have the best tag team in the world, you have the best "big man" in Luke Gallows and the best wrestler in the world in Anderson.
Gallows says that Slammiversary was trending number one because of them. They don't need a too sweet and they are ready to celebrate. They get beers and are about to drink when they are interrupted by Ace Austin and Madman Fulton.
Austin says he gets why The Good Brothers did what they did at Slammiversary. He's going to get in the ring so they can apologize. Austin says that Fulton is the best big man and that they all should share a beer together. Ace slaps Anderson's beer out of his hand and the four men start fighting. The Good Brothers throw Austin and Fulton out of the ring.
Backstage
Heath Slater is backstage and is stopped. He says his name, "Heath" is on the list. The producer backstage doesn't find his name and Heath says he has a last name but can't use it anymore. He tells the producer to wait while he calls someone.
Heath calls Rhino who is arguing with Hernandez. The two say they'll meet in the ring while Rhino walks away not picking up Heath's call.
Chris Bey is in the dressing room celebrating his victory with some ladies when Rahit Raju shows up.
Raju says that he has Bey's back if he needs it. Chris Bey says that if he's ever in danger he'll give him a call.
Kiera Hogan and Tasha Steelz vs Havok and Nevaeh
Havok and Nevaeh win via DQ after Steelz hit Havok with a steel chair to the back when she got Hogan up for a pile driver.
After the bell, Nevaeh takes Steelz out and Havok hits Hogan with the pile driver
Backstage
Sami Callihan finds Ken Shamrock backstage and blames him for their loss on Saturday. Ken says he already knows it was his fault and says to talk to him next week.
RVD says that there's been a lot of changes lately. Katie Forbes says that she has her own website where fans will be able to see her photos for free next week.
Hernandez vs Rhino
Rhino wins via pinfall after a Gore in one minute
The North Promo
Backstage, Alexander says they are in Impact history and why aren't they getting the respect they deserve
Page says that the Motor City Machine Guns want to make a statement against the champs. He says the fact is that they've been tag team champs for over a year the first team to do so in Impact. If the Machine Guns want to be the best prove it tonight.
Bryan Meyers Video Package
Deonna Purrazzo Interview
In front of her locker room, she's asked what he plan is now that she's champ. She says that she's already the best women's technical wrestler in the world. And she says that Jordynn Grace's shoulder is separated so there's no one to compete against her
Kylie Rae comes in and tells Purrazzo that she's the number one contender and she is her opponent.
Purrazzo sticks out her hand to shake Rae's. Kylie is excited and shakes her hand, but Purrazzo tries to put her in an arm bar but they are broken up.
Eddie Edwards Promo
Edwards says the championship feels right. He can once again call himself the Impact World Champion.
He talked about his journey before Slammiversary, but says there's been something missing: stability. His goal is to be a champion that the wrestlers and company can be proud of. He has a duty to be a champion that fans can be proud of. The only thing harder than becoming champion is staying champion.
The last title defense was five months ago, but that is all about to change. As your world champion, he'll defend this title each week against anybody. He will be a fighting champion.
He's living proof that anything is possible and he's going to bring legitimacy to this title.
Eric Young comes out. Edwards says he doesn't know why he's out there, but after what Young did to Rich Swann at Slammiversary he doesn't deserve anything. He's happy to give Young an "a** whoopin'"
Young calls Edwards pathetic that he has any say or sway of the fate of the world championship. Impact belongs to him now. Young says that Edwards should be thanking him for targeting Swann and not him. It could be Eddie in the hospital and not Rich. If you stand in between Young and what he deserves and what is right could be bad for Eddie.
The only reason Edwards is the champion is because he made it so.
Edwards dives onto Young on the outside and the two brawl.
Moose Interview
Moose says that the title he carries is the most prestigious and to get a title shot you'll need an invitation.
The interviewer says that there are new stars that can be invited like Sabin, Young or EC3. Moose says that EC3 is controlling his own narrative so he won't be getting an invitation, but Falla Bahh can get a title shot .
Eddie Edwards Interview
Edwards says that Impact has the best wrestling in the world and is ready to defend against anyone.
He's interrupted by Trey. He says next week they should fight for the title and Edwards agrees.
Moose (c) vs Fallah Bahh (with TJP) - TNA Heavyweight Championship Match
Moose wins via pinfall after a Spear
After the match, EC3 appears behind Moose and hits the champ and rolls out of the ring.
Commentary keeps saying that EC3 doesn't work on Impact
Outside
The Good Brothers are walking in the parking lot when they are mocked by Ace Austin and Fulton in a car. The Good Brothers walk up to them, but they are attacked by Reno Scum but are easily dispatched. The Good Brothers go up to Ace's car, but they drive away.
It's announced that Good Brothers will take on Reno Scum next week.
Wrestle House Vignette
Rosemary and John E Bravo are in the kitchen and Rosemary flirts with him but doesn't get far.
Taya Valkyrie interrupts and comes downstairs. She says that she didn't know that Rosemary was coming.
Rosemary says that three's a party and Valkyrie likes it. She snaps her fingers and members of the Impact roster teleport in.
Crazy Steve walks away and sits on the couch in the next room and says this is the craziest reality show ever.
This is a promo for "Wrestle House" which will premiere next week
The North (c) vs Motor City Machine Guns - Impact Tag Team Championship Match
Motor City Machine Guns win via pinfall after a roll up
The North were dominant throughout, but the veteran tag team pulled out a victory.
Just before going off air, a backstage hand leaves the Impact Zone but just before the door closes Heath walks in.